Indie Comics Review: THE UMBRELLA ACADEMY BOXED SET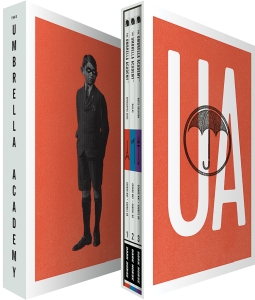 [Editor's Note: This review may contain spoilers]
Writer: Gerard Way
Artist: Gabriel Ba
Colours: Dave Stewart
Letters: Nate Piekos of Blambot
Publisher: Dark Horse Comics, Penguin/Random House
Reviewed By: Derek McNeil
Thanks to Penguin/Random House for providing a review copy.
Summary
The Umbrella Academy Boxed Set: Three magnificent New York Times bestselling Umbrella Academy original graphic novels tied to the hit Netflix show are collected into one deluxe boxed set featuring an exclusive, double-sided poster! In an inexplicable worldwide event, forty-three extraordinary children were spontaneously born by women who'd previously shown no signs of pregnancy. Millionaire inventor Reginald Hargreeves adopted seven of the children; when asked why, his only explanation was, "To save the world." These seven children form The Umbrella Academy, a dysfunctional family of superheroes with bizarre powers. Nearly a decade after their first mission, the team disbands, but when Hargreeves unexpectedly dies, these disgruntled siblings reunite just in time to save the world once again.
Collects Umbrella Academy: Apocalypse Suite, Umbrella Academy: Dallas, and Umbrella Academy: Hotel Oblivion. Also includes an exclusive Umbrella Academy double-sided poster.
Positives
The Umbrella Academy Boxed Set consists of the first three trade paperback collections. Each volume collects one of Gerard Way and Gabriel Ba's Umbrella Academy miniseries: Apocalypse Suite, Dallas, and Hotel Oblivion. The three volumes come housed in an attractive slipcover. And as an added bonus the set comes with a double-sided poster.
The Umbrella Academy is an offbeat superhero story in a similar vein to the Doom Patrol TV series. When 43 children were spontaneously born at the same time, a rich eccentric genius Reginald Hargreeves adopted seven of these children who all exhibited powers – except one. However, Hargreeves was a terrible father figure to the children, which gave the children a very dysfunctional upbringing. Eventually, the children went their separate ways. But when Hargreeves dies, the team reunites.
One thing that stands out about Way's story is that we get minimal background information about the origin and upbringing of the children before launching into the main story of the team as adults. Even though there's clearly a lot of backstory, Way only reveals this history in small chunks. This keeps the reader wondering what other important events in their lives are left to be unrevealed. Even by the end of the third series, there are things we still don't know. For example, we still don't know when or how the sixth member of the team died.
Positives Cont.
I also love the strange world in which the Umbrella Academy exists. On the first page, we see a wrestling match where one fighter is a space squid from Rigel X-9. There are also intelligent, talking chimps living alongside humans. In fact, a chimp named Pogo serves as a mentor to the children. The children's first adventure pits them against a rampaging Eiffel Tower, controlled by Zombi-Robot Gustav Eiffel. There is very little that is mundane about the Umbrella Academy's world.
These volumes contain some interesting extras as well. There are some extra Umbrella Academy stories published online, in Free Comic Book Day specials, or in anthology titles. There are also lots of concept art by Gabriel Ba showing the evolution of the characters and other artwork used for posters or in-house ads.
The included poster features a representation of the team's first adventure against the Eiffel Tower on one side and the team as adults in a procession following Hargreeves' coffin. Both are lovely images, although if I were to hang it on my wall, I would probably showcase the funeral procession.
Positives Cont.
The slipcase is a rather attractive extra. As comedian Rob Beckett said, "You can tell when it's a good book when it's got its own house". It is rather sturdy and seems unlikely to start coming apart like many slipcovers eventually do. The volumes fit comfortably inside the case. But the case is not so snug to make it difficult to take one of the volumes out or place it back in.
If you've seen the Umbrella Academy show, and want to check out the show's source material, this is a fantastic way to get an instant Umbrella Academy collection. And one advantage this comic has over the show is the fantastic art of Gabriel Ba. The show does a good job at capturing the mood that Ba's art conveys, but it would be a shame to not see Ba's original work that inspired the show's visuals.
Negatives
I should mention that this set does not constitute the complete collection of Umbrella Academy stories. It does not include the recent Tales From The Umbrella Academy: You Look Like Death series. And the third volume ends in a way that makes it clear that Way intends to continue the main storyline, so more volumes seem inevitable. Hopefully, there'll be another similar boxed set released down the line.
Also, the trade paperbacks in this set are the trade paperbacks previously released individually. All that is new is the poster and the slipcase. If you already bought the trades separately, then this set might not be worth getting. However, you could gift your old copies and then get yourself this nice collection to replace them.
Verdict
The Umbrella Academy Boxed Set is a really great packaging of a fantastic set of comics. This set is a great way to experience Way and Ba's masterpiece stories. This set would definitely make a fantastic Christmas gift for any comics fan you know – or a special gift for yourself.