Review: Batwoman 3×03 – "Freeze"
[Editor's note: This review may contain spoilers!]
Director: Greg Beeman
Writers: Nancy Kiu, Ebony Gilbert, Natalie Abrams, Daphne Miles, Maya Houston
Starring: Javicia Leslie, Rachel Skarsten, Meagan Tandy, Camrus Johnson, Robin Givens, Nick Creegan
Reviewed By: Steven Brown
Summary
The fallout from Batman's rogues gallery continues as some kids find Mr. Freeze's cooling agent. Meanwhile, Ryan is confronted by her mother, Jada Jet. Alice seems to be suffering from severe delusions that apparently are getting worse.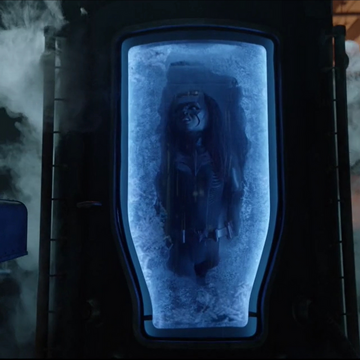 Positives
Batwoman 3×03 starts with some kids finding a canister of Freeze's cooling solution and bringing it on a city bus. Moments later, a citizen looks forward in shock as the bus is soon frozen solid. Nora Fries makes an appearance in this episode, cured of her MacGregor's syndrome. Being free for the last few years, Nora however has aged drastically, a side effect of being in the cryochamber for so long. An unknown mercenary has plans for Mr. Freeze's old technology and kidnaps Nora Fries and her sister in hopes of learning its secrets.
Negatives
I was very shocked by Jada Jet's confession to Ryan Wilder about their mother and daughter relationship in this episode. Jada tells Ryan that she's not interested at all in having any kind of relationship with her. She tells her that any type of contact with her with fall back on Wayne Enterprises. Shocked and confused, Ryan is attempting to leave when suddenly her brother, Marquis comes in. It seems that Marquis is the complete opposite of Jada in his feelings towards Ryan. Although I was hesitant at first, I really hope that Ryan and Marquis have a great brother and sister relationship. Alice seems to be having difficulties of her own in this episode, as she admits to Mary finally that she's been having delusions lately.
Verdict
Overall I thought Batwoman 3×03 was a great episode and it seems that we'll have a part two judging on how the episode ended. We were left with a lot of questions at the end that I'm sure will be answered on the next episode. We're still not sure who the mercenary worked for, and exactly what the purpose of trying to steal Freeze's technology was. Hopefully we'll find out more in the next episode what the connection is.