Review: Gunslinger Spawn #3
[Editor's Note: This review may contain spoilers]
Publisher: Image Comics
Writer: Todd McFarlane
Artists:  Brett Booth
Letters: Tom Orzechowski
Colors:  Andrew Dolhouse
Reviewed by: Carl Bryan
Summary
"By the way, if it matters, you can call me Javi!" – Gunslinger Spawn
GunslingerSpawn #3- Introducing the third  issue of the new monthly title spinning out of the SPAWN UNIVERSE, with one of the most popular characters in the entire SPAWN mythology! Vampires. Guns. And Blood!!!
The Gunslinger tries to protect the young man helping him, but comes face to face with a NEW VILLAIN from his Western past. And unfortunately, this could only lead to the return of a much more dangerous plot run by the one supervillain Gunslinger can't defeat!
Plus…the Gunslinger reveals his true face… eating a burrito!

Positives
Where to start?  Let/s go with Brett Booth.   Booth is as true as Spawn Artist as Capullo, McFarlane, and Philip Tan.  His attention to detail falls right into line with the template that McFarlane has provided since Issue #1.
Gunslinger Spawn and his freshly adorned "sidekick" Taylor are on the run with Javi/Gunslinger Spawn digging up various areas to find his stored arms, ammo and gold! McFarlane truly has placed Gunslinger Spawn into a fast forward of time, but with the essential survivalist skill set that one would lack in the modern day era. 
Relying on the use of maps and keen gunmanship, Gunslinger Spawn is not necessarily the foil to Taylor's modern day teenage "sighs" about "don't you know anything?"
Positives 2.0
Literally, the 2.0 needs to be for one….Gunslinger Spawn's identity is revealed….JAVI!  Kudos for McFarlane in providing yet again diversity in his comics.  While other companies arguably addressed diversity later in their timelines, McFarlane immediately provided a strong African American hero.
Now, he has introduced the coolest installment to his array of Spawn characters and provided him an Hispanic origin.  I cannot wait to read more about how he became who he is!
The 2.0 is the introduction of Dakota… a wild west villain that is impervious to those "necro bullets" that Gunslinger Spawn constructs.  She also welds some incredible shrinking and growing Dinosaurs to do her bidding.  Not since Angela has there been such an intro into the Spawn Universe of villains!
Accolades for World Record-Setting
2021 is the year of Spawn. We are awaiting  a new #1 team book, which will band five characters together to fight against forces too big for any of them to take on alone. That book is titled The Scorched. Spawn, Redeemer, Gunslinger, Medieval Spawn and She-Spawn begin the group's adventures, but McFarlane promises a rotating cast of heroes over the coming months to keep the roster of heroes fresh.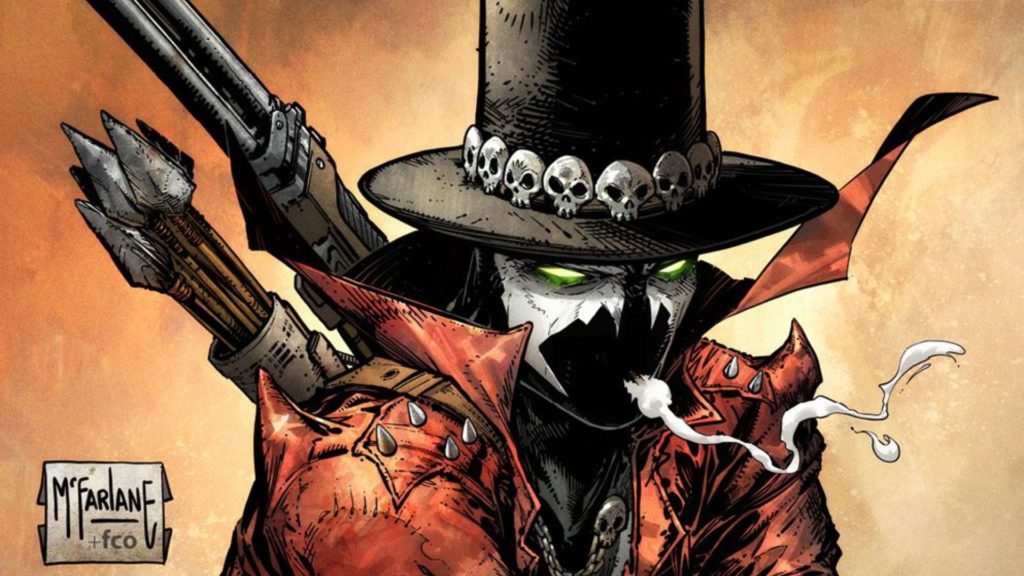 More Positives
This team of artists is top-notch.  If you like your comics with immaculate detail, check out every page of this comic book.  The penciling alone must have taken months.  It is so fine pointed!  But that is McFarlane and his team…no shortcuts! Check out the cover art for issue #3…who is Amy?  And what influence does she have over Javi?
Verdict
This is the #3 issue you want on your shelf right now.  The artwork alone is worth every penny, but the story line that contributes to the Spawn timeline as well as provides a real "fish out of water" tale is beyond description as you have to read this comic several times over to love both the script as well as appreciate the art. McFarlane has created a dream team of characters, but he has recruited a dream team of writers, colorists, and artists.  And of course, Tom Orzechoswski remains as a pillar to all things Spawn!  BUY ALL THE SPAWN TITLES…. but know the primary color is RED!