Review: Catwoman #39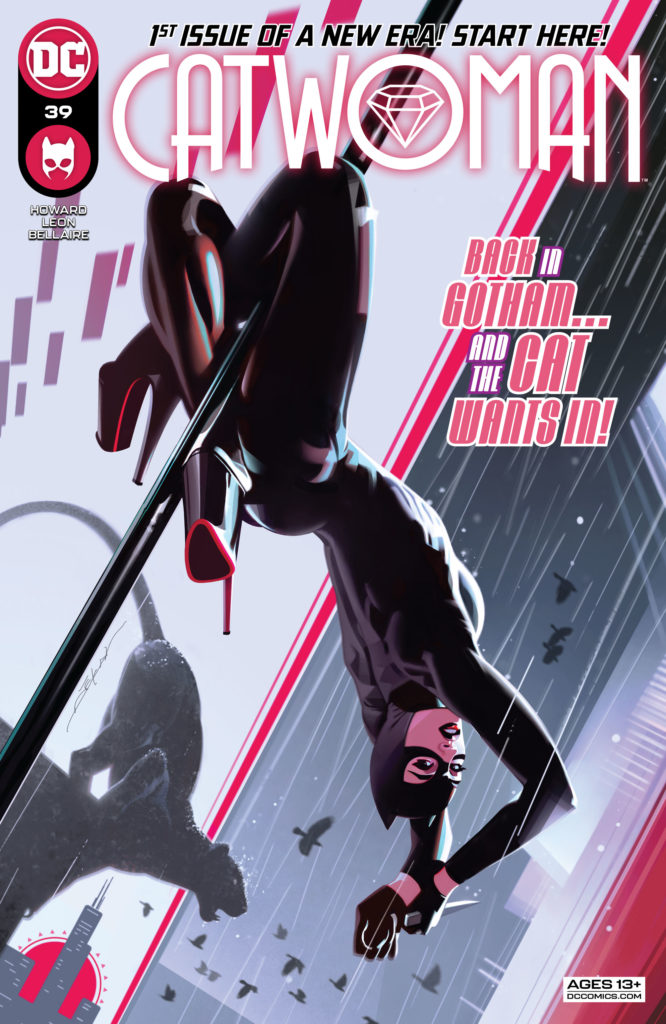 [Editor's Note: This review may contain spoilers]
Writer: Tini Howard
Artist: Nico Leon
Letters: Tom Napolitano
Colors: Jordie Bellaire
Reviewed by: Carl Bryan
Summary
"I don't have guilty pleasures….just pleasures." –  Selina 
Catwoman #39 – Catwoman is bored of Alleytown and has returned to Gotham City proper for bigger fish to fry and to go back to doing what she does best…stealing crime boss secrets for blackmail.
New ongoing series writer Tini Howard makes her DCU series debut writing the cat of the night, placing Catwoman in her first blackmail heist disguised as a stripper at Gotham's most secure underground club!
Catwoman, hiding in plain sight in five-inch platform heels at a gathering of Gotham's crime elite while surrounded by all the beautiful women and other shiny things to look at…what could possibly go wrong?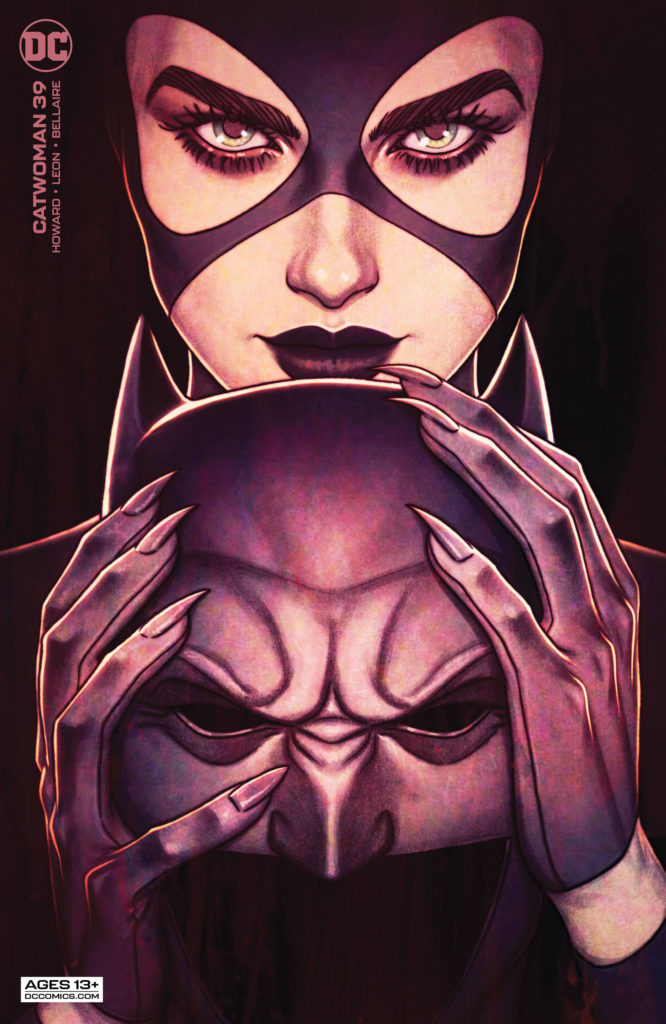 Positives
Joelle Jones….Ram V… These writers took Catwoman to a new level,  They and their respective artists, letterers, and colorists really elevated Selina Kyle's character to a new level.  From a comic that had car chases and limited dialogue to new villains such as Father Valley, these two authors set the bar.
Tini Howard, not only reaches that bar, but explodes the ceiling and stratosphere above that bar.  The beginning of narration adorned with a purple diamond lettering.  Very clever as you never really know who the narrator is for some time…or do you?
Nico Leon and Jordie Bellaire adorn the pages with the right type of dark night meetings, purple hues, and silhouettes that capture the underbelly of new crime bosses in Gotham.  To be honest, I was worried that the same care of the character would occur.  It is very evident that Tini brings something old, new, borrowed and ….the best shade of purple.
Positives 2.0
Tini Howard's script places Catwoman as a major player to be reckoned with…just in case you haven't been watching.  So far she has really outwitted an enormous amount of the Rogue's Gallery and delivered an entire section of Gotham from oppression.  
I hesitate to call her a hero…possibly an anti-hero or anti-villain.  But one thing is for sure, we should be able to expect more underworld flavor than the "bam" and "pow" of the typical tale….pun intended.
Also, who is this character that is more akin to Ghostmaker?  What is his role in all things Gotham?  That's an interesting look that is very similar to Ghostmaker with the white kerchief around his eyes.  Howard provides a new villain presence…strong out of the gate!
Negatives
None…in fact, these are like Thanksgiving leftovers that got better the next day.  Anything that Ram V left on the shelf was used appropriately, seasoned, and tweaked in the right direction.  Howard's the new sheriff running things with her pen…take heed!
Verdict
We are going to enjoy Tini Howard's run on this comic.  Selina is a true player and this comic has surpassed anything historically it was years ago as a "filler" book in the lineup.  If you like a bit of noir, a lot of Selina, and a hero/anti-villain that is fighting the mob on several different levels, this is for you!  Get in on the ground floor of Howard's run!  You'll be glad you did!