Indie Comics Review: Edgar Allan Poe's Snifter of Death #5

[Editor's Note: This review may contain spoilers]
Publisher: Ahoy Comics
Writers: Kirk Vanderbeek and Norm Fields
Art: John Proctor, Shane Oakley, Joel Ojeda & Juan Castro
Letters: Rob Steen
Reviewed by: Matthew B. Lloyd
Summary
Edgar Allan Poe's Snifter of Death #5 features a guilty mourner in "A Pound of Flesh" and an investigatory acid trip in "Postal."  There are a couple of definite themes in this issue that also reappear in the text stories by Blake Nail and Vickie Smalls.
Positives
It's interesting that the themes of death and drug use tie all the stories in this issue together.  It shouldn't be surprising I suppose, but it feels different from previous issues in this way.  Poe obviously wrote about death and was a known heavy drinker- that's been lampooned in this series consistently.   Poe is also believed to have abused opium, research seems to vary.  Tying an issue together with these themes seems obvious, but it's just as curious leading one to ask, "Why now?"  It's not to say that these themes aren't present in other issues, but rather it's the way they seem to tie this particular issue together.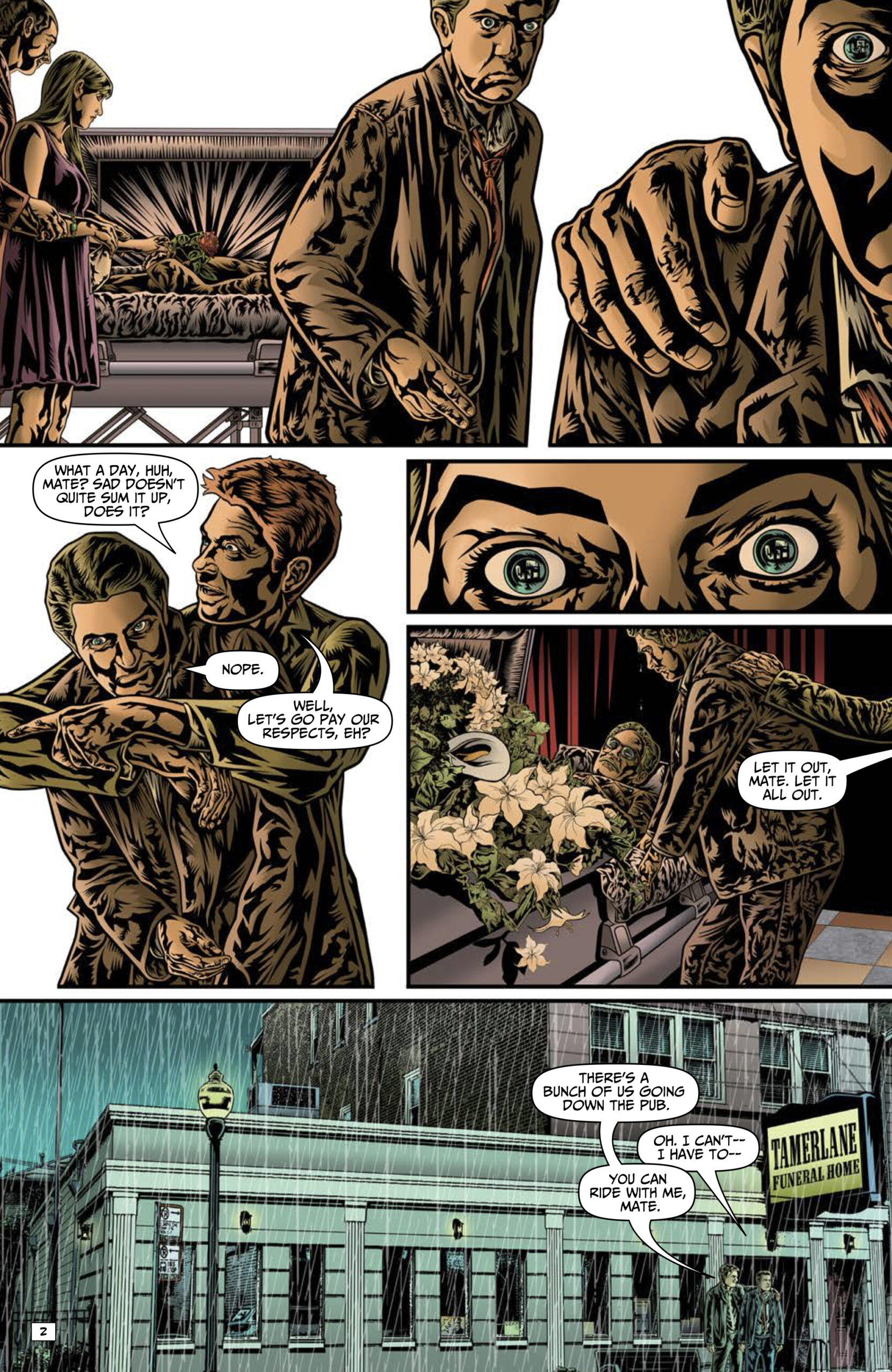 The buildup in both "Flesh" and "Postal" both seem to be stronger than the resolutions.  Once you figure out what's going on, you are waiting for the shoe to drop.  There's a sufficient amount of tension in both the stories, as well as intrigue- you genuinely want to know what's going on.   This is assisted by the respective artists John Proctor and Shane Oakley.  Proctor also gives us an establishing shot of the exterior of a pub in the rain that's fantastic!  "Resurrectland" by Blake Nail is probably the strongest story.  Once you figure out the twist, it's all over, but it comes late enough in the story that it functions very well.  "The Dope Man Cometh" by Vickie Smalls is similar and a thought-provoking tale as well that suggests there could be a larger story to be told.
Negatives
"Flesh" and "Postal" need more "oomph" on their endings.  "Postal" in particular is a bit obtuse.  Did he figure it out, or did the acid just make him think he did?  Perhaps, that's the commentary in the story.  Both have the sense that something is missing, another element to make the endings work. 
The third installment of "True Tales from the Life of Edgar Allan Poe" is all too brief.  Unlike his encounter with Robert Louis Stevenson, last issue, meeting H.G. Wells doesn't provide the same humorous twist.  "Attack of the Fifty Foot Poe" seems more likely to be connected with a B-Movie director from the Fifties rather than the British novelist known for work as an innovator in the science fiction genre.
Verdict
Edgar Allan Poe's Snifter of Death #5 is a bit of a mixed bag.  There are some interesting big ideas but the details don't play out as one might like.