Review: Batman The Knight #2
[Editor's Note: This review may contain spoilers]
Writer: Chip Zdarsky
Artist: Carmine Di Giandomenico
Colors:   Ivan Plascencia
Letters: Pat Brosseau
Reviewed by: Carl Bryan
Summary
"I'm sorry  dear.  We must have crossed schedules .  There's only supposed to be one burglary tonight" – Lucie/  The Gray Shadow
Batman The Knight #2 -Bruce Wayne's journey toward becoming the Dark Knight has begun, and he has many hard lessons to learn before his education is complete.
His adventure begins in the City of Lights, Paris, where he'll train with a world-renowned cat burglar and come into contact with a horrifying serial killer stalking the city's wealthy elite…
Superstar writer Chip Zdarsky (Daredevil) and acclaimed artist Carmine Di Giandomenico (The Flash) will take Bruce Wayne on a fraught journey, making allies and enemies, on his training to become Batman in this definitive new series!

Positives
Chip Zdarksky  picks up where Tom Taylor provided us a glimpse of Bruce's past in Batman:  The Detective as Bruce did not become Batman overnight.  While Issue #1 weighed in on a troubled youth that provided Alfred some trouble, but taking Dr. Hugo Strange to the mat really quickly, this issue takes on Bruce's night time agility.
The Gray Shadow…an elusive Cat Burgler is running amock in France and Bruce, after besting a sabre skilled teacher in only two weeks, is now on the path to take down this woman.  Not so fast….
Zdarksky is on to something here as Taylor gave us a glimpse into Bruce's detective training in his book, but Zadarksky doubles down in providing each skill in Batman's skill set and how he was trained.  I like it!  It's a history lesson we have had in pieces, but never like this before!
Carmine Di Giandomenico works with the shadows.  The dialogue bubbles that Pat Brosseau provides the inner doubts that Bruce has about this campaign.  He doesn't want to let his parents down and deep down, he doesn't want to face Alfred's disappointment either.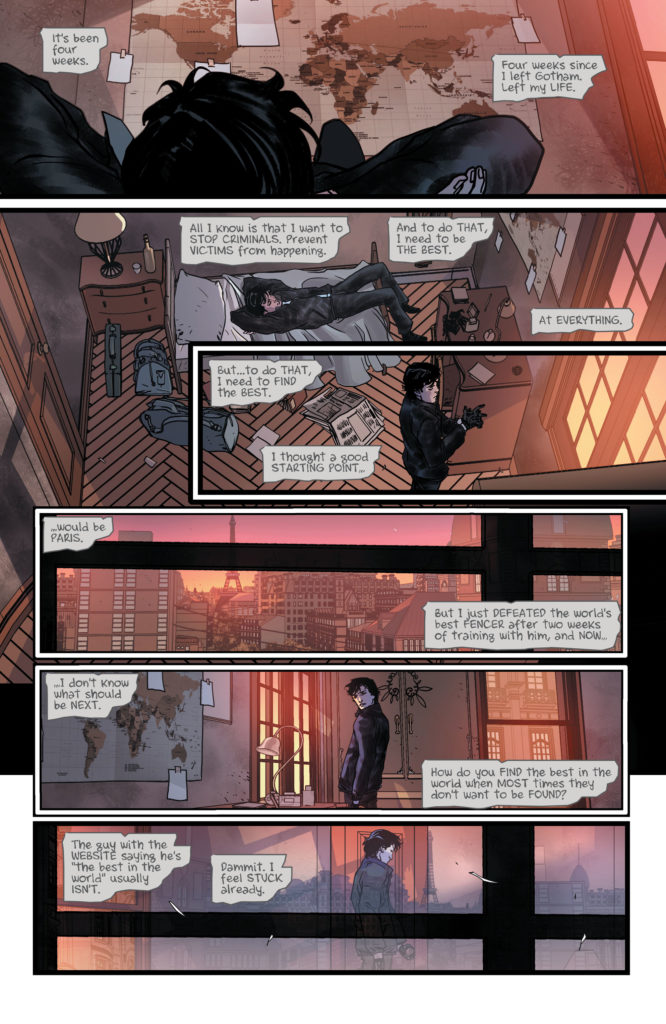 Negatives  
How many glimpses into this do we need as educated Batman readers?  How many times do we go down this road?  What is different?  Time will tell with this series as there are overtones of Chip Zdarsky's work in Daredevil that we do see within these pages…a rookie Bruce probably is what we needed to remind ourselves us and Zdarsky has found a new playground for it!
Verdict
This particular chapter rings of why Bruce is intrigued with Selina.  Days gone by…a mentor infatuation…it's a new lense for the Selina and Bruce dynamic.
Maybe a lot… the art, the cover art, the script is very solid.  Bruce is not cocky, dark nor confident.  This book is starting to carve out its place on comic shelves everywhere.