Indie Comics Review: Edgar Allan Poe's Snifter of Death #4

[Editor's Note: This review may contain spoilers]
Publisher: Ahoy Comics
Writers: Rick Geary, Norm Fields and Bryce Ingman
Art: Rick Geary, Joel Ojeda & Juan Castro and Ryan Kelly
Colors: Lee Loughridge and Andy Troy
Letters: Rick Geary and Rob Steen
Reviewed by: Matthew B. Lloyd
Summary
A Plague!  A werewolf!  A drunken…TWO drunken authors, plus the scariest birds you've ever seen- all in Edgar Allan Poe's Snifter of Death #4!
Positives
The standout tale in Edgar Allan Poe's Snifter of Death #4 is Bryce Ingman and Ryan Kelly's "Edgar Allan Poe's Werewolf of Washington."  It's classic political satire disguised with classic horror elements.  Take on Senator, Teddy Cruise and set him loose in our nation's capitol.  Despite casting the protagonist as a werewolf, there's no disguising the point of this story.  Liberals will undoubtedly howl with laughter and salute Mr. Ingman's script, while Conservatives will decry it as disrespectful and idiotic.  For this review, it's just plain funny, clever, somewhat insightful and awfully good political satire done very well in the sequential art form known as comics.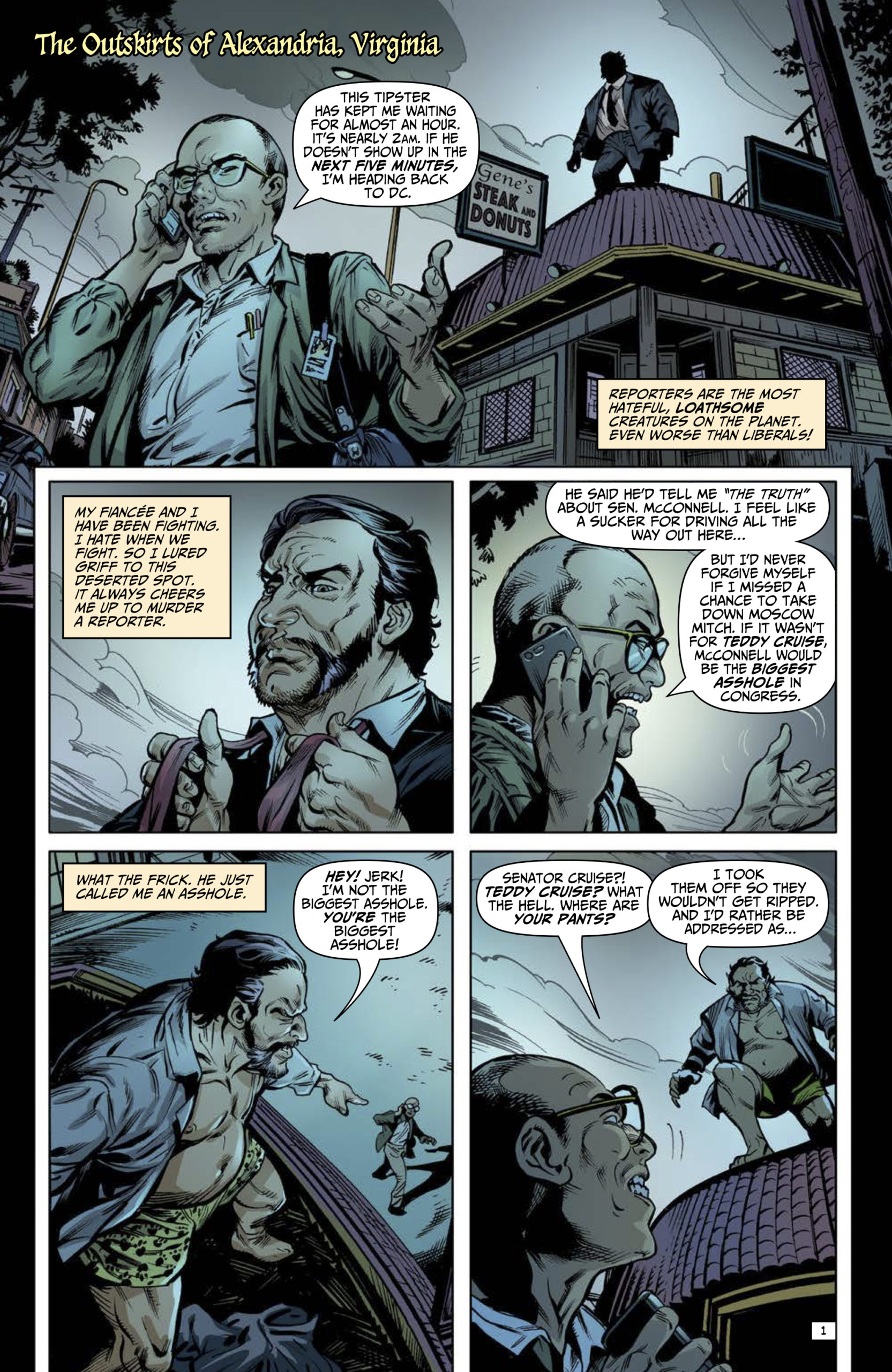 Part two of "True Tales from the Life of Edgar Allan Poe!" is a quick hitter in its two pages, but it has a great punchline.  It feels quite like classic MAD Magazine parody.  Poe meets up with Robert Louis Stevenson and they go to have a drink at a tavern- imagine Poe having a drink…!  The drink affects Stevenson quite drastically, of course if you're familiar with his works you can probably guess, and no, he doesn't suddenly discover a treasure on an island.
Positives Cont'd
Rick Geary's "A Tale of the Plague" doesn't quite have the punch of the other two tales, but it definitely has the best storytelling.  Geary's style that lends an "everyman" quality to the story that works with the message.  That's not to say his characters aren't distinct, but this isn't super-hero comics or even a hard "real world" approach.  There's a fanciful and humorous element in the giant rolling and bounding virus that seems to be out to get our protagonist.  Additionally, the story is topical and truthful.  There's a significant message underlying the light humor in the story as well.
Both the text pieces in Edgar Allan Poe's Snifter of Death #4 are good, but "The Hieronymus Bosch Guide to Birds" is truly outstanding.  James Finn Garner does his best John James Audobon put through the grinding wheel of Hieronymus Bosch's paintings.  The descriptions of these imaginary avians are clever, funny, and intelligent.  It does take some beforehand knowledge of the works of Bosch, but for the astute reader, these will leave you rolling- again a great take on a MAD Magazine approach to "humor in a jugular vein."
Negatives
Geary's "A Tale of the Plague" is a thinker.  It doesn't have the immediate impact or the obviousness of the other two stories.  However,  if you take a second go at it and let it sink in a bit, it's actually got a poignant ending with the humor coming throughout the visual absurdity of the story.  It may not be for everyone, and the seriousness of the topic does not necessarily translate well to satire.
Verdict
Edgar Allan Poe's Snifter of Death #4 is a really good issue with different types of stories, each landing in its own way.  There's a lot to like in the issue and the series to be geared toward a different type of comic book reader.