Review: I Am Batman #7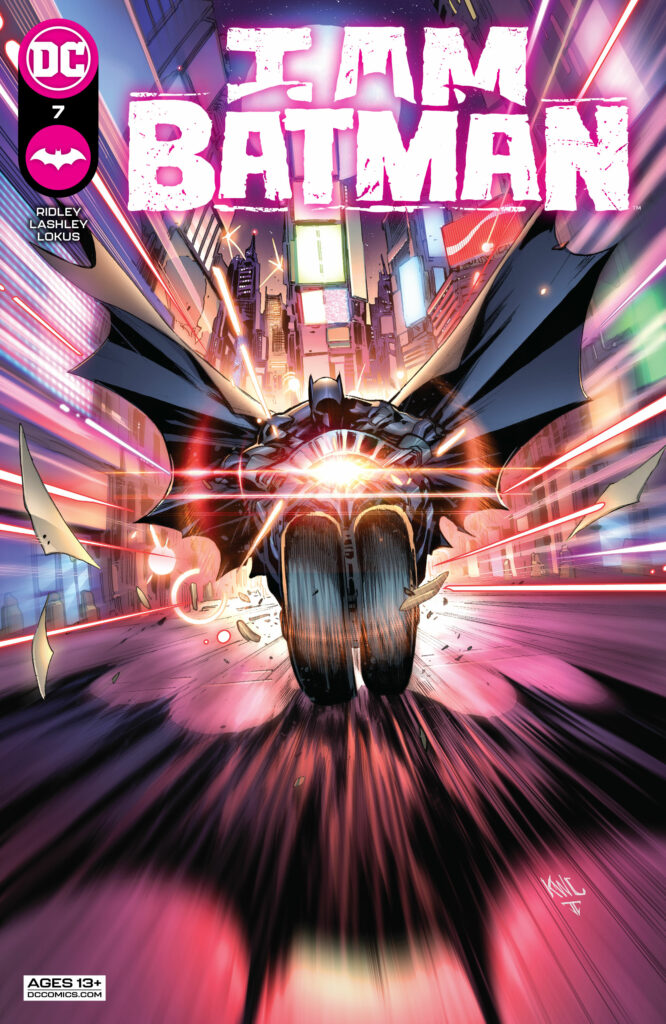 [Editor's Note: This review may contain spoilers]
Writer: John Ridley
Artists:  Christian Duce
Colors: Rex Lokus
Letters: ALW's Troy Peteri
Reviewed by: Carl Bryan
Summary
"Just because Rubel had money doesn't mean his case gets to jump to the front of the line!"– Batman
I Am Batman #7 -THE DARK KNIGHT COMES TO NEW YORK CITY!
Batman's arrival in New York City went even more smoothly than Jace could have hoped. The mayor and law enforcement are trying to cooperate with their new Dark Knight in ways Gotham never did, and his family has settled quickly into a happy routine.
But there's a rotten core to the Big Apple, and a mysterious new serial killer is going to exploit it…Manray!  Empire State of Mind continues

Positives
John Ridley explores the multifaceted world of crime-fighting in the city that never sleeps.  Everything from having Jace Fox/Batman in town to the chagrin of the Police Commissioner (you won't find a kind Commissioner Gordon in the Big Apple) to gun-running and murder.
Ridley's scripts deal with real issues – poverty, neighborhoods, privilege, and pride.  You want writing…this issue alone has some of the most memorable comic quotes.  I'll not spoil any of them here, but this is a comic worth reading.  While the art is worth celebrating as well, John Ridley has added so much to the Batman canon by creating a Batman with a different lens of altruism…one that is approachable, credible, and has the everyday person at heart.  That is no dig on former writers of Bruce Wayne…different is just simply different.
Ridley develops his supporting cast as well.  His change of pace of a police ambush of gun runners to Jace's investigation of a killer has the pace of a Christopher Nolan movie.  That's pretty stellar to accomplish in a comic.
Positives 2.0
Again, I like how Jace is busting down paradigms.  He casts his own shadow and does a lot to separate himself from Bruce Wayne's Batman.  That takes a strong creative team to examine all the off-shoots of Batman and come up with something different.  They have achieved just that!
Negatives  
The best thing that could have happened is for Jace to move out of Gotham and into NYC.  The backdrop is familiar to readers, but more importantly, it provides DC an extension for its heroes to travel there.  Albeit, it also closes a gap for older readers like myself who aligned Gotham as a fictional NYC.  No negative but a huge avoided one if Jace had stayed in Gotham.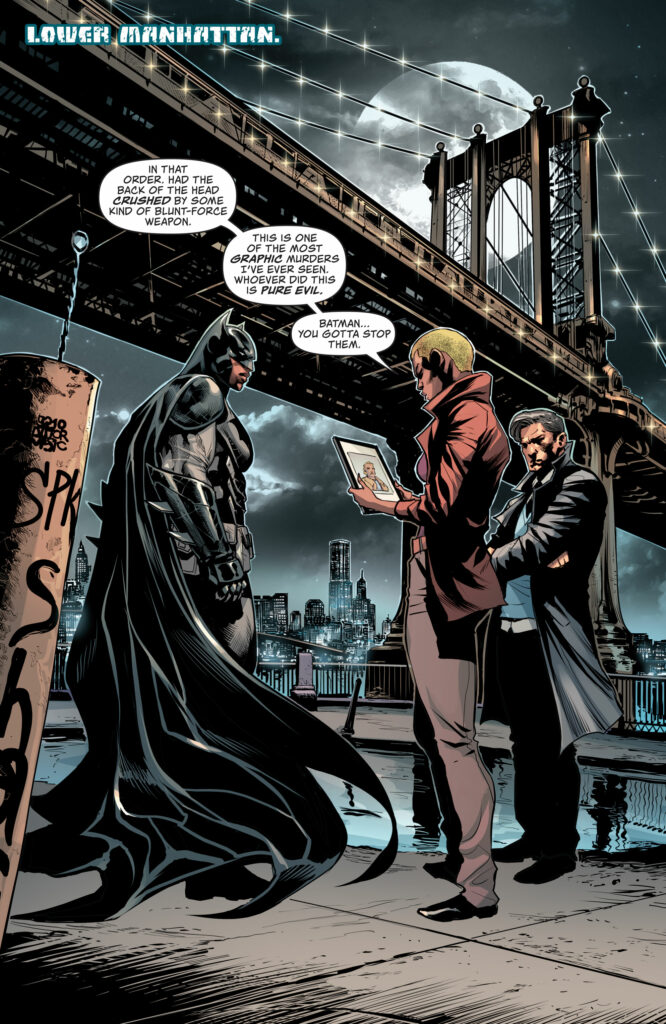 Verdict 
And we have the beginning of a Rogue's Gallery.  Man Ray or is it Manray?  Whomever this person is, you can bet that there will be more.  Great art…take a look at the frame above and really drink that cityscape in!  That's the Big Apple with its own Batman!