Review: THE FLASH #780
[Editor's Note: This review may contain spoilers]
Writer: Jeremy Adams
Artist: Will Conrad
Colors: Jeromy Cox, Matt Herms, Peter Pantazis
Letters: Rob Leigh
Reviewed By: Derek McNeil
Summary
The Flash #780: Even the Fastest Man Alive can't outrun all the danger of the War for Earth-3. Enlisted by his former teammates on the Teen Titans, Wally West helped bring the Titans to Earth-3 but will any of them make it home? Chased by Earth-3's Johnny Quick, the Scarlet Speedster quickly finds himself running out of options.
Positives
The cover of The Flash #780 declares this issue to be a chapter of the War For Earth-3 crossover event. However, this issue is still primarily an issue of The Flash and only peripherally relates to the crossover. But Wally will be playing a more direct role in the event's subsequent chapters alongside his Titans teammates.
This issue picks up where last issue left off. Linda has just discovered that she's developed super-speed powers of her own while frantically searching for her missing children. Cue Wally returning from Gemworld with the kids, plus Irey's pal Maxine Baker in tow.
This reunion of the West family was rather touching. I like how Adams led us to believe that Linda was about to explode in an angry outburst. However, Linda's relief and love for her family overcomes her anger, leading to a family hug. However, Linda does seem reticent about telling Wally about her newfound powers. She narrates that Wally's got too much on his mind to tell him right away. However, I suspect that she's rationalizing because she doesn't want to deal with the matter herself.
Wally then responds to an attack on the Flash Museum. This is where The Flash #780 connects with the War For Earth-3 crossover. Johnny Quick, the Earth-3 villain, ransacks the museum, looking for the Cosmic Treadmill under orders from Amanda Waller. But Rick Flag dispatches Mirror Master to stop him. And Wally is caught between the two. Unfortunately, while Wally deals with Mirror Master, Johnny Quick makes off with the treadmill. And Wally is left wondering what's going on. But Mirror Master doesn't hang around to clue him in.
Positives Cont.
I really like the way Adams has written this tie-in chapter of the War For Earth-3. Readers who want to know more can pick up the other chapters and find out what what's going on that Wally is unaware of yet. But the story still works for those who aren't following the wider story. They can just accept this as a random encounter that Wally doesn't understand. Thus, The Flash #780 works both as a chapter of the crossover and as a standalone issue on its own – something that is rather rare with event tie-ins.
Wally does drop a mention to Linda, when explaining Maxine's presence that her family has just moved to Central City. This explains how Irey and Jai happen to be going to the same school as Animal Man's daughter. It seems likely that Buddy will appear in theses pages before long – hopefully on a recurring basis, and I hope he's back to wearing his classic orange costume in the Infinite Frontier era.
The art of Will Conrad perfectly captures how the characters are supposed to look. One subtle thing I noticed is that the kids actually look the right size for being 8-year-olds. It bugs me a bit when a story features children who are drawn way out of proportion to the age they are supposed to be. Maxine herself has suffered from this in the past herself. But Conrad gets it right.
Negatives
I truly can't find anything to take issue with in this comic. Both the writing and art are superbly done.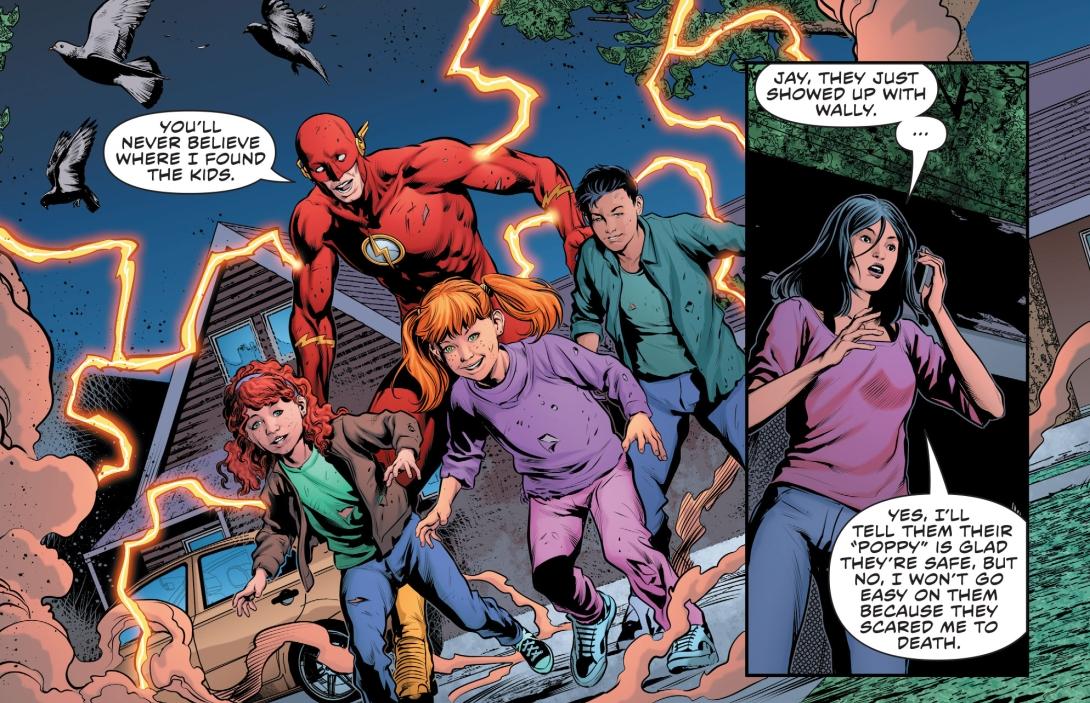 Verdict
I continue to be astounded at how good Jeremy Adams' run on The Flash is. The Flash has always been one of my favourite titles, but it's only since the Rebirth era that it's been my very favourite… and it's gotten even better since Adams took over as writer.