"Nightmare Country" – Chapter Three, and "The Dreaming" – Chapter Three
Writer: James Tynion IV
Artists: Lisandro Estherren and Francesco Francavilla
Color Artists: Patricio Delpeche and Francesco Francavilla
Letterer: Simon Bowland
Summary
It's out of the frying pan and, quite literally, into the fire, in this month's, red hot, Sandman Universe: Nightmare Country #3.
We started issue #2 with our protagonist, New York artist Madison Flynn, standing face to face with the Corinthian. Thankfully, that meeting did not go at all how I expected it to. The chapter's ending left Flynn in a far more serious predicament, however, as she was confronted by the assassins, Mr. Agony and Mr. Ecstasy, in her burning apartment.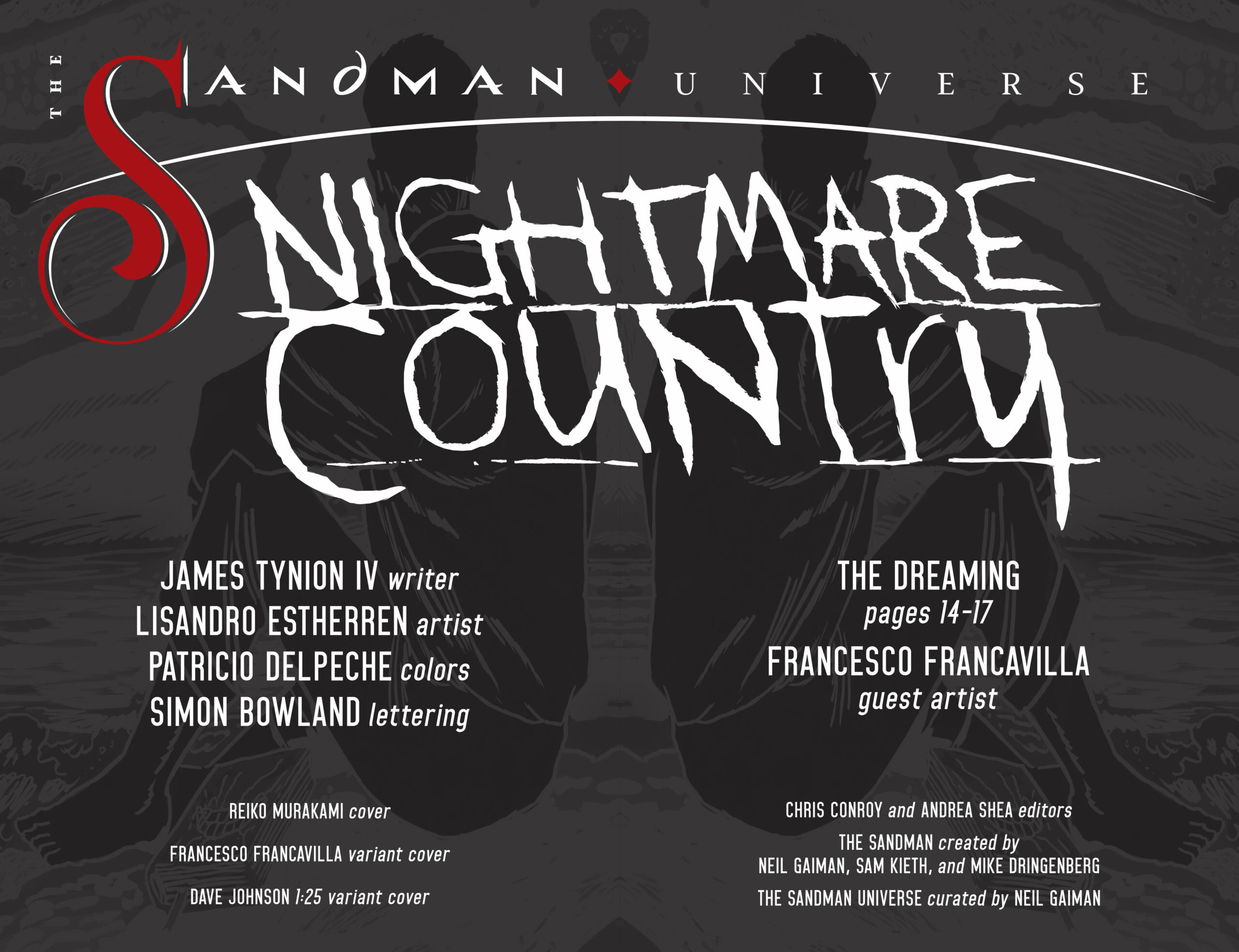 Positives
Talk about cliffhangers! We know from the previous two issues that Agony and Ecstasy are ruthless, remorseless, savage killers who thoroughly enjoy their work. I'm not going to give anything away, but I was far more worried for Madison's safety as this issue opened than when she was facing down the Corinthian. That's a pretty big deal.
James Tynion really knows how to ramp up the tension and the terror, and the amazing artistry of Lisandro Estherren and Patricio Delpeche helps. I could almost feel the heat in that burning room, and every expression on every character's face in this series speaks volumes.
Once again we get a "The Dreaming" interlude, and this month's installment is drawn by fan favorite Francesco Francavilla. Again, we get a complete departure from the main narrative that, rather than break the flow of the story, adds to its disjointed, nightmarish quality. Here we catch up with the aforementioned nightmare, the Corinthian, and we learn how some of his brethren are created in the heart of the Dreaming.
Simon Bowland does another terrific job of unifying the two distinct portions of this issue. My respect for his talent at his craft grows with each chapter, particularly as I know he's also lettering Batman: Fortress right now, too. Simon is proving to be both very talented, and extremely prolific.
Negatives
I commented in my review for issue #1 of this series on a marked similarity between Agony and Ecstacy and Neil Gaiman's creations, Croup and Vandemar, from Neverwhere. It seems that these two vile villains aren't the only inspiration James Tynion's taken from that book. In this issue, we meet an angel who appears to be on the side of the devils. This reminds me of Islington, another former citizen of the Silver City who is far less benevolent than he should be, also from Neverwhere.
I'm hoping that this is another tribute to Gaiman, rather than just copying a story element. I know that James Tynion is an exceptional writer, so will no doubt find my fears will be laid to rest over the coming months.
Verdict
Angelic niggles aside, Sandman Universe: Nightmare Country #3 was another great read and I'm still invested in Madison Flynn and the ever-developing Corinthian. Plus; who do Agony and Ecstasy report to? How do the Corinthian and the Smiling Man figure into everything? Why does Madison dream of creatures with mouths for eyes?
I'm looking forward to finding out.
Images Courtesy of DC Entertainment