Review: Batgirls #7

[Editor's Note: This review may contain spoilers]
Writers: Becky Cloonan and Michael W. Conrad
Art: Robbi Rodriguez
Colors: Rico Renzi
Letters: Becca Carey
Reviewed by: Matthew B. Lloyd
Summary
The Batgirls have put away Tutor and turn their attention back to Seer and the Saints.  Things don't always go as planned, however, leaving Cass and Steph with a turn in Oracle's shoes.
Positives
From the first appearance of this series as a backup strip in Batman #115 (December 2021), it's been clear that it captures the sense of fun and wonder that comics should and it channels the best of the comics of the past.  The connection to Birds of Prey is obvious, with Barbara Gordon/ Oracle playing a leading role in both series.  It's hard not to see a connection with the best of DC's series from the '80s, New Teen Titans, and Legion of Super-Heroes.  Batgirls does have a cast as large as either of those series, but the fact that all these series are about character first and the relationships between the characters.  Like those series, the characters in Batgirls come across as individuals.  It could be easy to write Cass and Steph similarly, but Cloonan and Conrad do a great job of imbuing them each with their own personality.
Some of the fun shines through as Barbara is at her "Oracliest" as she proclaims to Seer's robot dog, "Fido, we're going to bust your dad again."  It not only takes us back to the Birds of Prey days with Barbara's role as a wonder-hacker, but it's a moment that puts a smile on your and reminds you this is supposed to be fun.  Steph gets a great line as she tells the Saints, "We're so tight we use the same name."  It perfectly encapsulates Steph's personality as does Cass's agreement that they can't let Seer get killed.  What's funny is that Cass doesn't quite seem to be on the same page at first almost as if she's still trying to remember what the right thing to do is.  These examples of dialogue are great moments that characterize the cast and build distinct personalities.
Positives Cont'd
Batgirls #7 culminates with a Dick Grayson/ Barbara Gordon "date night." It's always great to see these two together, and the setup promises that comic's favorite couple will have a hell of a "date" next issue.  Robbi Rodriguez has some nice moments in the issue, the first being the splash page as Cass and Steph jump into action.  Rodriguez captures the nuances of the characters as well.  The only thing that is slightly jarring is that Dick appears to be Asian, and it was just confusing when he first showed up.  I expected Mr. Grayson to step out of the limo, but then…I wasn't sure.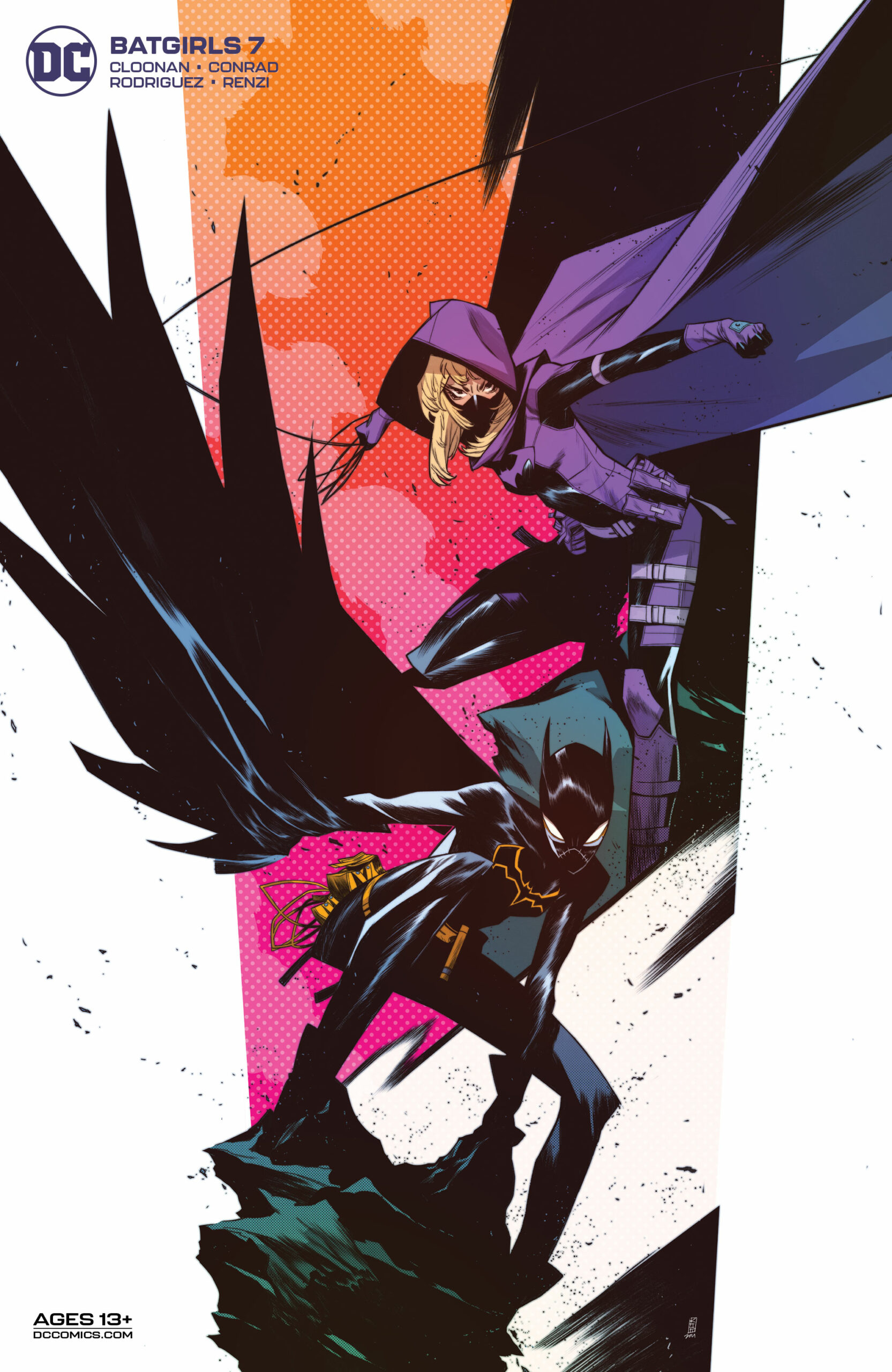 Seer turns out to be a fairly compelling character.  Unlikable for obvious reasons, but it's hard not to feel some empathy for her once we learn about her past.  Despite never being a villain, I'm getting some Danny Chase (New Teen Titans) vibes because of her attitude.   I can't help but wonder if Seer will get a redemption arc or just turn out to be the alpha nemesis for the Batgirls.
Negatives
Outside of Dick's appearance in relation to the storytelling aspect, there's nothing really negative to comment on here.
Verdict
Batgirls #7 is just that kind of comic that always makes me smile.  It's that good.  It's been that way all the way through the series so far.  Fans of Nightwing should definitely be reading this, it's the obvious companion book in content, quality and approach.  Seer has been a part of the narrative since Batman #115 and she's finally getting the spotlight.  The next issue looks to be another fun adventure with Steph, Cass, Babs, and Dick!