Review: The Swamp Thing #14

[Editor's Note: This review may contain spoilers]
Writer: Ram V
Art: Mike Perkins
Colors: Mike Spicer
Letters: Aditya Bidikar
Reviewed by: Matthew B. Lloyd
Summary
Hal Jordan, Green Lantern assists Levi in infiltrating the surrounding plant forces in an attempt to stop worldwide destruction.  Hoping to refocus the surrounding forces, Levi has to lose himself in the alien plant life.
Positives
While the notion of plant vs machine is nothing new, it's the intensity of how it is presented that is so impactful in The Swamp Thing #14.  Ram V brings this concept to the forefront and really makes the reader feel it.  We use machines in everyday life, we see technology as a tool in our hands, but we don't see it from the perspective of an intruder or maleficent force.  This issue gets this notion across.  And, while the machines themselves are not to blame for independent action, it's a (former?) human behind it.
The most significant sequence comes in when Levi gets Z'etar to see the relationship between man and the natural world.  It shouldn't be a great leap as man is part of that organic world, naturally.  While distinct as fauna and not the flora ruled by the Green, the cycles of oxygen and nitrogen show how they are interdependent.  Ram V is working at a higher level here as he tries to get the reader to feel this connection that is so obvious but disconnected in our modern lives.
I don't think anyone will be surprised to hear that the art by Mike Perkins and Mike Spicer is absolutely gorgeous as usual.  Perkins sells the story and the drama while Spicer delivers beautiful moods through his colors.  One interesting thing that happens early in The Swamp Thing #14 is a sequence with Levi changing from his human form to Swamp Thing.  As readers know that when he is Swampy his speech is depicted differently with a different color word balloon and stylized lettering by Aditya Bidikar.  It's clever how this is depicted as his word balloons slowly change through the panel in both color and lettering style.
Negatives
I don't think there's a negative to be uncovered here, even if one were to look really hard.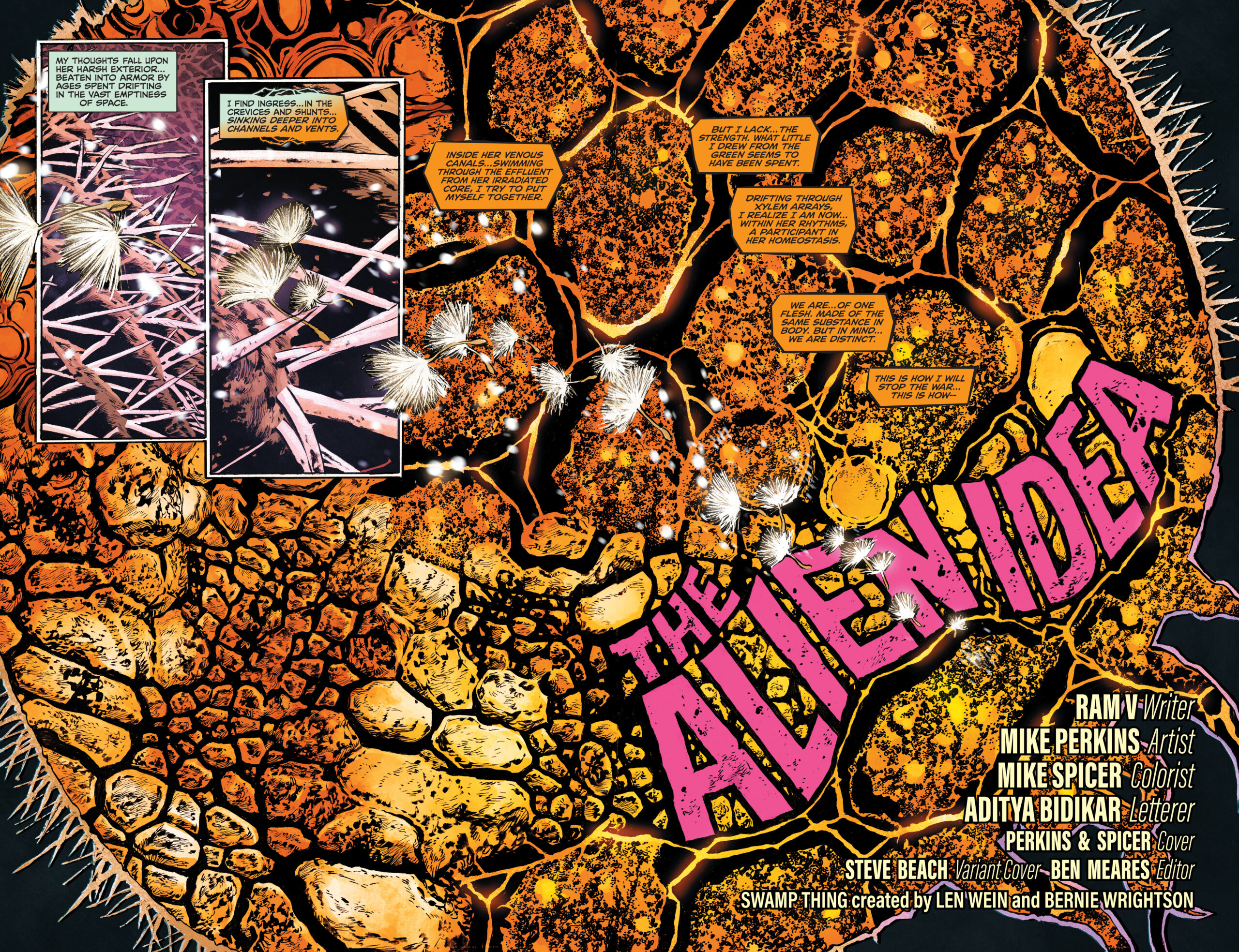 Verdict
The Swamp Thing #14 demonstrates the deeper themes that Ram V brings to his comics.  It's easy enough to be excited by a classic good vs evil story even if there are conflicted/ambiguous characters, but this comic takes it even further by getting to the core of the theme of man vs nature.  It's both cerebral and emotional at the same time which is truly a magnificent feat.  It will make you think and feel.