The greatest era of heroism is preparing for a comeback, as DC revives the JUSTICE SOCIETY OF AMERICA and begins the "NEW GOLDEN AGE" courtesy of comics great Geoff Johns.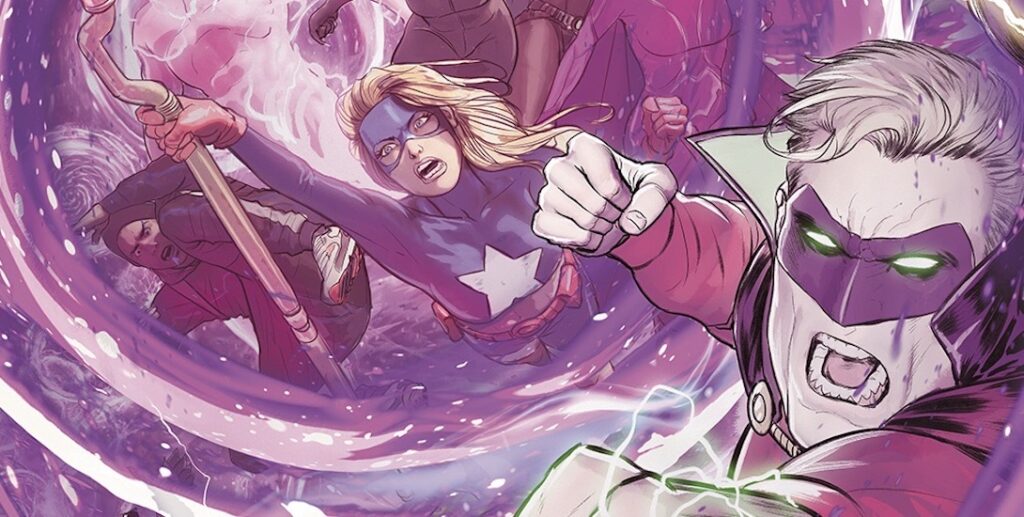 Since the climatically consequential events of the original Flashpoint mini-series, the DC multiverse has been in a state of unrest. Even after a "Rebirth" revealed that the heroes of Earth-0 – the "prime" and current continuity – had been the unwilling pawns manipulated by the omnipotent might of Watchmen's Dr. Manhattan, the chronological history of events has been disordered, to say the least. Currently, Earth-0 is in the throws of another crisis! The apparent "death" of the Justice League has opened the door to a "Dark Crisis" that is still playing out!
Fortunately, there may be some light at the end of this dark tunnel as DC embraces and prepares to embark on a "new" Golden Age of heroes! In the aftermath of the Flashpoint Beyond, the heroes of the Justice Society of America are poised for a renaissance and find themselves facing a mystery of epic proportions that spans the generations! It begins with the upcoming one-shot Justice Society of America: THE NEW GOLDEN AGE Part One written by DC comics luminary Geoff Johns (and executive producer of The CW series DC's Stargirl) which will have a profound impact on the legendary group with far-reaching effects into the future of DC.
The special one-shot will introduce two new additional titles written by Johns who is returning to the fold with Justice Society of America #1 and the 6-issue series Stargirl: THE LOST CHILDREN.
Geoff Johns:
I'm happy to be writing these two titles, each one of them focused on celebrating and expanding the history (and far future) of heroism in the DC Universe.
He'll be joined by artist Mikel Janín on the revamp of the JSA, which is set to hit stands on November 22.
Johns continued:
Mikel Janín is doing the work of his career on this.
The writer is excited to reunite with some very familiar faces including Jay Garrick and Alan Scott, the OG Flash, and Green Lantern.
Johns' personal connection to Stargirl revitalized his ambition to continue to evolve the teenage heroine's story and revisit Young Justice collaborator with the iconic Todd Nauck for Courtney Whitmore's latest adventure in Stargirl: THE LOST CHILDREN mini-series which ties into the "New Golden Age" umbrella. In the story, Stargirl allies herself with Red Arrow to follow the trail of a missing teenage hero…only to discover that he's not the only Golden Age teenage hero that's vanished without a trace! Both series promise a return to greatness for a beloved Golden Age of heroism in the grand tradition of DC comics.
THE NEW GOLDEN AGE #1 ONE-SHOT is written by Geoff Johns with art by Steve Lieber, Jerry Ordway, and Diego Olorteggui and will be on sale on Nov 8, 2022 for $4.99. JUSTICE SOCIETY OF AMERICA #1 is written by Geoff Johns with art by Mikel Janín with a street date of Nov 11, 2022, published monthly as an ongoing series, $3.99. STARGIRL: THE LOST CHILDREN #1 6-ISSUE LIMITED SERIES is written by Geoff Johns with art by Todd Nauck and will be on sale on Nov 15, 2022, for $3.99