The Superman family have not only added two new members, but they've got some brand-new costumes as well!
At New York Comic Con 2022, DC unveiled the cover to the upcoming Action Comics #1051, the first post-Dark Crisis issue of the title. What's most striking about this cover is not just the entire Superman Family, but their brand-new looks.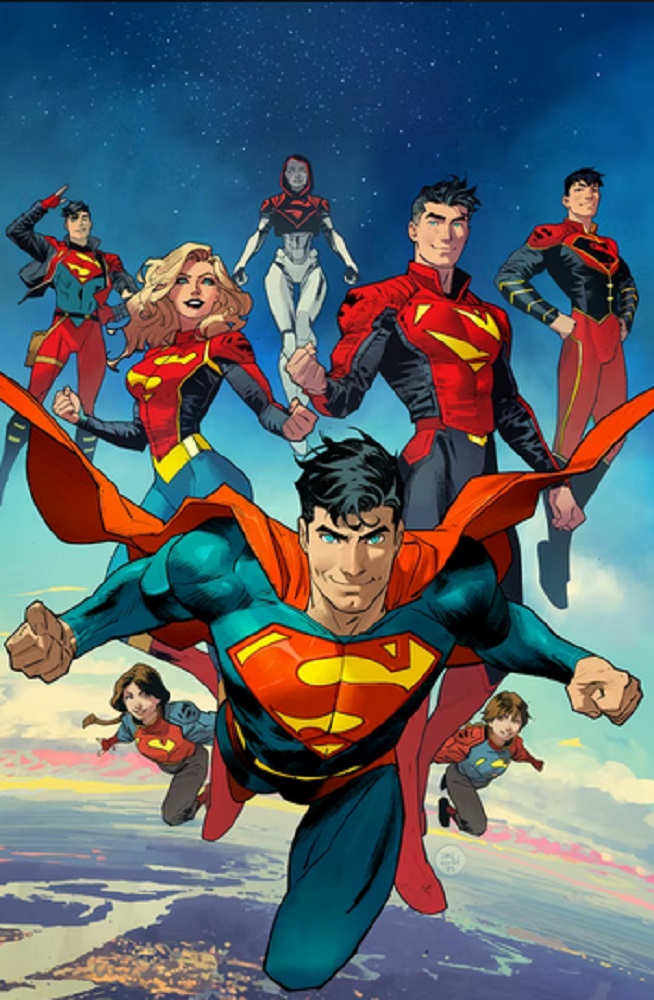 While Clark Kent/Kal-El/Superman retains his classic, iconic costume, staple characters like his cousin Kara and son Jonathan have shed their capes for practical bodysuits. Clark's recently adopted twins from Warworld wear his crest, but on jackets. The jacket trend is shared by the Super-Man of China and Connor Kent, the latter sporting a spike-free jacket. Finally, Natasha Irons/Steel in the background has now added a hood to her suit of armor.
Superman Family Approach, According to Johnson and Co.
At the panel, Action Comics writer Philip Kennedy Johnson confirmed a collaboration with Dark Crisis writer Josh Williamson and Superman: Son of Kal-El's Tom Taylor. This think-tank has so much planned for the Super-Family, as Johnson explains:
My one-word mission statement for Action Comics in 2023 is ['Super-Family'. We're] giving everyone in the House of El their own role and personal journey while still keeping Superman at the forefront, and tying all the Super-titles together in a way that's reminiscent of the Triangle Era. I couldn't be more excited to be part of this new era of Action Comics, and doing it alongside such a consummate artist as Rafa Sandoval and comics titan Dan Jurgens truly makes it a once-in-a-lifetime experience.
Johnson credits the 100-page Pre-Crisis Superman Family series as his inspiration.
The involvement of Jurgens carries much weight, as he was part of the creative team on The Death of Superman story from 1992, for which DC plans a special celebratory issue for its 30th anniversary.
The format of the books will also change under Johnson's run. Starting with #1051, Action Comics will have three separate stories as opposed to only one. The family will be squaring off against Metallo in their first outing in the main tale, which will be penned by Johnson.
Action Comics #1051 will hit the shelves on January 24, 2023.
Official Source – DC's Superman Family Gets Dramatic New Costumes (cbr.com)