Blu-Ray Review: Black Adam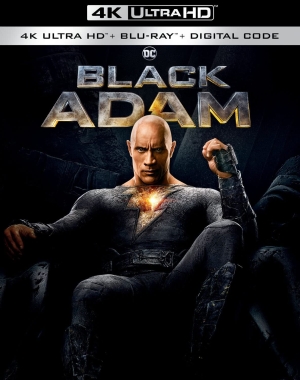 [Editor's Note: This review may contain spoilers]
Director: Jaume Collet-Serra
Writers: Adam Sztykiel, Rory Haines, Sohrab Noshirvani
Starring: Dwayne Johnson, Pierce Brosnan, Noah Centineo, Sarah Shahi, Henry Winkler, Aldis Hodge
Reviewed By: Derek McNeil
Thanks to WB for providing a review copy.
Summary
Black Adam: Nearly 5,000 years after he was bestowed with the almighty powers of the ancient gods – and imprisoned just as quickly – Black Adam is freed from his earthly tomb, ready to release his unique form of justice on the modern world.
Positives
While I usually have high expectations for most DC movies, I had some trepidation about Black Adam – mainly due to the lead actor, Dwayne Johnson. I have some doubts that a professional wrestler would have the acting ability necessary for a lead role. However, The Suicide Squad and its spinoff Peacemaker have taught me that sometimes they can actually do quite well in a superhero role.
While I can't say that Johnson's performance is as good as Cena's as Peacemaker, I was surprised to see that Johnson did a decent job of bringing the character of Black Adam to life.
I loved that Black Adam also featured the Justice Society, and that they were integral to the movie's plot. The JSA has only gotten brief recognition in DC's TV offerings, and has never been referred to in any DC live-action movie before now. You would think that DC's first superhero team would have been mentioned before now. They laid the foundation for DC's superhero universe and I believe they are deserving of their own movie at some point.
The movie had a strong theme of the nature of justice, which is fitting in a movie featuring the Justice Society. Black Adam's idea of justice is brutal and frequently lethal. While Hawkman has a more even-keeled idea of justice. Hawkman and Black Adam frequently argue over Adam killing his enemies. While Hawkman doesn't really bring Adam over to his way of thinking, Adam's position does soften somewhat. Perhaps in future installments, Adam might come around fully to share Hawkman's view of justice.

Positives Cont.
Of the various characters in Black Adam, the best was Pierce Brosnan's Doctor Fate. This interpretation of the character was incredibly faithful to the comic version. And Brosnan was amazingly charismatic in the role of Kent Nelson. I would really love to see Brosnan star in his own Doctor Fate movie. While the events of this movie might make a sequel with Brosnan as Doctor Fate difficult, they could easily make a prequel.
I also quite enjoyed Sara Shahi's performance of Adrianna Tomaz. who became the heroine Isis in the comics, as well as being Adam's love interest. If a sequel to this movie happens, I would love to see her taking on the role of Isis in the world of Black Adam.
While he only had a brief cameo, I loved seeing that Henry Winkler was cast as the original Atom Smasher. Winkler is a legend and I wish he could have gotten more screen time. But I was happy to see his inclusion in the movie.
I loved the end credit scene where Henry Cavill makes a cameo as Superman. Unfortunately, it appears that this scene will mark Cavill's final appearance in the role, as James Gunn has declared that the role of Superman will be recast in future DC movies. Hopefully, that will change, and we will get to see him reprise the role, even if only in a multiverse story or an Elseworlds movie.
Positives Cont.
The movie looks absolutely stunning on a 4K UHD capable TV. However, the regular Blu-Ray looks quite nice on a 1080p TV also, which will be fine for many viewers. If you are on a budget or don't really care about having the best possible picture, then the DVD version is quite watchable.
Warner Home Video offers this movie in three different physical packages:
4K UHD combo pack, which also includes a Blu-Ray copy and digital download code
Blu-Ray combo pack, which also includes a DVD copy and digital download code
DVD single disk pack
Take note that the digital download code is only available in the United States. Warner provided me with an American copy of the 4K Blu-Ray which included the code, but it isn't usable in Canada. But, I personally don't see that as a drawback, as I prefer to use the physical media over watching the streamed digital version.
The package includes a wealth of special features, with several short documentaries about the subjects such as the history of Black Adam and the Justice Society in the comics, and the realization of a live-action version of the country Kahndaq. There are also features about the process of making the movie, and technical subjects like costumes and special effects.
Keep in mind that the special features are only on the regular Blu-Ray. The 4K set includes the Blu-Ray, so these features are available, but in 1080p, not 4K UHD. The DVD only version contains no special features at all.
Negatives
Unfortunately, there are a few things that I found disappointing about this release. While I love that the Justice Society played a central role in this movie, I was disappointed that they whittled the roster down to only four members. I wish some more of the classic JSA members or their proteges could have been included.
I also didn't care much for some of the deviations from the source material regarding some of the characters. The race-swapping of Hawkman or Cyclone didn't bother me at all. That didn't really change the characters other than visually, but I didn't like that Cyclone and Atom Smasher had somewhat different personalities than their comic book counterparts. However, I have to admit their costumes and powers were spot on.
Atom Smasher is played as something of a well-meaning screwup in this movie, whereas the comic book version's a quite capable and competent hero. The movie version seems to be more of an amalgam of Atom Smasher and the similar character Damage from the comics.
Cyclone has suddenly been promoted to being a technological genius. She's clever in the comics, but she's not a super-genius whiz kid. Instead of changing these characters to have these qualities, why didn't they just add a couple more JSA members that have these traits. This would better round out the team.
Negatives Cont.
I understand that they had to break Shazam and Black Adam into separate movies to do both stories justice. However, I do wish that they had made the connection between Adam and Shazam/Captain Marvel more clear. I feel that the terrific end credits scene with Cavill would have been much better if Zach Levi as Shazam had accompanied Superman to confront Adam.
I also didn't like that they referred to Henry Winkler's character as the original Atom Smasher. Al Pratt was the Atom in the comic, Albert Rothstein created the name Atom Smasher as an homage to the Atom, but it was also his own unique identity. Changing Al Pratt's superhero name ultimately had no effect on the events of the movie, making the change pointless. So why didn't they stick with the comic-accurate name?
Also, while the wealth of special features in this release were both interesting and informative, I do have a small gripe about them. As with a lot of other movies, there is a glaring omission. I feel that all home video special features should include, at a bare minimum, the trailers for the feature movie itself. No trailers, TV spots, or any promotional videos are included with this release, which is a shame.
Verdict
Despite these drawbacks, I quite enjoyed the film. While I was a bit apprehensive about Black Adam, it surpassed my expectations. Watching this movie was a fun and entertaining experience. While Black Adam isn't the best movie in the DCEU franchise, it is far from being the worst. It's a solid film, and well worth watching. I wouldn't be averse to seeing a sequel in the future, hopefully one where Johnson's Black Adam faces Zach Levi's Shazam/Captain Marvel.