Review: Swamp Thing: Green Hell #2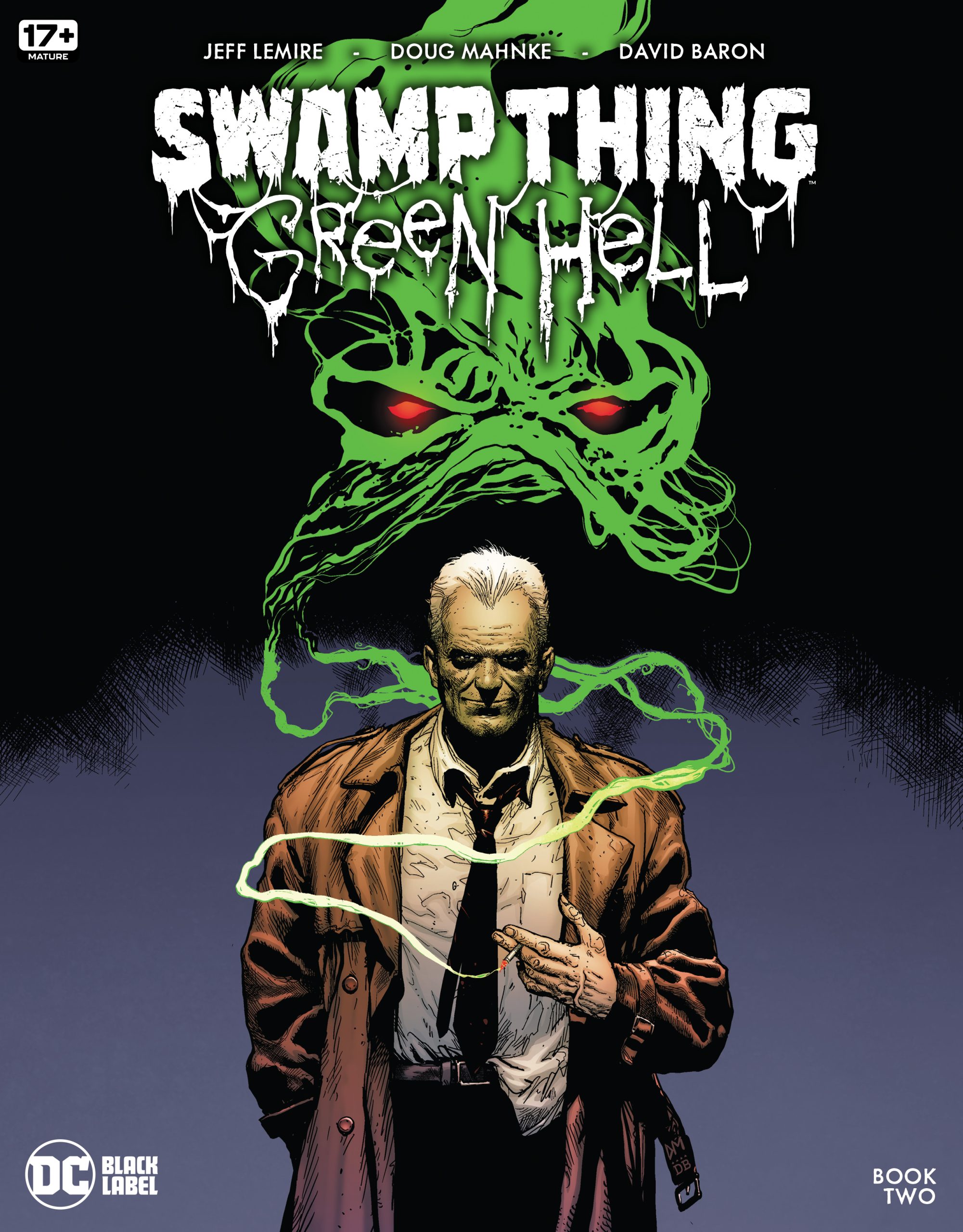 [Editor's Note: This review may contain spoilers]
Writer: Jeff Lemire
Art: Doug Mahnke
Colors: David Baron
Letters: Steve Wands
Reviewed by: Matthew B. Lloyd
Summary
John Constantine has summoned Alec Holland from what he thought was his eternal reward.  Now, Holland must decide if he will stand against his former masters or allow the Green to overrun and kill all life on Earth.
Positives
It can't be stressed enough how beautiful this book is visually.  Dough Mahnke and David Baron deliver everything they've got.  Mahnke takes advantage of the depiction of Swamp Things past straddling the beautiful and grotesque.  Depicting familiar characters who are now older is a fun experience and Mahnke gets it right with Constantine.    Plus, there are some artistic hints that not everything may be what it seems.  Baron uses warm colors to great effect as we've seen in other Swamp Thing comics over the years.  There's a visual repertoire associated with the character and his world and Baron's choices fit right in.  It doesn't feel derivative, but rather appropriate.  It feels familiar, in a good way.
Jeff Lemire peppers Swamp Thing: Green Hell #2 with some familiar characters as well.  It's not just the obvious like Constantine, but as the issue goes on other characters associated with Swamp Thing throughout the years make appearances.  Of course there's Abby, but also Tefe Holland.  Deadman shows up as well as Ellen and Maxine Baker.  Instead of this being a bit of a nostalgic ploy, it quickly comes into focus that Lemire is following the threads of his Animal Man run which crossed over with Swamp Thing.
Positives Cont'd
At the launch of The New 52, Scott Snyder was writing Swamp Thing and Lemire was writing Animal Man.  After initial arcs, these titles crossed over.  As the Green, the Red and the Rot ally themselves in Swamp Thing: Green Hell #2, it becomes apparent that this is coming from the concepts that were set up in The New 52 runs of these titles.  While much of The New 52 was maligned, these were two of the best titles, and they didn't wipe out what had gone before, but instead continued to build on the mythos.  It's a pleasant surprise to see these concepts appear again in Green Hell #2.  This does leave some questions: How is Abby no longer avatar of the Rot?  How is Tefe so young?  We last saw a much older Tefe in Ram V and Mike Perkins' The Swamp Thing.
Lemire has Alec face perhaps his biggest conundrum: Is his allegiance to the Green, humanity or his family?  This is a theme that is rooted in the history of the character from the very beginning.  For many years being the avatar of the Green went hand in hand with protecting humanity.  Now, it's something else.  It's an interesting question to ponder and while we know the answer, seeing Alec drawn toward his family is the real gut wrenching aspect.  What cause would you give up your family for?  I suspect that this may not be the real Abby and Tefe and simply constructs.  Alec knows this, but he is so desperate to have his family and humanity he lives with the illusion.  We saw this same mindset in the Future State issues of The Swamp Thing.
Negatives
It goes without saying, I think that the biggest negative from this is the wait since issue #1.  That comic came out on December 28, 2021- over a year ago.  Surprisingly, Green Hell #2 is remarkably easy to follow.  As long as you remember the basic premise, it all comes back into focus pretty easily.  
Verdict
Swamp Thing: Green Hell #2 morphs from a "last Swamp Thing" story to a continuation of The New 52 era of the character.  Along with the concepts developed in The New 52 Animal Man, there's some real meat in this issue.  Lemire is sure to include classic Swamp Thing themes, but it's just as exciting to see what happens with the Green, the Red and the Rot.  With the fate of humanity, Abby and Tefe hanging in the balance, this series is already one of the great Swamp Thing stories.