Review: The Penguin #1
[Editor's Note: This review may contain spoilers]
Writer:  Tom King
Artist: Rafael de Latorre
Colorist: Marcelo Maiolo
Letterer: Clayton Cowles
Review by Kendra Smart
Summary
They say that revenge is a dish best served cold, and given Oswald Cobblepot's propensity for the cold… he should be a master chef. The Penguin #1 gives us the explanation of what life looks like through the eyes of a Penguin living the good life in Metropolis. A happily married business-owner, of a flower shop at that, and life looks good, by all merits. But it is clear that below the surface still lies a man who all should fear, a ticking bomb of malice waiting for the right individual to lose his merciful ways. Agent Espinoza is dedicated to earning that title.
She Broke It All
There is so much to unload with The Penguin #1 that I will do it in two parts. The comic covers most assuredly deserve their time in the spotlight. There are five covers to choose from with one being a virgin edition of Nathan Szerdy's variant cover. Being as that is our twofer, let us begin there. Nathan Szerdy gives us an amazing idea brought to life as Harley Quinn is Penguin's tattoo artist. The "Straight Outta Gotham" tattoo is already great with a detailed scene, but the virgin 1:50 ratio variant adds more tats and details galore. The attention to precise detailing is wonderful and a genuine delight.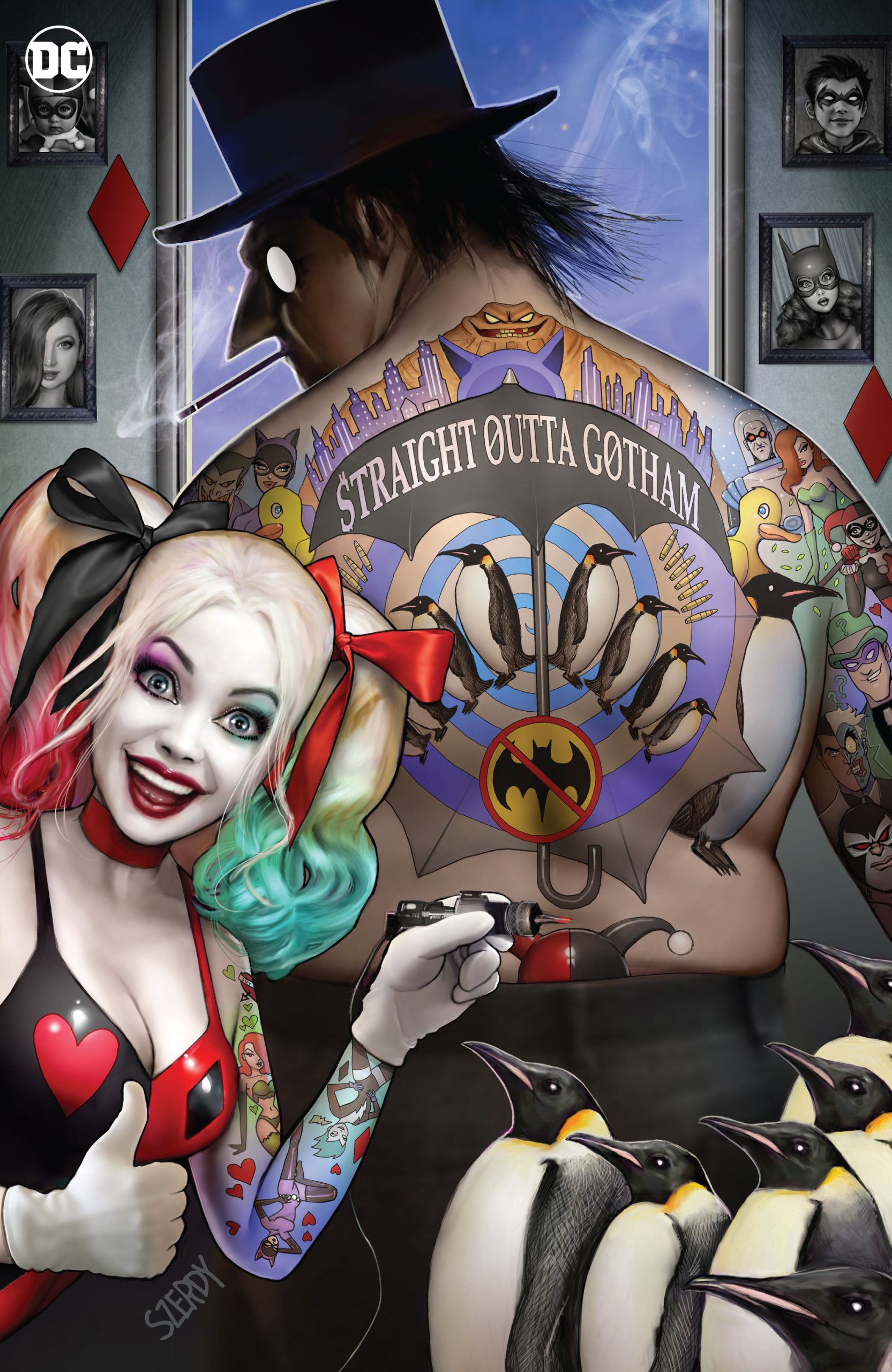 There are other covers that definitely stand on their own as well. Legend Brian Bolland brings us a version of Penguin in all his stereotypical glory. It is a wonderful old school feeling cover, where the more you look, the more details you find added to the picture. Even the main cover with art by Stefano Gaudiano and colors by Scorpio Steele is ridiculous fan service material. A full mafioso feeling indeed. David Marquez gives us a great cover featuring Penguin, Catwoman, and Agent Nuri Espinoza.  But the last cover by Kael Ngu is my favorite out of a hard selection to narrow down.  Kael gives us a luscious scene set specifically to draw the eye. Penguin sitting in an alley where the paper and graffiti proclaim his missing, dead self. The style is so lovely, dark, and gritty, with a cameo by Catwoman and Batman.
Welcome To Blossoms
For The Penguin #1, we dive in quick as Batman and Oswald are trapped, and seemingly debilitated, preventing them from escaping. Batman is struggling to find a way to save them, but seems to quickly be running out of options. Which leads us to how we got here. Starting one year earlier in Metropolis as Cobblepot is doing the task of getting a new suit with his tailor. But known or unknown, he is being watched. A seemingly normal guy having a seemingly normal day, but even as he is put to the test, there is nary a falter. Even his relationship with his wife, Rita, has Mr. Cobb, formally Oswald Cobblepot, looking like the sweetest, most patient individual.
Things move even faster as Mr. Cobb goes to his flower shop, named Blossoms, and finds himself facing not only unruly customers, but also the unforgettable introduction of Agent Espinoza. For better or worse, she most certainly has her target's full attention. Oh, is the banter delicious.  The FBI and Waller want Cobblepot on their retainer and Espinoza is ready to be the one who brings him aboard. But what have they unleashed by messing with the Penguin? What exactly happened to put Batman and Oswald in such a state?
Positives
Tom King has a fan in me for his stellar writing. His deep character dives are always lovely and I appreciate him going to the core of what makes a human being. With The Penguin #1, he does this again, almost instantly, in two scenes — the banter scene between Oswald and Espinoza, which holds that self-awareness of how the world sees him and how much it actually does mean to him, as well as the scene where Penguin leaves the FBI interrogation room and Espinoza is allowed to let the stone wall break and feel the knowledge that by doing the actions she did to GET his attention… he will kill her. Without a doubt, the writing is matched gracefully with Rafael de Latorre's artwork and Marcelo Maiolo's color work, which are both outstanding.
Negatives
Please. Read for yourself and tell me where your negatives are.
Verdict
Ready and waiting for the next. The Penguin #1 is definitely a buckle up and bring down the pull bar for safety. Going to be a wicked ride.
Score: 5/5

Images Courtesy Of DC Entertainment.