Review: Nightwing #108

[Editor's Note: This review may contain spoilers]

Writers: Tom Taylor and Michael W. Conrad
Art: Stephen Byrne and Serg Acuna
Colors: Adriano Lucas
Letters: Wes Abbott

Reviewed by: Matthew B. Lloyd
Summary
Dick and Bea head off on board her ship only to run into more trouble and betrayal than can be imagined!  It's a pirates life!
Positives
Tom Taylor goes into a direction you don't see coming in Nightwing #108.  There have already been surprises with Bea Bennett's revelation as Captain Blud, but there's even more.  It's not fair to give away spoilers  in this review, but there are some surprising developments.  We will have to say that the surprises are not only unexpected, but quite engaging.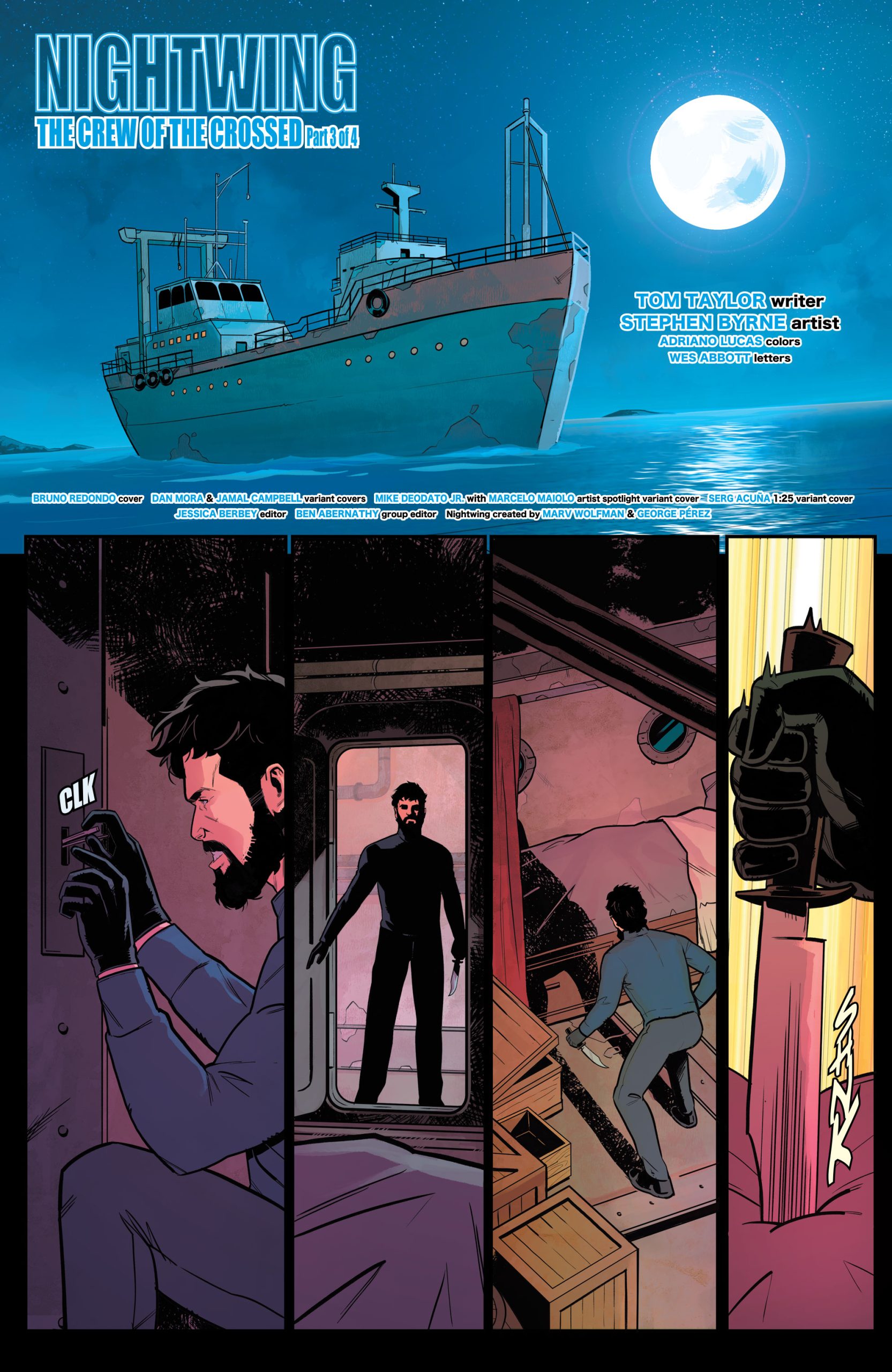 The pace of the plot itself is surprising as well, I certainly didn't think things would develop this quickly.  This makes it possible for this arc to have some more turns in it.  One of the major developments really gets to the heart of Dick Grayson's character and his relationships with other.  It's has the possibility to go really complex and at the same time change the direction of the series depending on how it all plays out.  It's not entirely clear how much misdirection there is.
Nightwing #108 also concludes the back up tale by Michael W. Conrad.  The first two instalments from the previous two issues are neatly tied up with this third and final chapter.  The conclusion is heartwarming and it, along with a far reach back into Bat-history put a big smile on my face.  Conrad shows how the Bat-family can connect on a personal level, and this three-parter even shows how Dick (and Babs?) have cultivated their own mini family.
Negatives
Titans: Beast World is on the horizon, and with the next two issues of Nightwing part of the crossover, it feels like this arc is racing along to accommodate it.  It feels like it's going to split this arc in half.  It's a little disappointing because this issue ends on a cliffhanger and it won't be an organic transition.  A lot seems to be left for this arc and interrupting it with the crossover is counter productive.
Verdict
Nightwing #108 is another solid issue in this run.  The surprises surprises and they suggest some deeper developments to come.  This whole "pirate" storyline has been interesting from the first time the Hold was introduced.  There's a lot of heart in this issue between both stories, which is one of the strengths that is a part of this title.