A ton of great exclusives will be available at the 2016 San Diego Comic Con International. This years con will be held at the San Diego Convention Center and will take place on July 21–24, 2016 (with a July 20th preview night). Check back with DC Comics News for more SDCC 2016 news!
Click on the links for more SDCC 2016 exclusives Previews, Kotobukiya ARTFX+, Sideshow Collectibles, Funko, Funko2
To pick up these cool DC collectibles stop by the Icon Heroes booth #3345 and for the Harley Quinn statue paperweight stop by the Diamond PREVIEWSworld booth #2401.
SDCC 2016 DC Comics Exclusive Wonder Woman Bombshells Mouse Pad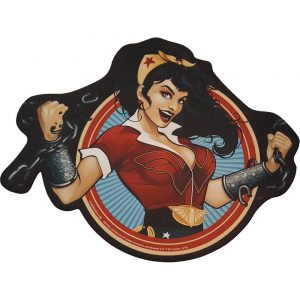 Who couldn't use a few more Bombshells in their life? Well, we're making that possible with the new Wonder Woman Bombshells Mousepad! Based on art from the hit DC Comics series by Marguerite Bennett, this amazing mousepad features a stunning image of Wonder Woman in all her Amazonian glory! Measuring 11″ wide and 8.5″ tall, this mouse pad is a must-have for Wonder Woman fans!
Dimension: 11″ W x 8.5″ H
Approx. Weight: 2.2 oz
SDCC Exclusive Arrow Season 2 Statue Paperweight.
The forces of evil (and disorganized paperwork) don't stand a chance against against the Arrow Statue Paperweight! Standing 8.6 inches tall, cast in high-quality resin and expertly painted, Oliver Queen features the iconic costume Stephen Amell wore in season 2 of CW's hit show, Arrow! If you work in an office wear topping your co-workers desk décor is a constant challenge, this is one decoration that never misses the mark!
Material: Polystone
Dimension: 8.6"H
Approx. Weight: 1.5 lb
SDCC Exclusive Batman: Arkham Knight Batman Statue Paperweight.
After a long day at the office, perhaps you look a little worse for wear … well, now your desk can reflect your mood with the Batman Arkham Knight Unmasked/Battle Damaged Statue Paperweight! Standing approximately 8 inches tall, this variant of the Arkham Knight Batman statue features the Dark Knight unmasked, revealing the steely gaze of billionaire Bruce Wayne! The amazingly detailed costume is expertly painted, detailed with various "battle damage" from Batman's war on crime. This paperweight is made from high-quality resin, and stands ready to tell your co-workers it's been a rough day!
Material: Polystone
Dimension: 7.75″H
Approx. Weight: 1.5 lb
SDCC 2016 Exclusive Harley Quinn Statue Paperweight.
You just can't keep a good villain down … but a good villain can keep your papers down, and so Icon Heroes is proud to announce the SDCC Exclusive DC Comics Batman Batman Arkham Knight Harley Quinn statue paperweight! Made of high quality polystone resin and expertly painted, this 8" statue paperweight is ready to take over your desk, just like she plans to take over Gotham! Limited to 2,500 pieces.
Available exclusively through Diamond Comics. Comic-Con attendees will be able to preview the items at the Diamond PREVIEWSworld booth #2401 and purchase from participating retailers on the show floor.