[Editor's Note: This review may contain spoilers]
Writer: Jon Rivera
Artist: Michael Avon Oeming
Colorist: Nick Filardi
Summary
Cave, Chloe and Dr. Bartow, after having been "arrested" last issue are on their way to Abraxa Elium for what they believe to be incarceration.  Abraxa Elium appears to be an upside down outer-space jelly fish surrounded by a man-made (and I use the term "man" loosely) ring which serves as the "planet."
Cave starts to figure out they haven't so much been arrested, but abducted.  Just as they enter the ring, the ship they are on is attacked by another alien.  It becomes clear that Cave has been targeted by someone for collection.  Cave uses the opening to take control of the ship and they end up escaping in Cave's eye and discover Star Adam alive on the "planet."  After a happy reunion, they attempt to get off world, but their course takes them to a Cave Carson Merchandise shop.  Apparently, Cave and the team are celebrities here and that's why the Prince of Elium had a bounty on them.  About this time, Star lays down some heaviness on them as he explains that the end of the world is coming.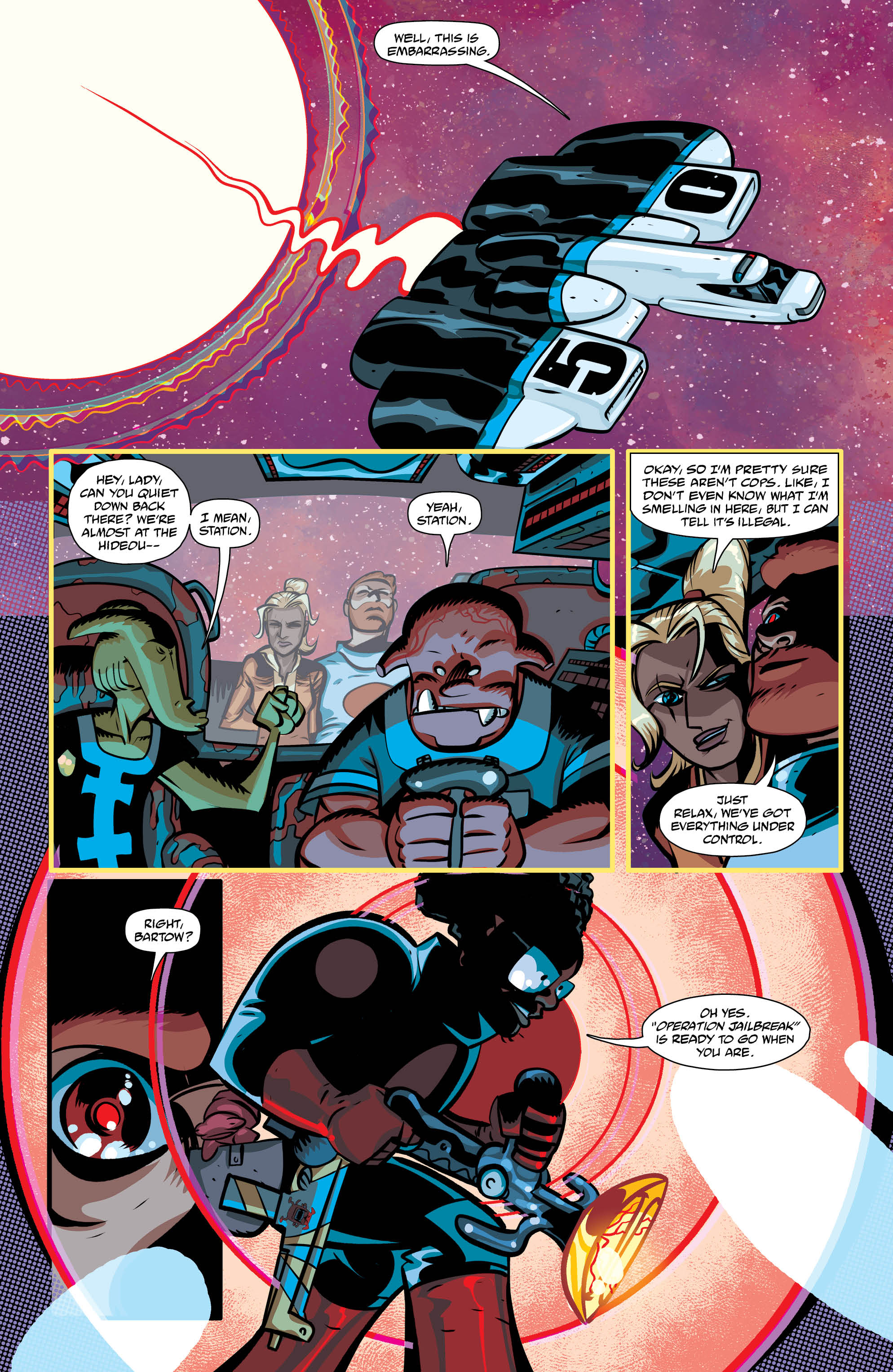 Before they can process that bit of news, Cave is assaulted by yet another alien.  However, it's not quite all it seems to be.  After a single punch, the "alien" reveals himself as Bulldozer Smith!
Positives
The use of Cave's eye is really getting creative.  We know that the team can travel in the eye, but Cave uses this to excellent use as he allow's only Bartow's hand and arm out to steer the ship they're travelling in while his own arms are trussed up behind him.
Sometimes a plot can be racing so fast that the achievements in the artist's storytelling are missed.  Take some time to slow down and examine the panels in this issue, and what may be unclear from dialogue, is elucidated through Michael Avon Oeming's art.
It's a small moment, but Star Adam references the Madness vest and Meta from Shade the Changing Woman when it is revealed that the end of the world is fast approaching.
Despite the way far-out nature of Star Adam, his return signals some hope for the team and server as a sign of a "win" for Cave.  Bulldozer's appearance does much of the same, but maybe twinged with a bit of ambiguity considering what appeared to have been Bulldozer's fate at the end of last issue's "podcast."
The back-up story drawn by Paul Mabury satisfies again as more gaps are filled in from Cave's past.  This series of "podcasts" are shaping up to form a prequel of sorts to this series.  It may be interesting to go back and read the backups and then read the main stories for a complete read.  This one has particular relevance to Bulldozer's return in this issue.
Negatives
This may fall on more of the fault of the reader (me) than the creative team, but the plot moves pretty fast and it's easy to be slightly confused.  With Star Adam's far-out quality it adds a second level to penetrate.  However, slowing down and looking at all the pictures will clear up the narrative confusion.  Oeming makes it clear, maybe spend more time on viewing the images than reading the words…
Verdict
This issue swings back up as the wackiness falls in the right place between plot and character.  Cave Carson is at it's best when it finds a balance.  This issue does just that.  The plot surprises as Star Adam and Bulldozer return and it adds an element of hope while promising some cooperation in next issue's finale.  The roller coaster ride that is Cave Carson Has An Interstellar Eye appears poised to finish with a flourish and at the top.