Booster Gold is coming to the DCEU in his own movie…maybe.
Since Justice League, the DCEU has been under a momentum shift.  Warner Bros decided that instead of focusing on a crossover-heavy movie format their DC brand would be driving more a more solo-hero movie feel.  This allows directors to have more control over their projects instead of the studio having a "heavy hand" in what hits the screen.
This method was seen in the success of Wonder Woman, Aquaman and Shazam! and now talks of Booster Gold getting his chance in the movies has surfaced.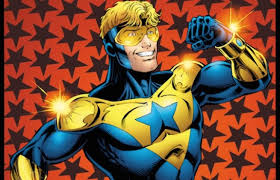 Booster Gold has long been rumored to have a solo run with Zack Stentz tasked with the writing for the project.  Stentz recently updated fans about his Booster Gold project saying:
"I do not know what's going on with it right now, honestly.  And I don't know if the DC people know what's going on with it.  Their strategy seems to change depending on how the most recent movie did.  But I can tell you that a script has been turned in that the director and producer, Greg Berlanti, has proclaimed himself to be very happy with.  And it's something that's ready to go, but DC and Warner Bros would need to give the green light to it. The ball is in their court"
Based on commentary by Stentz, it seems that only Warner Bros has the final say.
With success for DC and Warner Bros coming from their less known heroes like Aquaman and Shazam, Booster Gold would be a great fit into their on-screen multiverse.  The script is in place and a director on board one can only assume that Booster Gold is more likely on his way to the DCEU than not. Only time and Warner Bros absolutely know for sure.