Review: SUPERMAN'S PAL JIMMY OLSEN #2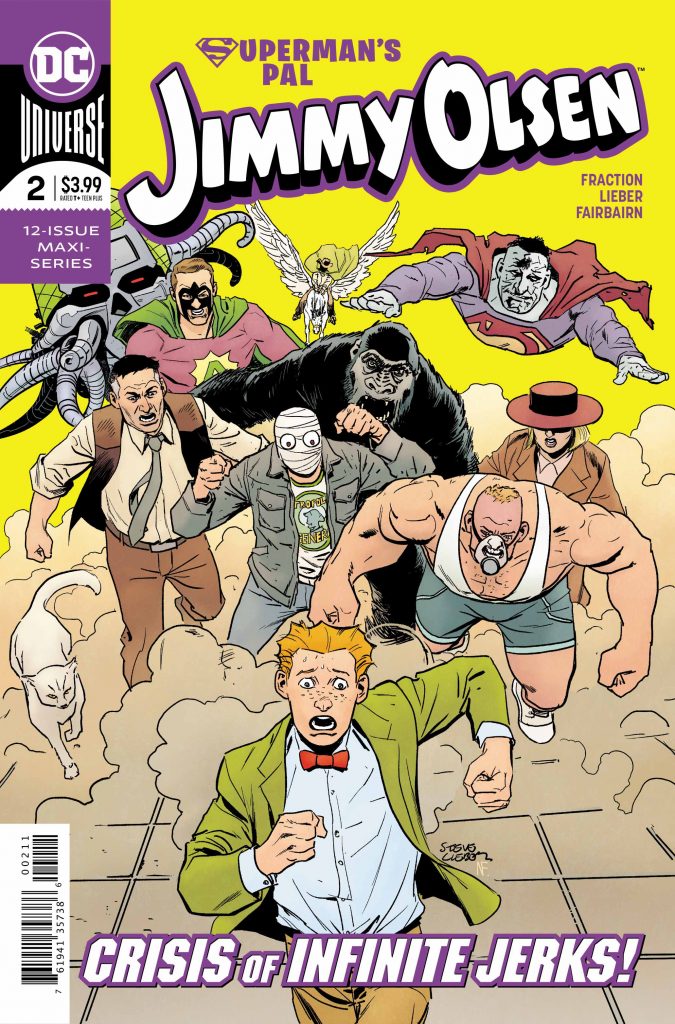 [Editor's Note: This review may contain spoilers]
Writer: Matt Fraction
Artist: Steve Lieber
Colors: Nathan Fairbairn
Letters: Clayton Cowles
Reviewed By: Ari Bard
Summary
In Superman's Pal Jimmy Olsen #2, ancient, distant relative Joachim, big brother Julian, good ol' Jimmy, and framed Jimmy on the run are all up to some crazy shenanigans.  Nevertheless, each snippet in this issue may reveal a side to the Olsen family you may not have thought about before.  They aren't always silly you know.
Positives
With Superman's Pal Jimmy Olsen #2, the series and creative team continues to have a ton of fun.  Each mini chapter shows us a new side to an almost timeless character.  Whomever Jimmy Olsen was in your mind before this series began, he's guaranteed to be something totally different now.  Matt Fraction, Steve Lieber, Nathan Fairbairne, and Clayton Cowles are making Jimmy Olsen relevant again, and it's a joy to see. This side looks at his actions under a more serious lens, and it's fairly refreshing.  The creative team uses Jimmy's Silver Age legacy and his family's reputation as a way to look at how Jimmy views himself, and that result is quite sad.  What if Jimmy Olsen's always been trying to stand close to Superman because he doesn't believe in himself?
Each small part to the issue tells a completely different story while painting a larger picture.  Each anecdote is separate, but they all fall under the theme of not being taken seriously during this issue.  The series moves at an incredibly fast pace in order to attack the theme from all angles and pack the book with jokes.  They play with style, structure, and form a lot in this issue, especially regarding the lettering.  There are a lot of captions without balloons or boxes, meaning the pages has a greater use of white.  The negative space really has an interesting dynamic.
The point of this serious is to show how a character that has existed forever can always be used to keep you on your toes.  Some jokes, gags, gimmicks, or plot points end in an instant while others have lasted multiple issues.  It is likely no one expected Joachim Olssen to appear again, so that's exactly why he did. There are a lot of questions raised from the issue, but they are all good.  There's nothing so infuriating that it takes you out of the experience.  It's all about the larger theme that spans the four stories, not any story individually.  All in all, it's just good, wholesome fun.
Negatives
Superman's Pal Jimmy Olsen #2 is quickly becoming one of the best books coming out of DC.  No negatives here!
Verdict
A completely unique and unexpected take on a somewhat forgotten character in the superhero genre that will always keep you on your toes.