Scott Snyder and Greg Capullo tease their next comic event!
Justice League #39 concluded the Justice/Doom War with a surprising reveal about the fate of the DC Universe going forward. Anyone who's read all of the years-long story knows that it isn't finished just yet.
Scott Snyder's story (co-authored with James Tynion IV) spun out of the pages of Dark Nights: Metal, a wild collaboration with writers and artists from across the entire industry but primarily, a collaboration with his close friend, Greg Capullo. Since Metal, Capullo has worked on 'Spawn #300′, as well as the finale to his and Snyder's Batman saga, Last Knight on Earth. While that story seems to be out-of-continuity with the rest of the DCU (probably), Capullo seems to be returning to Snyder's cosmic saga with a follow-up to both 'Metal' and 'Justice League'. The following image was found both at the end of Justice League #39, as well as in a tweet from Greg Capullo: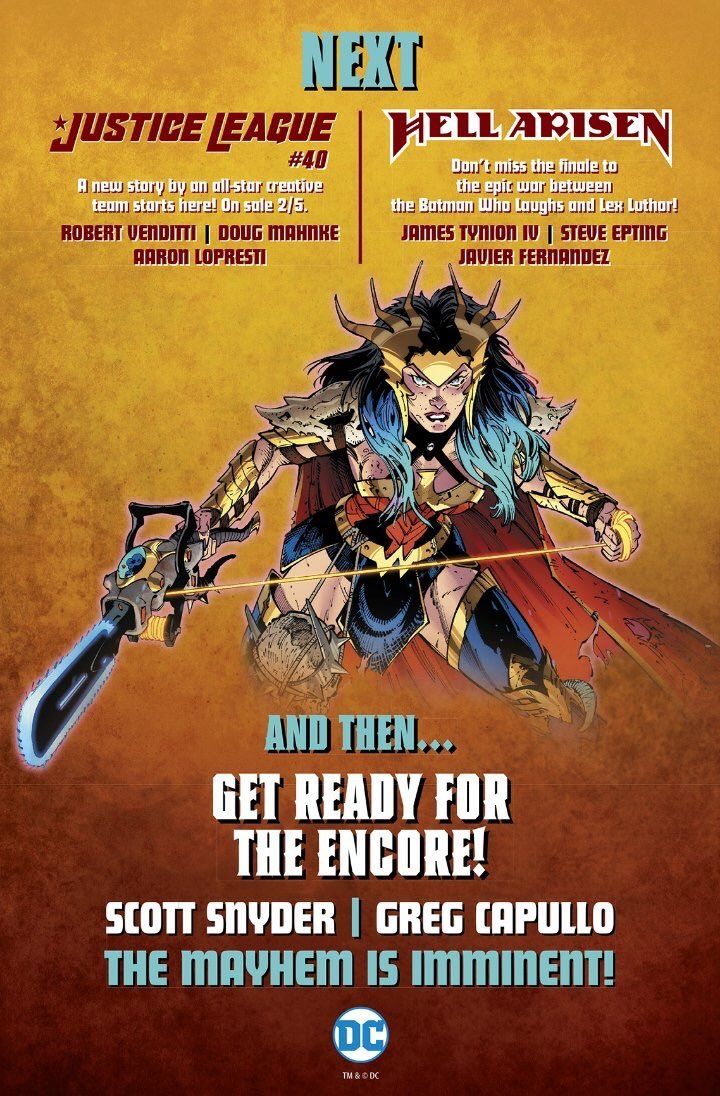 Snyder and Capullo have expressed interest in a Wonder Woman story before, and 'Last Knight on Earth' featured Diana in a significant supporting role. We may see callbacks to that story. Just as Batman had the head of the Joker by his side in Last Knight, so does Wonder Woman have a skull on her belt, with the helm of the Batman Who Laughs.
The Batman Who Laughs is currently colliding with the DCU in the pages of Batman/Superman and Year of the Villain: Hell Arisen, and it's hard to imagine he isn't an integral part of the next chapter. It's unclear how the mainline Justice League comic will continue from #39. I am personally interested to see how it will all play out!
Also, Snyder mentioned one last bit of information about the story so far.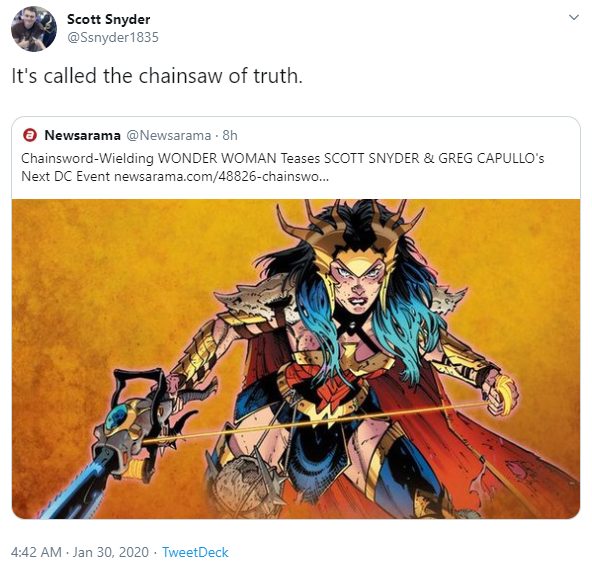 Expect a further announcement  within the coming months. Let us know what you think in the comments below!