Amanda Conner is an comic book artist who began her career in the late 80s but has certainly found her niche in illustrating the character Harley Quinn. With 100+ covers of our favorite clown princess under her belt, Conner has stuck by Miss Quinzel's side throughout the character's delusional highs and traumatic lows. While not so much of a biography, this tour will primarily focus on artistic personality and style.
Take a roller-skate-stroll through this small sample of the artist's work and I'm sure you'll agree that Harley and Conner have a much healthier relationship than Harley and Mr. J.
Less Is More
It's hard to describe an artist's work as "minimal," or even – "cartoony," without sounding insulting. But AC's style really does fit that description. Look at the lines that define her characters musculature. The anatomy is not complicated, and the penciling is certainly not overly detailed, but the choices are extremely efficient! Everything Amanda puts on the page has purpose. Conner's genius shines through in her ability to convey crystal clear meaning using big, bold shapes.
Body Language
Pitch a story full of trashy living, punk rock fashion, and dark-humor to Amanda Conner and watch her imagination soar. AC knows how to render just the right body language to convey Harley's insatiable curiosity and penchant for troublemaking. And even when Harley pays the consequences for her criminal behavior Conner can perpetuate the drama. In the image below, notice how Harley – although clearly down on her luck –  has an unknown ace up her sleeve evident in that relaxed posture and a mischievous wink.
The Eyes Have It.
What is it about an Amanda Conner Illustration that makes her work so memorable? Can't put your finger on it? The answer is: The eyes.
As we all know, Harley Quinn is always plotting something devious. Or thinking something naughty. Or laughing at a joke coming from the multiple voices in her head. Or all of the above! That kind of complex emotional layering can be a difficult thing to convey for a comic book artist, but also a most essential skill to have. Amanda's supreme strength is using her subject's eyes to insinuate an inner dialogue. Whether with sideways glances, hard stares, or rolling peepers, a huge portion of the narrative mood rests in a look. After all, eyes are the window to soul, right?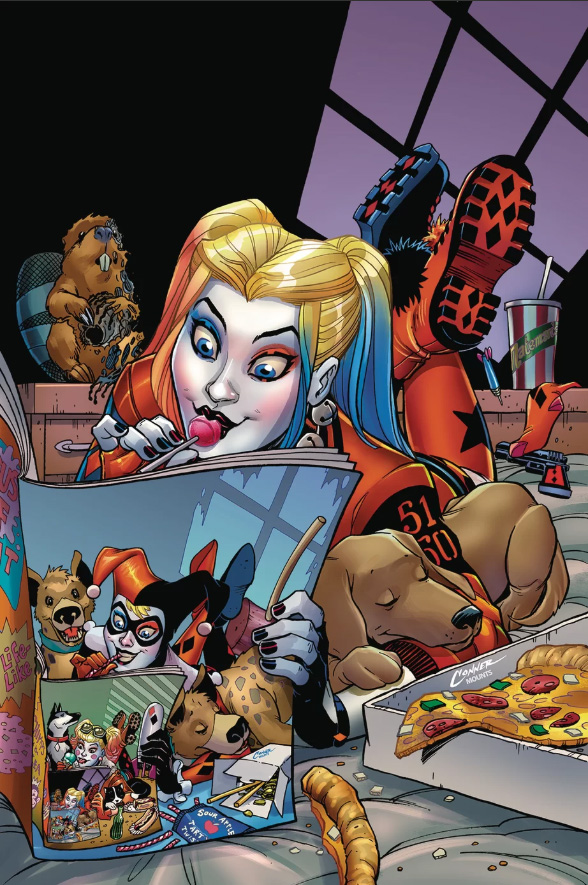 This image is relatable to all. Lazy day, messy room, pizza, animals – stuffed or otherwise. But here we have it, AC's signature: The eyes. Perhaps a bit on the large side, but certainly not disproportionate, Harley's look of wide eyed fascination is the centerpiece. Even competing with a very clever image-within-an-image idea on the magazine Harley reads, our attention will continue to bounce back from the clutter and return to that star struck and ravenous gaze. This type of cognitive manipulation is the sign of great composition. The sensation that movement exists even when every object in the scene is stationary.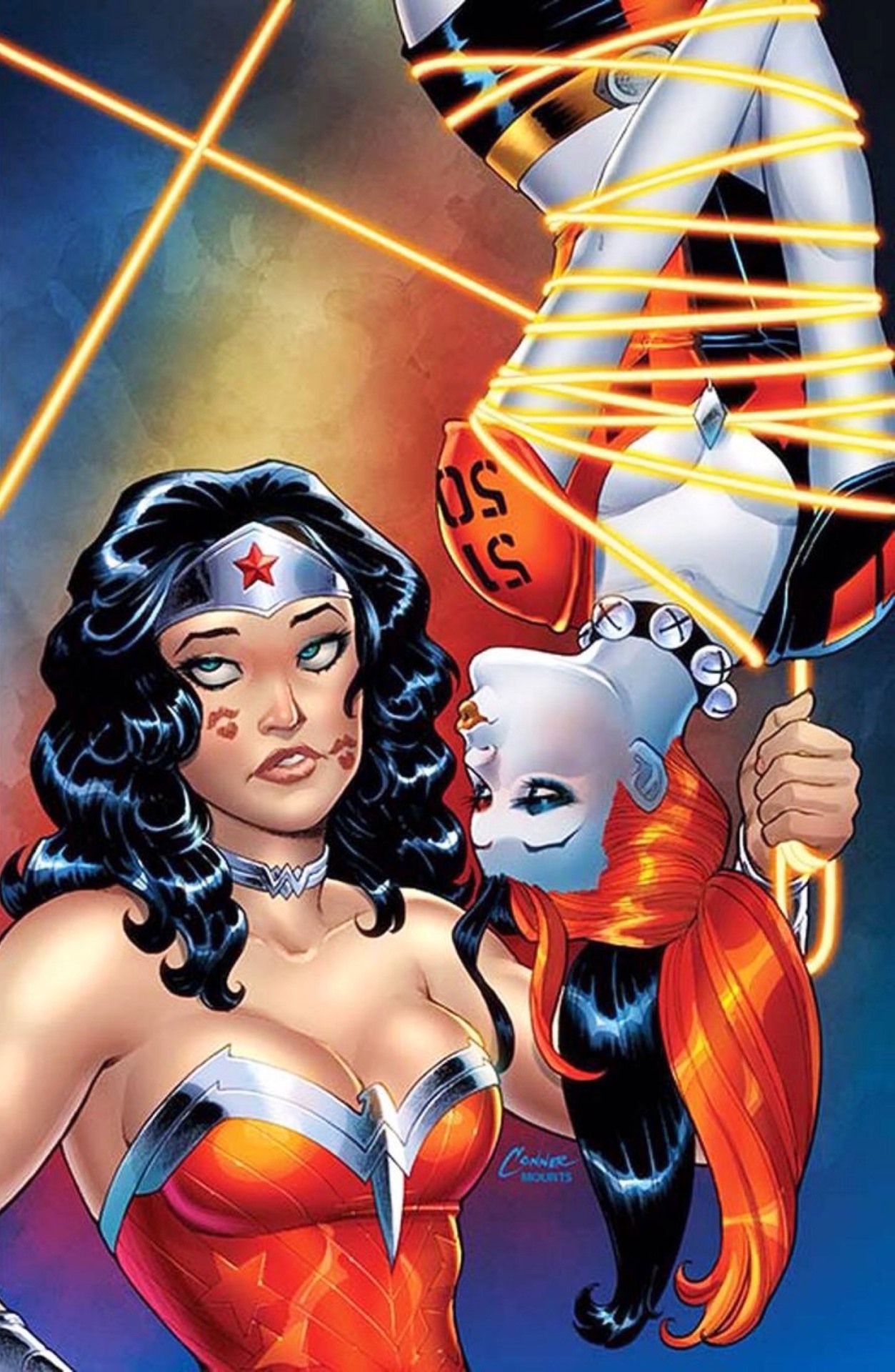 Laugh To Keep From Crying
Humor is a much needed quality in the world today. The amount of comic titles that lean towards modern day realism in subject matter and dialogue increases everyday. Yeah, forget all that! AC doesn't even need words to evoke laughter from her fans – the expression on Wonder Woman's face says it all. This piece from Harley's Little Black Book/Wonder Woman contains a complete and hilarious story in-progress and also suggests a bit of behind the scenes drama has already occurred. The beauty of it is, no spoilers are really given away, just a subliminal seed planted, asking, "what's gonna happen next?" You're looking at some prime-cut story hooks here, boys and girls. What better way to sell a book month after month?
No She Didn't!
I'm convinced AC can draw a hundred different variations of a smile. Check out this cover for Batman #68. Harley's gang runs the gambit of expressions. From embarrassed to devilish, flirty to flustered, intoxicated to foolish, Conner can pull any variety of pearly whites from her palette and drop them in a slightly inappropriate scenario to harness a magnetism that pulls you in and makes you beg for more. This skill to create an over-the top one-frame-story makes Amanda Conner the ideal cover artist.
This brief commentary doesn't even skim the surface of Amanda Conner's portfolio. If you are new to her, I highly recommend that you take a much deeper internet-dive to see what treasures of hers you can find. Or even better, remember what you saw here and hit the back issue boxes at your local comic shop.
Artist Profile: Amanda Conner has been a part of my on-going series for DC Comics News. If there is an artist you would like for me to critique please mention them in the comments below.
Written by Peter Gaudioso