DC/Marvel Crossover Dream Germinates! By Peter Gaudioso.
As the global pandemic COVID-19 continues to paralyze the work force an interesting idea bubbled up on Twitter. One that might easily snowball into an avalanche. Imagine the comic book crossover event of the century. Not one character. Not a team. But the entire encyclopedia cast of DC and Marvel Comics sharing the same universe. Pipe dream? Maybe. But let's see how this madness started.
GLAAD Media Award winning writer Gail Simone is the fuel that ignited this fire. Her Tweet – with the hashtag header, #PleaseMarvelDC, – triggered a host of responses from industry giants. In an internet-instant, Gail's idea enflamed a fan-boy hysteria. Fellow comic book creators quickly seized the chance to coalesce under the hashtag and share their creative thoughts. Let's look at some of the hypothetical crossover pitches being offered.
On the DC side, Bestselling author Scott Snyder Tweeted:
"If we do a DC/Marvel crossover I'd like to write Batman vs. everyone."
On the Marvel side, Donny Cates shared:
"Venom and Batman, Thor and Superman, Silver Surfer and Green Lantern."
Other artists who were vocal in their desire to take up this challenge are  Mitch Gerads, who has won multiple Eisner Awards. Double threat penciller/writer Patrick Zircher.  And Daredevil TV Series writer Christos Gage. Once the momentum started rolling, Gail went out of her way to re-Tweet a few roster choices of her own. This is getting serious. Take a look at the heavyweights Gail is rallying to enlist.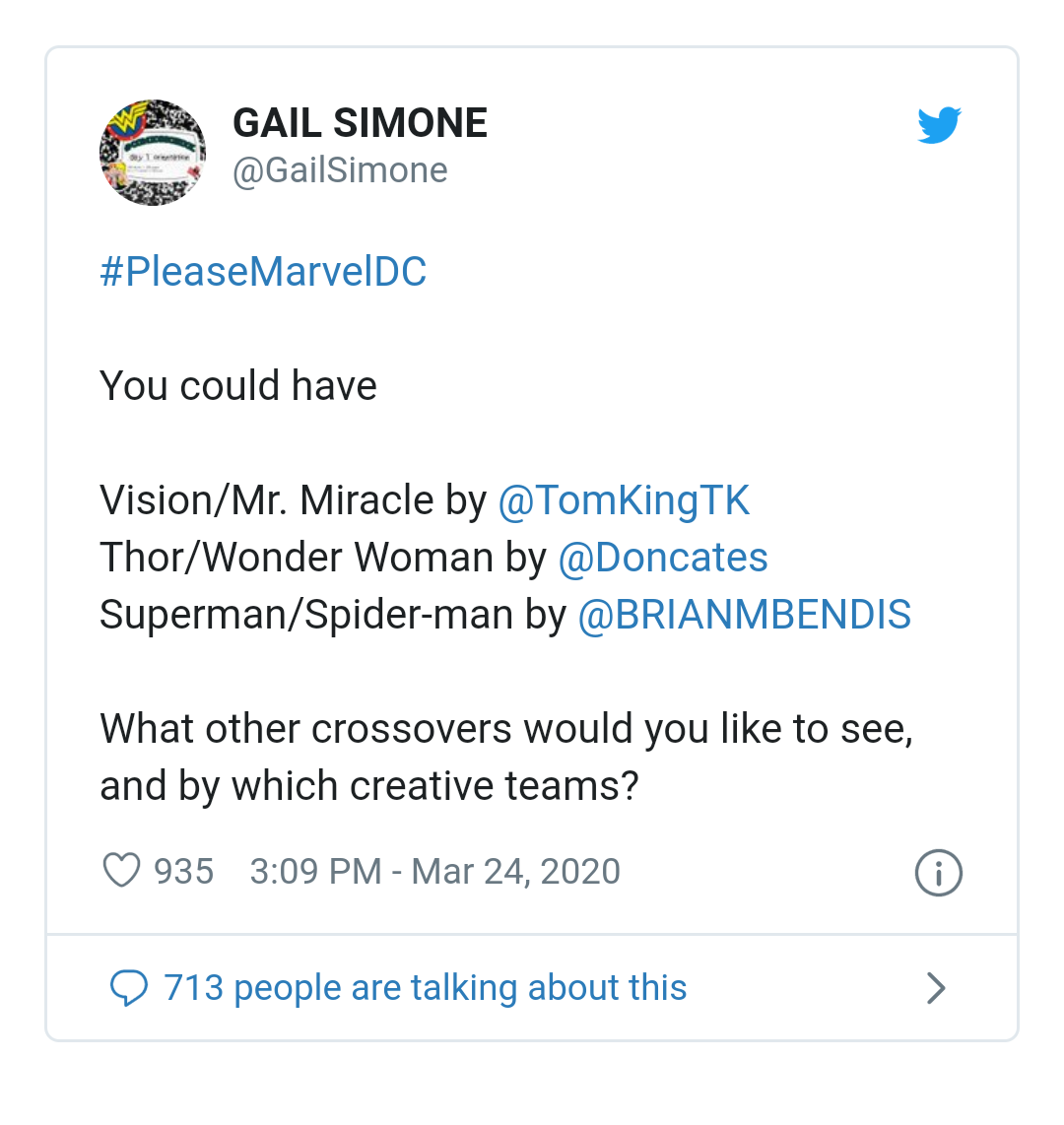 If I may be so bold, I'd like to add a few team-ups of my own. Could the enemies of the plant kingdom stand a chance against the collective weird-ness of Poison Ivy and Groot!? What happens when The Joker becomes a Punisher villain? Is Harley Quinn edgy enough to hang with Wolverine? What vigilante dishes out more pain to criminals, Daredevil or Batman? Much like Zircher's comment on Gail's initial Tweet, "The possibilities are endless."
Gail's proposal wasn't just hot air. Her true intention seems to have loftier purposes. This collaboration was suggested as a launch-out-the-gates scheduled for when comic shops reopen. A joyous morale booster, if you will, to a world that will have survived a crisis worthy of a comic book tale.
Well, this dreamer agrees with Gail. What better way for our artist community to resurface from the isolation of this pandemic then to illustrate all of our caped heroes, standing in unison. Each a symbolic representation of the undying spirit of humanity. Bravo, Gail. Fingers crossed, everyone here at DC Comics News is pulling for you.