Review: Batman: Last Knight on Earth

[Editor's Note: This review may contain spoilers]
Writers: Scott Snyder
Artist: Greg Capullo
Letters: Tom Napolitano
Colors: FCO Plascencia
Reviewed by: Carl Bryan
Summary
"Bruce Wayne.  You're right here.  And it's finally over!" – Dr. Redmund Hood
Twenty years in the future, Bruce Wayne wakes up in Arkham Asylum. Young. Sane. And…he's never been Batman. So begins Batman: Last Knight on Earth, a sprawling tale of the Dark Knight as he embarks on a quest through a devastated landscape, featuring a massive cast of familiar faces from the DC universe. 

As Bruce tries to piece together the mystery of his past, he must unravel the cause of this terrible future and track down the unspeakable force that destroyed the world as he knew it. From the powerhouse creative team of writer Scott Snyder and artist Greg Capullo, the team that reinvented Batman from the emotional depths of Batman: Court of Owls to the epic power of Dark Nights: Metal, DC presents what could be the last Batman story ever told… 
The Story Telling of Scott Snyder…
Scott Snyder has been at the forefront of not necessarily reinventing Batman, but adding to his already rich history.  Starting with his endeavors in Court of Owls and adding the Dark Metal mythos that if we are being honest, was pure genius as he trickled it out (sometimes when we didn't even know that dots were connecting).  
There are a lot of parallels in this story to Stephen King's Dark Tower Series.  Overwhelmingly is that picture of Batman crossing a desert with the Joker's head in a glass lantern.  Roland The Gunslinger anyone?
This book also has shades of a Christopher Nolan movie or the recent Warner Brothers' Joker where we are unsure if the movie is taking place in the character's mind or are we witnessing it really play out in "life".  
I found myself teeter tottering with that idea a lot in the first book.  Snyder paints a desperate Bruce, one that is either insane or finally captured by his Rogues Gallery.  What an impression of normalcy that Greg Capullo has provided with Harley, Bane and others in their "normal lives" as medical staff in an Asylum.
You almost feel yourself immersed into the same idea that we children in the 1970s thought when Bobby Ewing emerged from the shower in Dallas after he had been killed.  It was all just a dream.  
That's how good Snyder is with his pen.  He rewrote canon with the Court of Owls and now he is using his pen to "erase" Batman as a delusion in a mad man's mind.  
But as we see, there is more to this story than bringing Bruce out of some type of catatonic "Knightmare".  Snyder provides a richer story and an even richer back story to how Bruce seemed to abandon his JLA in the good fight against evil and how he seeks to right that wrong.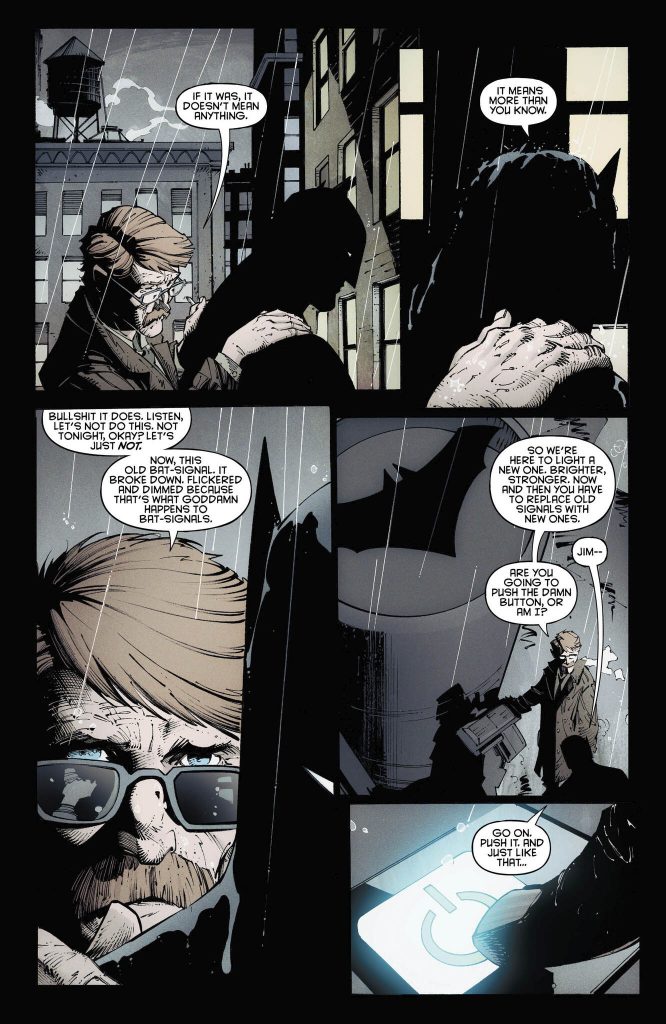 In totality as the issues were being constructed, you can see the influences of Dark Nights: Metal coming about in this book.  But you can also see the pre-cursors to Snyder's current Image book, Undiscovered Country, being bled out in these pages.
As fans of these issues already know, you get a glimpse of Princess Diana that is post-apocalyptic, a Selina Kyle that is still very much Selina Kyle, and a Joker that turns out to finally achieve what Snyder has as his ultimate goal – to fight side by side with Batman as a "Head in a Bubble" Robin.  Can we add him to the cadre of Robins already?
The Art of Greg Capullo…
If you have read my reviews before of anything that Capullo has put his hands on, it has come out on his drawing board a better enhanced character.  His run on Image Comics' Spawn rivals that of the original artist Todd McFarlane.
When a character is chewing, we actually feel the food particles flying out of his mouth.  When he is screaming in pain, we see that remnants of spit that fly out.  If Capullo was an architect building a roller coaster, every nuance of the ride would be felt.
As Bruce's journey begins in an asylum to a futuristic desert to an altered city landscape, Capullo leaves no stone unturned in making Snyder's words come to life.  This duo has worked so well together on Batman and Spawn that I find myself regretting reading anything where they are not in tandem upon.
Again, we recognize our old friends when Capullo has his hands on them, but those images are burned into our retinas a bit brighter!
Colors and Letters and Letters and Colors
Tom Napolitano is a rock star in his own right having come out of Gotham City Monsters where he literally took the script and gave "voice" to all the monsters.  Admit it…if you read those books, the voice you read it in took on different intonations as you read Napolitano's lettering and shading.
He brings that to Batman: Last Knight on Earth.  Not in such a manner as Gotham City Monsters, but his clean style allows the reader to buy into the entire story!  He is like a great official in basketball or baseball…the game is so clean because you never see anything that detracts from the game itself.  That's Napolitano's contribution.  He keeps the train on the tracks of good story telling!
The same can be said for the coloring endeavors of FCO Plascencia.  The landscapes, the sterility of a hospital, the underground compound and the apocalyptic backgrounds… superb work!
Negatives
I'd be hard pressed to even find a negative in this book.  All pistons fire simultaneously as it is hard to reinvent the Dark Knight, but Snyder and Capullo find a way each outing they make together.  
If anything, I would want them to take on another character in the DC comics long line of heroes  – Green Lantern anyone?
Verdict
If you have the original issues of Batman: Last Knight on Earth, you'll still want to pick this Collected Edition up.  There are some Easter Eggs for you to have (no pun intended as we head into Easter).  But this story by Snyder basically "erasing" the Batman chalk board will rattle you.  And while I never thought of Scarecrow in the same vein as say a Bane or a Joker, I'll admit that his stock is climbing higher and higher under Snyder's watch!