Boom! Studios Review: Mighty Morphin Power Rangers #51
[Editor's note: This review may contain spoilers]
Director: Ryan Parrott
Artist: Moisés Hidalgo
Colorists: Walter Baiamonte & Katia Ranalli
Letterer: Ed Dukeshire
Reviewed by: Sean Blumenshine
Summary
[SPOILER] has returned… and the ripple effects send shockwaves through every Power Ranger!
Now the fragile alliance between the MIGHTY MORPHIN POWER RANGERS and OMEGA RANGERS may be permanently… shattered.
Positives
Jamal Campbell's cover is great. It's simple but looks fantastic. The background is neat and I love Campbell's style on the Rangers. And Drakkon in the Rangers' visors is a nice touch.
The interior art is solid. It's nicely animated; the characters are expressive. The style works both in action scenes and dialogue sequences. The colors look great as well although there is a panel with practically no color in the background. That might have been a stylistic choice but there's nothing else like it in the rest of the issue.
I love that Zedd gets to be a proper villain again. The comics have been focusing on original villains, which is cool too, but Zedd is such a cool character. I like when he gets to take center stage. And he has a great plan to fight the Rangers. It feels like a natural evolution from a plot of the show. It's an exciting idea and something never done before with Power Rangers.
I enjoyed seeing some of the different character interactions, specifically Adam talking to Kimberly and Aisha talking to Tommy. With these comics, it's important to explore the team more especially this version of the team since they were not as well defined as the original team. I'm also curious to see what role Matt will play. I enjoyed his relationship with Kimberly in Go Go Power Rangers so I'm interested in what Parrott will do with his reintroduction.
Negatives
I'm still not thrilled about Drakkon. He doesn't play a huge part in the issue; his scenes are fine. It might end up being interesting later but I don't really care about his presence.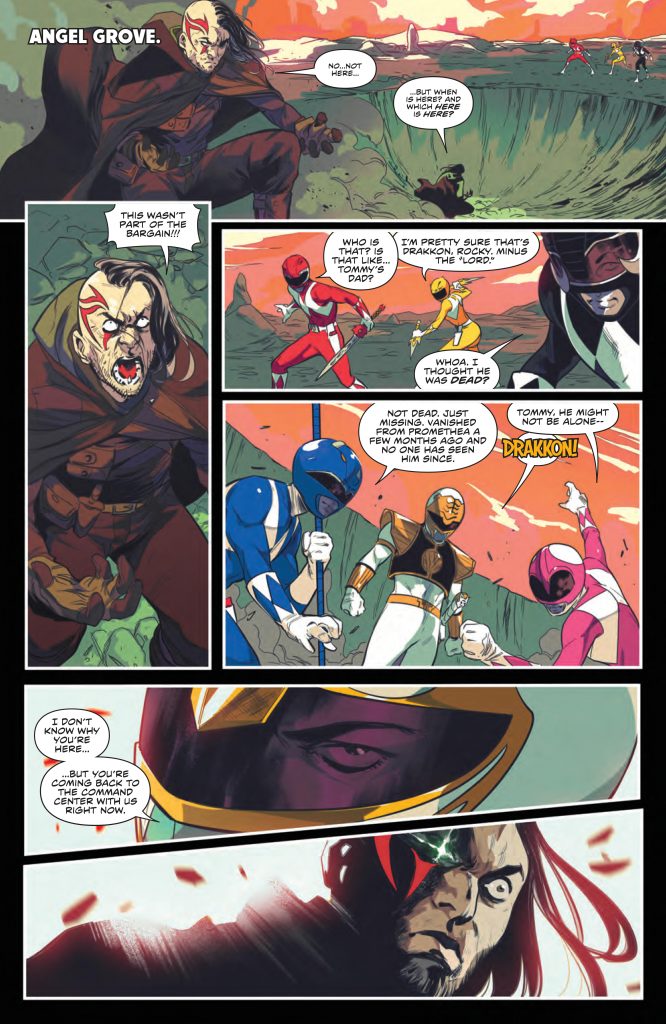 Verdict
This is a great issue. There's a back to basics element that's appealing. The Rangers have their interpersonal stuff and then they fight a monster. There's more to it than that but I appreciated that the book has scaled down a little bit after the crazy size of Shattered Grid and Necessary Evil. The art is solid; Mighty Morphin Power Rangers #51 a lot of fun.