It was recently announced that art book connoisseurs, Insight Editions, would be teaming up with the widely popular Mondo to release a brand new book dedicated to the greatest animated show of all time — Batman: The Animated Series!
This new book, titled Batman: The Animated Series: The Phantom City Creative Collection, will serve as a tribute to this outstanding series, and will tickle the fancy of art lovers as well.
Two months ago, we reported on the announcement of this fantastic sounding book, and now Insight Editions has graced us here at DC Comics News with a couple of exclusive spreads.  Check them out below.
The first showcase the season 1 episode "Blind As A Bat". As you can see, it includes multiple variations on this idea of a visually impaired Batman, with my favorite being the largest image of a deeply shadowed Batman with the episode title spelled out in braille. It's visually striking and is, thematically, the best.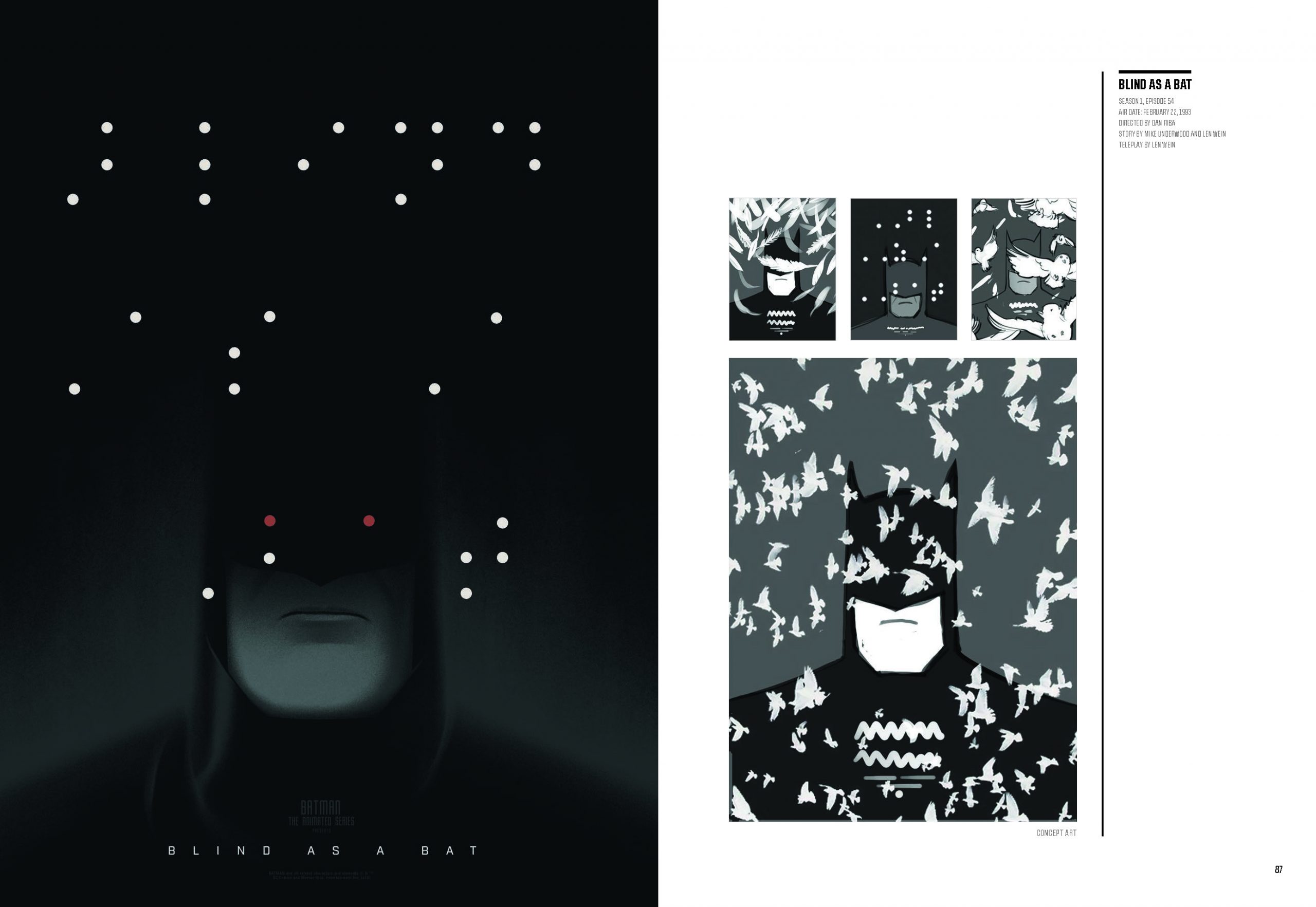 The second spread gives fans a look at some beautiful poster images for the season 3 premiere titled "Bane." These are all gorgeous, but I have to say, my favorite is the one that doesn't actually show Bane (other than his hands). The almost-symmetry here is mesmerizing, as the image shows Bane tearing Batman's cowl in half. The simply color scheme and that striking image of the torn mask really caught my attention.
Mondo is proud to present Batman: The Animated Series: The Phantom City Creative Collection, a visually breathtaking celebration of the Emmy Award–winning series.

Known for their limitless passion and incredible ingenuity for film and television posters, Mondo turns their attention to the highly acclaimed show Batman: The Animated Series. The show first aired in 1992 and was instantly met with critical praise for its sophisticated writing and distinctive, noir-influenced art style, generating an intense following that still exists today.

Over the years, Mondo has received global recognition for their astonishing artisanal posters, and their creations for this amazing series are no exception. The studio has partnered exclusively with the award-winning artist at Phantom City Creative, Inc., Justin Erickson, in order to bring this show to life in a striking and unparalleled way. Filled with Erikson's slick graphic design as well as beautifully rendered illustrations, this Batman: The Animated Series art book is a one-of-a-kind tribute to one of the greatest animated shows of all time.
Batman: The Animated Series: The Phantom City Creative Collection is available for pre-order right now for $60 and will be released on October 6, 2020.
Also, be sure to check out our Batman: The Animated Series podcast, I Am The Night!
All images courtesy of Insight Editions