New York Comic Con's new virtual event, Metaverse, started up yesterday, and one of the first panels was for the upcoming DC event, Endless Winter. This event is being described as a "big, bold superhero event" mixed with the central ideas of family and loneliness, two things very much linked to the Winter season.
Endless Winter was first announced a month ago and has been gaining steam among eager fans looking forward to seeing some rarely used characters take center stage. Moderated by DC Group Editor Alex Carr, this panel saw the writers of this event, Andy Lanning & Ron Marz, dive into what inspired them and what the fans can expect this December.
"A lot of current events played a part in formulating what we come up with." said Lanning.
They laid out their major themes for this event, being "family" and "isolation", while saying they would still be telling a "big, bold superhero event". This was one of the most interesting comments from the panel. The ideas of both family and isolation are themes that aren't touched on nearly enough in comics, and to set it within the backdrop of this Ragnarok-esque event gives us the potential for some special.
Lanning and Marz also touched on the antagonist of this story, The Frost King, an exiled Norse god with the ability to control entire ecosystems. They describe him as "less of a villain and more like the antagonist" of the story, and say that he is the personification of the Endless Winter. They also said that Endless Winter will be as much about family for the Frost King as it will be for anyone else. I love the idea of "humanizing" this character, giving him an emotional arc of some sort. I just hope they don't go so far as to make the audience turn on the heroes who are trying to stop him.
And speaking of heroes, they talked about how we will be seeing this story in two parts – past and present. The present will obviously have all of the current heroes, from the Justice League, the Teen Titans, Aquaman, and more, but it's the past that has me much more intrigued.
Enter JUSTICE LEAGUE VIKING! A group of four heroes in the 10th century who band together to prevent the world from freezing at the hands of the Frost King. Among these heroes is Queen Hippolyta, Black Adam, Swamp Thing, and the Viking Prince.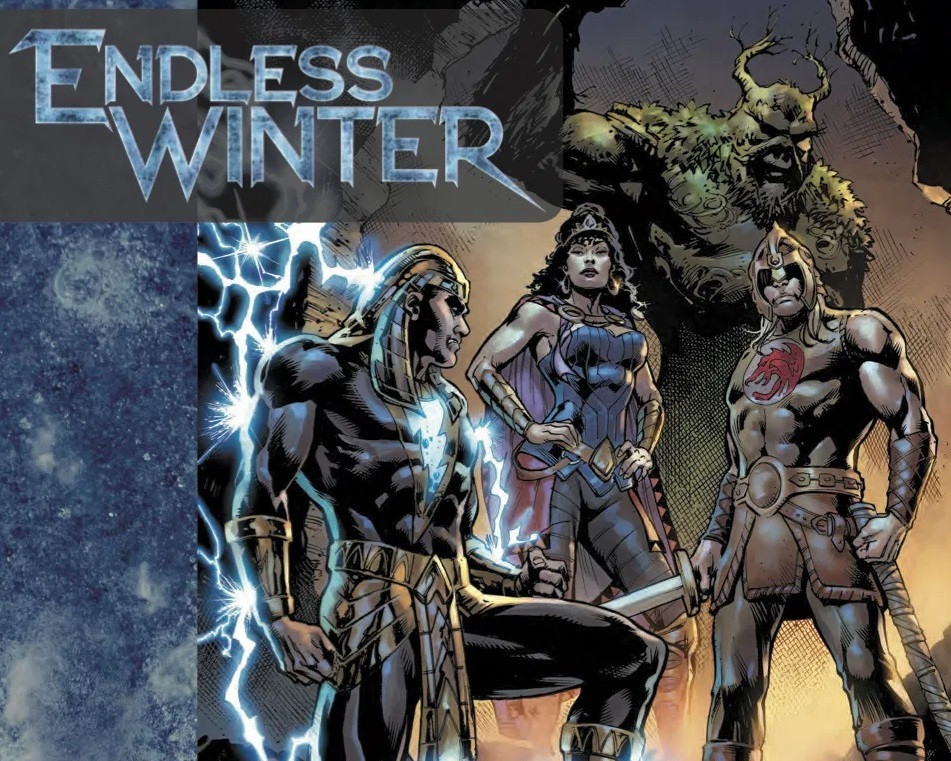 Wow, what a line up!
Of these four, the only one I wasn't familiar with was Viking Prince. Making his first appearance back in 1955 in The Brave and the Bold #1, he has an origin similar to Jason Bourne (yes, the movie spy), as he is found by a fisherman, has amnesia, and a secret past that must be discovered. The big difference here… he was found in 10th century Scandinavia, which makes total sense as to why he would be included in this story. It would seem odd to NOT include him here.
They also discussed the origin of where the idea of this endless winter came from, and that was the Fimbulwinter of Norse mythology. Fimbulwinter translates to the "Great Winter", but their thought was "what if it wasn't so great?", and what if it happened more than once, as seen in the duel timeline narrative.
There was a lot more discussed during this panel, such as the artists working on these books, how even though it's a Justice League event, it will still retain the flavor of the individual titles, and also some lower tier characters getting a bit of a focus.
You can check out the entire panel below!
The title lineup for Justice League: Endless Winter includes:
Justice League: Endless Winter #1 (on sale December 1) with art by Howard Porter and Marco Santucci and cover by Mikel Janin
The Flash #767 (on sale December 8) with art from Clayton Henry and Marco Santucci and cover by Clayton Henry
Superman: Endless Winter Special #1 (on sale December 8), art by Phil Hester, Ande Parks, and Marco Santucci and cover by Francis Manapul
Aquaman #66 (on sale December 15), with art by Miguel Mendonça and Marco Santucci and cover by Mike McKone
Justice League #58 (on December 15), art by Xermanico and Marco Santucci, with cover by Francis Manapul
Teen Titans: Endless Winter Special #1 (on sale December 15), featuring art by Jesus Merino and Marco Santucci, and cover by Bernard Chang
Justice League Dark #29 (on sale December 22), art by Amancay Nahuelpan and Marco Santucci, cover by Kyle Hotz
Black Adam: Endless Winter Special #1 (December 22), art by Brandon Peterson and Marco Santucci, featuring cover by Dale Eaglesham
Justice League: Endless Winter Special #2 (December 29), with art by Howard Porter, Carmine Di Giandomenico and Marco Santucci, and cover by Mikel Janin