Review: THE DREAMING: WAKING HOURS #12
[Editor's Note: This review may contain spoilers]
Writer: G. Willow Wilson
Artist: Nick Robles
Colours: Matheus Lopes
Letters: Simon Bowland
Reviewed By: Derek McNeil
Summary
The Dreaming: Waking Hours #12: The future of the realm of Faerie lands in Heather After's hands-and Heather's not exactly known for her sound judgment. But if she doesn't use her power wisely, she could call down the wrath of the Dream Lord himself-and send her closest confidant, the escaped nightmare Ruin, back into eternal imprisonment…or far, far worse! Will Ruin be unmade before ever knowing the true love he condemned himself to mortality for? Perhaps he just gets what everybody gets-a lifetime. But it's looking awfully short…
Positives
The Dreaming: Waking Hours #12 is the concluding chapter of G. Willow Wilson's and the series final issue. I don't know if there are plans for Wilson or any other writer to revisit the Dreaming in the near future, but this is a clear ending point for this particular story. Wilson ties up all the loose threads, and concludes each character's arc.
In this series, Wilson introduced us to sorceress Heather After. Her name is clearly a reference to how fairy tales end with "and they all lived happily ever after". And Waking Hours is a literal fairy tale, with much of the series taking place in the realm of Faerie. And Wilson's choice for Heather proves to be appropriate, as she brings about a happy ending for most of the main characters. The threat to Faerie is defeated, Jophiel is allowed to return to Heaven, and Ruin finds his true love.
Some of the events that produce these happy endings seem a little too coincidental to be easily believable. But Wilson has a clever explanation for this. Heather reveals that she used a spell called Synchronicity to nudge events in their favour. Heather has proven herself quite a powerful magician indeed, if she's able to manipulate cause and effect like this. But even more impressive is that she faces down Dream himself with a spell that gives even one of the Endless pause.
Positives Cont.
However, this draws the ire of the Sandman on Heather. Dream warns her, "You are making a mistake for which there is no forgiveness And your family and mine will again be at war. It did no end well for you last time". This hints at further confrontation between Heather and the Dream Lord or perhaps other Endless in future stories. Heather after could prove to be a major player in the Sandman Universe, and this gives an angle for future writers to bring her back.
There is also an important issue resolved for Ruin. Throughout this story, he has been struggling with the idea that he is inherently evil. After all, he is the personification of ruination. But Dream resolves this problem by revealing Ruin's true nature. He explains, "You are a dream. You are terrifying, but in your terror lies a lesson–one from which the dream learns when they awake. They wake from you glad to be alive. You are not evil. You are necessary". The fear that Ruin inspires serves a needed, appearance, which makes Ruin's existence a good thing.
I have quite enjoyed Nick Robles' art in this series. I was especially impressed by his depiction of the final confrontation with Dream in this issue. Robles beautifully captures the full grandeur of the enraged Sandman, where the Sandman's extreme power level is evident. I also love how he inserted callbacks to previous issues into the background of the final splash page.
Negatives
With The Dreaming: Waking Hours #12 having concluded, there are now currently no Sandman Universe titles currently being published. All other titles in the line have concluded or been cancelled, and no others have been announced. It would be a shame if this is the end of this revival. If DC truly has no plans to continue Sandman Universe, it would be nice at least to get a special or mini-series to give the line a proper send-off.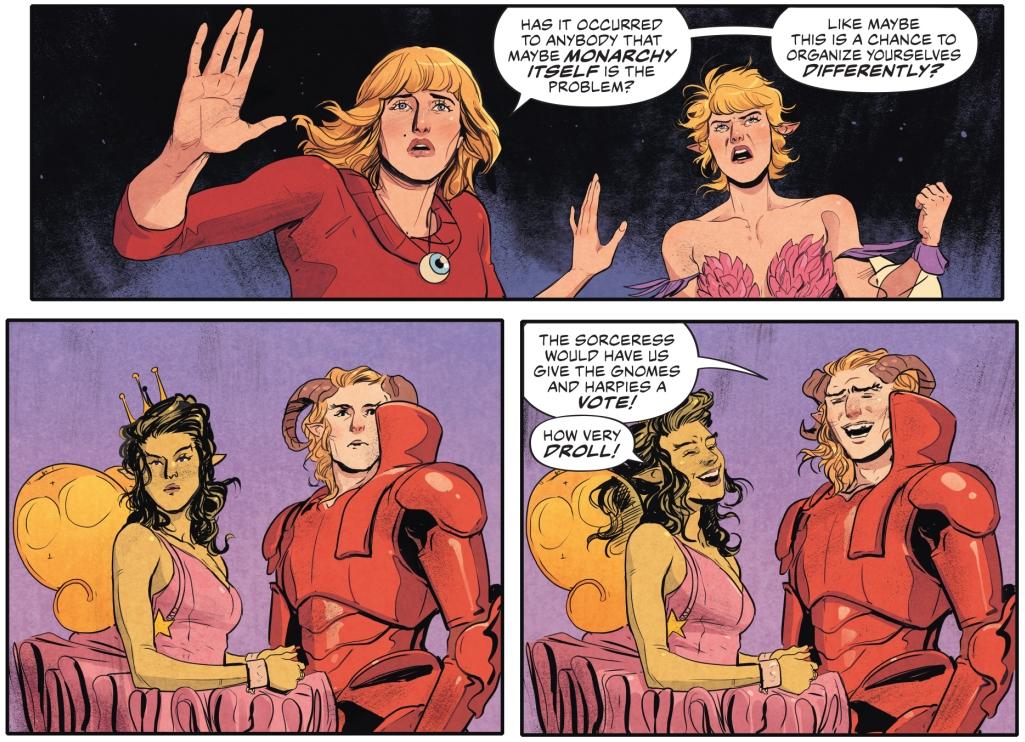 Vertigo
The Dreaming: Waking Hours #12 provides a satisfying conclusion to G. Willow Wilson's story of the Dreaming. Both this series and the preceding title are worthy nice continuations of the Gaiman's Sandman mythos. Hopefully, we won't have to wait too long for the another chapter of The Dreaming.