Review: Wonder Woman #780

[Editor's Notes: This review may contain spoilers]
Writer: Michael W. Conrad and Becky Cloonan
Art: Travis Moore and Steve Pugh
Colors: Tamra Bonvillain
Letters: Pat Brosseau
Reviewed by: Matthew B. Lloyd
Summary
"All the world is waiting for you…!" Diana returns to the land of the living and she must begin to sort out her place in Man's World anew after returning from the dead and the Godsphere.
Positives
It's no secret that this team has been doing an outstanding job on Wonder Woman.  As enjoyable as the "Afterworlds" storyline has been, the world has been awaiting Diana's return.  Last week's Wonder Woman 80th Anniversary 100-Page Super Spectacular filled in a gap that sets up this issue perfectly.  In Wonder Woman #780 there's an unbridled joy unleashed on the DC Universe as evidenced in the opening pages as Diana appears suddenly in the Hall of Justice much to J'onn J'onzz's surprise.  Not only do we have a pleasant surprise in the Martian Manhunter, but apparently Snapper Carr (in a non-speaking role) as well as Animal Man, along with Dr. Fate from the Justice League Dark team who immediately tries to enlist her aid.  It shows how loved and needed she is.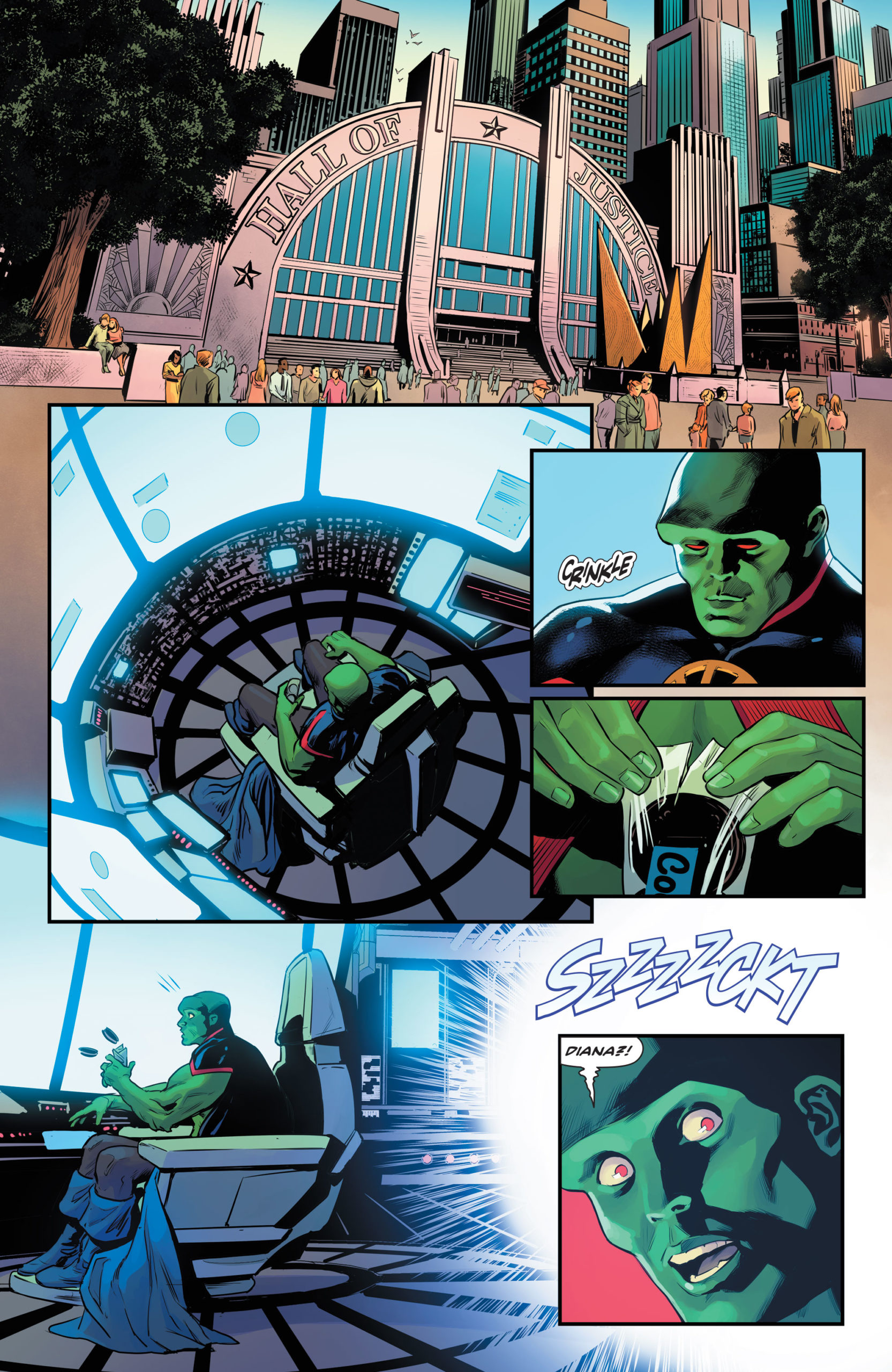 Steve Trevor makes his return to the pages of Wonder Woman, maybe the happiest and most surprised of all.  Will they get back together?  He's a major part of her supporting cast and it's great to have him back.  According to him in the 80th Anniversary issue last wee, they still love each other.  Does Diana still believe that or has she experienced too much? 
Positives Cont'd
Diana wastes no time getting into action and the news quickly spreads, despite going against her own instincts trying to take a little time to settle in.  She makes a truly cinematic and breathtaking ocean rescue that is worthy of the Man of Steel, or is it the other way around?  
It's an issue that is full of joy and celebration, and it's hard not to feel the euphoria.  Donna Troy and Cassie Sandsmark get their moment, as well as the Holliday Girls, who haven't been seen in many, many years.  This is apparently a new iteration of the Holliday Girls, who will hopefully get their day in the sun at some point again.  Getting all these appearances of the extended cast of characters enhances the celebration extending it to the reader as well, surely we are part of that revelry as well!
Travis Moore and Steve Pugh get to communicate joy and happiness that is not often seen in dramatic comics.  The sea rescue is magnificent.  Tamra Bonvillain finds the right colors and combinations to maintain the joyful mood of the issue even during the sea rescue.  The sky is bright, there is hope, Wonder Woman has returned.
Negatives
Don't think there's a negative here.  Coupled with last week's 80th Anniversary issue it's just a reminder that there may not be enough joy in comics.  Sure there are things in the world can seem pretty dire, but an issue like this reminds the reader they are reading for some escapism and to be inspired sometimes.  We probably need more of this.
Verdict
Wonder Woman #780 is a wonderful issue with a wonderful change of pace.  It's full of joy and hope.  We know there are challenges for Diana coming, because…comics…, but for today, enjoy it.  It's ok to feel happy.  Celebrate as a citizen  of the DC Universe and when you turn to the person next to you to hug in joyful reverie, pray that it's Donna Troy and not Darkseid!