As many of you may have already heard, a story broke recently about Ruby Rose and the reasons she exited the CW series, Batwoman. She went into depth about certain things, calling out producers, and even a couple former castmates. But that's not where it ends. This story has been picking up a lot of steam since it broke, with WB putting out a response, as well as some cast and crew, including Camrus Johnson.
Is your head spinning about what all is going on? Well, I'm going to do my best to break it all down for you.
How Did This All Start?
Back in May 2020, a report came out saying that Ruby Rose was exiting CW's fledgling series Batwoman after just one season. Fans were shocked, critics were thrilled, but most of us were just confused. Especially since the news came AFTER the show had already been picked up for a second season.
"I have made the very difficult decision to not return to Batwoman next season," Rose said in a statement "This was not a decision I made lightly as I have the utmost respect for the cast, crew and everyone involved with the show in both Vancouver and in Los Angeles."
She then went on to acknowledge the series' creative team as well as the heads of the CW, Mark Pedowitz, and Warner Bros.' TV operation, Peter Roth.
"I am beyond appreciative to Greg Berlanti, Sarah Schechter and Caroline Dries for not only giving me this incredible opportunity, but for welcoming me into the DC universe they have so beautifully created," she said. "Thank you Peter Roth and Mark Pedowitz and the teams at Warner Bros. and The CW who put so much into the show and always believed in me. Thank you to everyone who made season one a success – I am truly grateful."
Remember these names, as they will come up again later.
No reason was immediately given as to why she left the show. However, three months later, Ruby Rose gave an interview with EW, shedding light on why she left.
"Being the lead of a superhero show is tough. Being the lead in anything is tough. But I think, in that particular instance, it was a lot more difficult because I was still recovering from my surgery… I had my surgery and then 10 days later I went to work, which maybe wasn't the best idea. Most people take about a month or three off before they return to work, so it was definitely made more difficult by that. But as far as being a lead of a show or a film — regardless if it's action or if it's emotional — in whichever ways it's taxing."
She also had this to say about the producers:
"I think for both [me and the producers], it was a great opportunity to have a dialogue about a lot of things. I respect them so much and they've been so respectful to me."
And for the past year, things have been quiet. The show brought on a new character, Ryan Wilder, played by Javicia Leslie, to take on the mantle of Batwoman, and they continued on their way, producing a great second season of the show.
Flash Forward To The Present
Ruby Rose took to Instagram to open up about what she claims actually happened on the set of Batwoman and why she left the series. Remember those names I said not to forget? Well, here we go…
"Enough is enough," Rose wrote on Instagram, calling out showrunner Caroline Dries and Berlanti Productions' Greg Berlanti and Sarah Schechter. "I'm going to tell the whole world what really happened on that set. [Former Warner Bros. Television Group Chairman] Peter Roth, you are first up. You are chapter one. not sure if you left after getting promoted to the highest position because you couldn't stop making young women steam your pants, around your crotch while you were still wearing said pants or if you left after putting a private investigator on me who you fired as soon as the report didn't fit your narrative. either way, when it comes to you, there's already an army waiting for u."
Rose went on to share videos from a doctor's office pertaining to the neck injury she suffered while filming Batwoman, while also pointing out a major rib injury and a tumor. She even shared a video from her neck surgery, writing, "To everyone who said I was too stiff on batwoman, imagine going back to work 10 days after this … 10 DAYS!!!!!! (or the whole crew and cast would be fired and I'd let everyone down because Peter Roth said he wouldn't recast and i just lost the studio millions (by getting injured on his set) that is be the one who cost so many people their jobs."
She then shared a video of a message she delivered to announce she wouldn't be at San Diego Comic-Con 2019. "Imagine having to take a pay cut to play a passion project and being so excited about Comic-Con and then being told they would not adjust the schedule so I could attend… but then saying 'we won't announce it, you have to,'" she wrote.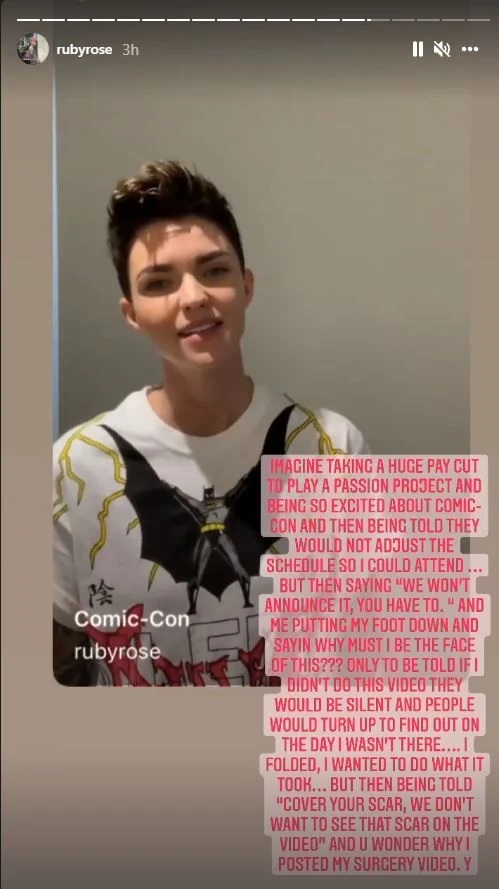 "So in closing, please to my dear, dear fans stop asking if I will return to that awful show, I wouldn't return for any amount of money nor if a gun were to my head.. NOR DID I QUIT," Rose continued. "I DO NOT QUIT, They ruined Kate Kane and they destroyed batwoman, not me. I followed orders, and if I wanted to stay i was going to have to sign my rights away[…] A crew member got 3rd degree burns over his whole body, and we were given no therapy after witnessing his skin fall off his face but I was the only one who sent him flowers and cards and then were told we had to do a sex scene without a minute to process, we lost 2 stunt doubles, i got cut in the face so close to my eye in a stunt I could have been blind. a woman was left quadriplegic and they tried to blame it on her being on her phone, so much so CW didn't even help her to start with because they needed to 'investigate' so she had to do a go fund me… she's a PA, they work via phones. Her accident occurred because our show refused to shut down when everyone else did because of Covid."
"[Caroline Dries] has no heart," Rose continued, "and wanted us to finish the season throughout the pandemic and I told her it was a bad idea… i told her everyone was too distracted, constantly checking Covid updates checking on friends and seeing riverdale, the flash and super girl shut down already, i felt something bad would happen and [Dries] maybe visited the set 4 times in a year… UNHEARD OF.."
She also discussed how her co-star Dougray Scott allegedly "hurt a female stunt double he yelled like a little bitch at women and was a nightmare. He left when he wanted and arrived when he wanted he abused women and in turn as a lead of a show i sent an email out asking for a no yelling policy, they declined.."
She then targeted former cast mate Camrus Johnson, saying, "I was late one time, because I was in hospital. Whoever does these stupid leaks I'm finding out who but it's Camrus, who after I left hospital said "yeah well maybe if people were not Late we would make our days.. a kid.. a egomaniac kid who worked one day a week had the audacity…"
She seems to have removed this from her Instagram stories, as it's nowhere on her page at this moment.
So, What Happened Next?
Well, that's a big question, as a flood of information has be coming out against these accusations. Let's start with WB.
Warner Bros TV has shot back against Rose's accusations about her time working on The CW series and the abusive workplace that led to her exit from the show, saying that the actress was fired after "multiple complaints" about her behavior.
The studio said in a statement to TheWrap on Wednesday:
"Despite the revisionist history that Ruby Rose is now sharing online aimed at the producers, the cast and crew, the network, and the Studio, the truth is that Warner Bros. Television had decided not to exercise its option to engage Ruby for season two of 'Batwoman' based on multiple complaints about workplace behavior that were extensively reviewed and handled privately out of respect for all concerned."
According to TheWrap, an individual with knowledge of Rose's exit says that investigations into these complaints about Rose went on for months before Warner Bros. TV chose not to pick up her option for Season 2.
A source close to production on Batwoman told TheWrap, "These are slanderous and unfounded accusations against Peter [Roth]. He's one of the most respected executives in the business."
We then got word that a production assistant on season one of Batwoman, Alexander J. Baxter, had come out in defense of WB. Baxter, the CEO and founder of Constellate Films, issued the following statement to CBR regarding his time working with Rose on Batwoman:
When I first got into the industry, I was very fortunate to get on certain shows like Supergirl, Sabrina, and a few features here in there, but the highlight of my entry to film was Batwoman season one. I was an actor, aspiring to know more about the film industry, and when the job came up I was so excited, being a DC fan and a huge fan of Warner Bros., I jumped at the opportunity.

My philosophy was that I could learn as much as I could on set and then go on to do my own films. Little did I know of the hell that away to me on those sets. The production company was professional, dialed in, and in every way fantastic. The crew was lovely, hard-working and dedicated to countless night shoots, it sounded to be an amazing experience in the making. Then came Ruby Rose. From day one, where her supposed injury stopped her from doing 60% of her job, she began her first day on the show not acknowledging a single crewmember besides anyone above the line. And as the days stretched on, the 18 hour Saturdays for some of us and the crew, things got worse. She showed up late most days, didn't have her lines memorized, and whenever she interacted with anyone below the line, production assistant, LX crew, grips, it was as though we were beneath her boots. She stormed off set, she yelled at people, and whenever she interacted with any of us production assistants, we were disregarded as the trash we picked up. One day at the studio we spent the entire morning setting up her requested green room (six heaters, because she was used to Australian hot weather, and her table of snacks), only to have her show up, giggle, walk away and say she is good. We chalked it up to another "Ruby is just giving orders for the sake of giving orders moment" and moved on. Then, I was holding a door open for her, after having worked over 15 hours at that point in the freezing cold weather, and she came billowing through the door that I just opened, and she spilt her food. She looked at it, then up at me, and said: "well?" and then stormed off and left me to clean up her mess. That is what it felt like working beneath Ruby: cleaning up her mess. She never thanked us, she only made demands that left us all exhausted emotionally and physically.

She was a dictator to work for, and having been nothing but a production assistant eager to get into the industry, she made me consider quiting. If this was the industry I was going to get into, I sure as hell wasn't going to work for entitled tyrants. Living downtown, I met one of her close friends on a dating app and he shared with me stories of them partying and getting high on all assortments of drugs, and funnily enough the days where she showed up 8 hours late to set, were the days he spoke about. She didn't care how long we waited for her and made sure everything was perfect and ready, she just cared about her personal party lifestyle.

We worked countless long days, always going into overtime because she was either late or not off book, or some other reason relating to her not wanting to be there. From the moment we started the show she made every new person that came on uneasy and unsupported. She was a horrible star and made so many of us feel like we were helping make a show for a dictator.

Filmmakers, no matter what position they are on a film set deserve to be treated with respect. That's how I was taught growing up and in film school, and when I read her article claiming that the production was at fault, it infuriated me because having been there, I don't wanna stand by and let her badmouth a company that she tried to screw over. No matter how bad your day, you have no right to be cruel. And season 1 was her reign of cruelty.
Then, in a series of tweets, Camrus Johnson also appeared to call out his ex-co-star while briefly commenting on Rose's allegations from early on Wednesday. "Batfam ya know I couldn't go the whole day without saying something! I love y'all, don't think I haven't seen all the love today. But yea fam, she was fired. And it is VERY hard to be fired when you're the lead. Imagine what u have to do for that 2 happen."
Johnson continued, "Since it was claimed she "walked away" last year I'm sure some of you may be pretty confused or upset, and even more so that a lot of lies were spread today. Just know we have a lot of great souls working on this show and none of this changes that. From the top to the bottom. Love y'all, and West Coast fam enjoy the new episode of Batwoman starring [Javicia Leslie] in t-minus 4 minutes baby,"
We even got a response from Dougray Scott, who exited the series after season 2. According to the actor, Rose's claims "are entirely made up."
"As Warner Bros. Television has stated, they decided not to exercise the option to engage Ruby for season two of 'Batwoman' based on multiple complaints about her workplace behaviour," Scott said in a statement to TheWrap. "I absolutely and completely refute the defamatory and damaging claims made against me by her; they are entirely made up and never happened."
Her allegations have also been called into question by a number of people who claim to have worked on Season 1 of Batwoman, specifically on a viral Reddit post, however, I find it's always best to take anything on Reddit with a grain of salt.
So, there it is, folks. This is quite a story, and I honestly don't how it will all shake out. Stay tuned right here for any and all updates as this story progresses.