Review: The Swamp Thing #11

[Editor's Note: This review may contain spoilers]
Writer: Ram V
Art: Mike Perkins
Colors: Mike Spicer
Letters: Aditya Bidikar
Reviewed by: Matthew B. Lloyd
Summary
After the events of The Swamp Thing #10, Jennifer Reece believes that she can find a way to bring Levi Kamei back to life, and she turns to Tefe Holland for help!
Positives
It's been nearly four months since we last saw Mike Perkins and Mike Spicer work together on The Swamp Thing, and issue #11 reminds us just how wonderful a pairing they are.  Spicer's colors evoke feelings and moods and memories of autumn days and that sense of being lost in the woods as a child.  Perkins' lines are a beautiful as ever as he selects interesting angles from which to view the characters.
Ram V picks up the story a little while after the events of issue #10 and puts Jennifer Reece front and center.  V keeps the focus of the story on character and relationships and develops a theme of love throughout the issue that should be relatable to everyone.  It's an effective approach considering that the concept of Swamp Thing is not something anyone will relate to.  As we've seen with the character in the past the theme of humanity has been ever-present, and with The Swamp Thing #11 love comes to the forefront.  
Positives Cont'd
V utilizes Tefe Holland, a character who hasn't been seen in a while, but who is part of Alec Holland's legacy as the Avatar of the Green.  Her story is interesting in its own right, though there's still a "creep" factor surrounding her conception.  One wonders if this will stay intact in current continuity as it does have a bit of a misogynistic bent to it.  Despite this, Tefe herself has a lot of potentials and I'm confident V is capable of doing something interesting with her.  Additionally, it's always nice to see continuity used as a benefit instead of something to be thrown out.
The plotline with Mr. Pilgrim and Jason Woodrue is both horrific and fascinating.  This reminds the reader of the Swamp Thing's horror roots while also being incredibly inventive.  No spoilers on this plot point except to say there's a bit of inspiration from Mary Shelley's Frankenstein.
Negatives
We're down to five issues…Pale Wanderer?  He's got to have a larger role…doesn't he?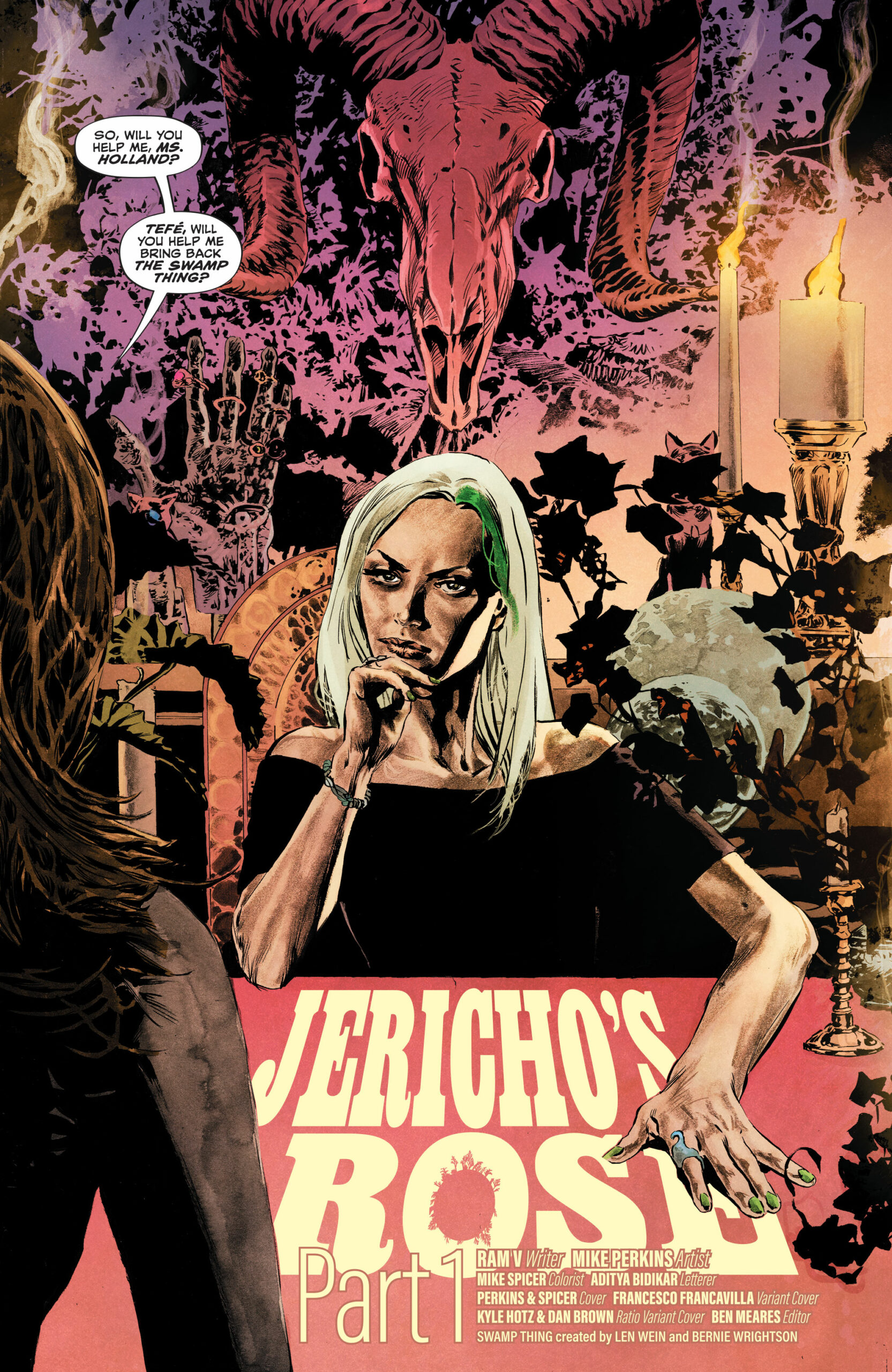 Verdict
The Swamp Thing is one of those series that even the bits in the "Negatives" section don't actually affect the rating.  There are interesting character moments, a theme that relates to anyone and everyone, and some exciting plot points all delivered through some truly beautiful and evocative art.  You really can't ask for anything more.  Also, it's not like the talents behind this book is just ticking boxes, it's simply just a creative team at the pinnacle of their comic-book making abilities.