Review: Batgirls #9

{Editor's Note: This review may contain spoilers]
Writers: Becky Cloonan and Michael W. Conrad
Art: Neil Googe
Colors: Rico Renzi
Letters: Becca Carey
Reviewed by: Matthew B. Lloyd
Summary
The Batgirls get a lead on the killer in The Hill while also getting some revenge on KGBeast for their good buddy, Dick Grayson.  
Positives
I've often stated that comics should be fun, and Batgirls #9 definitely fits that bill!  It's not written as a humor title, it's not parody/ satire.  It's just plain fun entertainment.  There's a tongue-in-cheek element as Editor Jessica Chen comments on writers Michael W. Conrad and Becky Cloonan at one point.  Additionally, the whole narrative point of view has been interesting from the beginning.  It definitely feels like there's a personality to this narrator.  At times it seems like it's Steph, and that's supported by the color scheme of the letters and caption boxes in which the narration appears.  At other times, it seems like it's someone else.  This is one of the elements that help make this title special.
Batgirls is developing a unique POV despite being in a familiar place as part of the DCU, and Gotham City, but it's something all its own at the same time.  There's a special voice in the comic, there's nothing else quite like it.  In the past, one always got a feeling about a series and I would equate Batgirls with comics that gave similar feelings.
From my experience this would include books from the Big Two, like Marvel's recent The Immortal Hulk, and DC's stalwarts from the '80s New Teen Titans and Legion of Super-Heroes, plus Peter David's Matrix Supergirl of the '90's (and in turn Fallen Angel), but also indie/creator owned books like Nexus and The Rocketeer.  It may not have the metaphysical qualities of Alan Moore's Saga of the Swamp Thing, but like that seminal work Batgirls is elevated above the average super-hero comic.  Batgirls #9 brings together the relevant elements in a laser focus making it hard to ignore.
Positives Cont'd
There are specific details that stand out that contribute to this overall feeling.  Jessica Chen steps in again with an editor's note to give the R.I.P. to "Ric' Grayson."  Humorous in its own right, but it's even more interesting that this issues part is delivering up KGBeast to Gotham PD.  The Batgirls comments about the capture and amnesia certainly echo my feelings on this period of Dick Grayson's life.  It's a soft revenge I suppose, but extremely fun, as well.  
These positives barely scratch the surface of what's good in this issue.  It's overflowing with storytelling goodness.  Oh, and the surprising appearance at the end of the issue appears to promise and exciting turn for the Batgirls.
Negatives
Negatives?  Negatives?  There's nothing I didn't LOVE about Batgirls #9.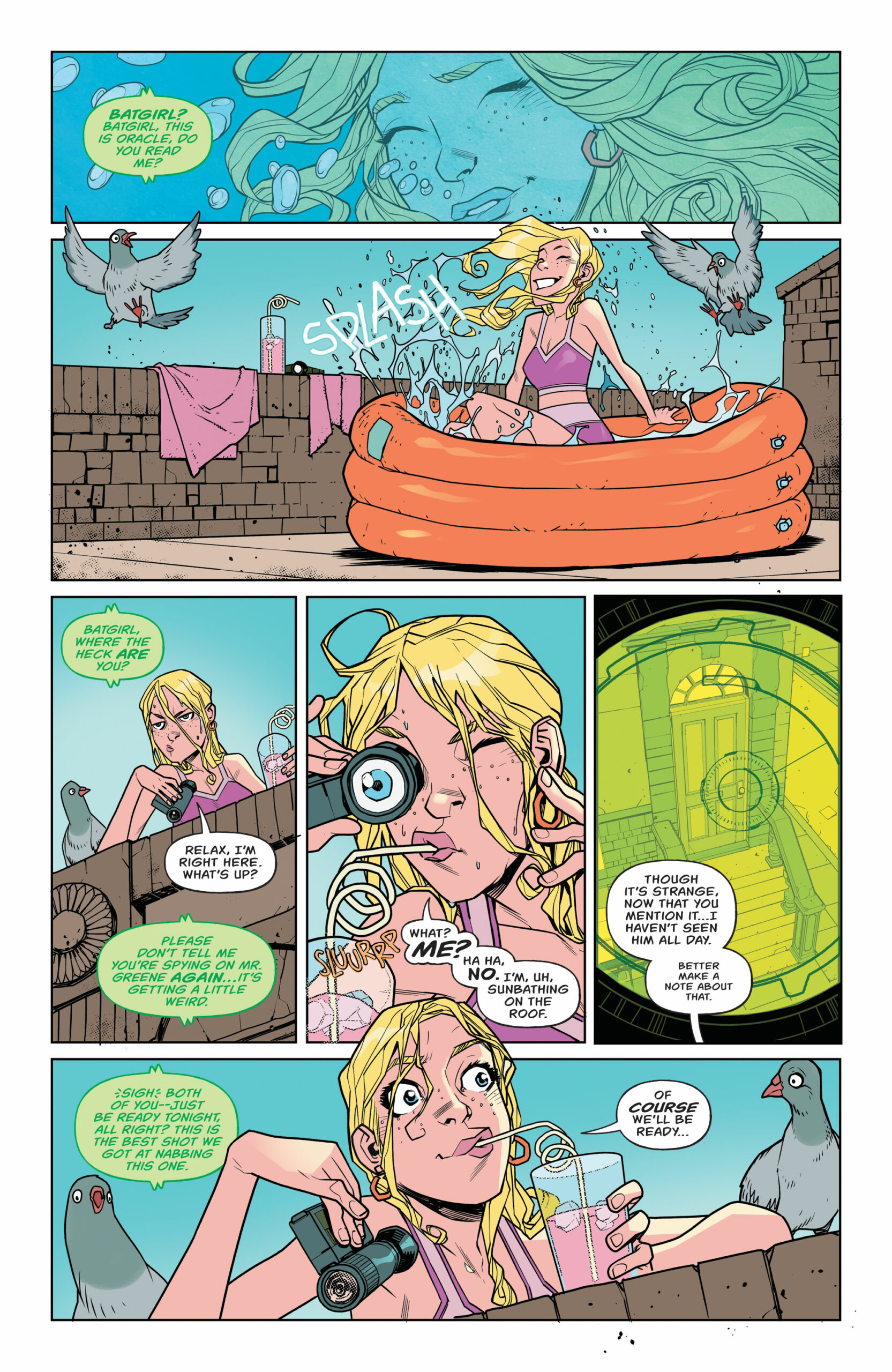 Verdict
There is a broken record that plays throughout my reviews of this title, and that's the emphasis on character.  Ultimately, it's what makes or breaks a title.  Batgirls #9 is a perfect example of how characters drives a story and keeps a reader engaged.  It's these characters' lives we here for, right?  That's what counts.  That's what keeps readers coming back.