Blu-Ray Review: DC LEAGUE OF SUPER-PETS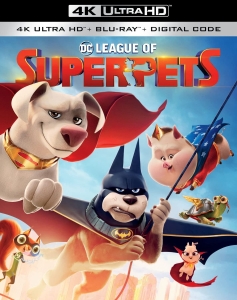 [Editor's Note: This review may contain spoilers]
Directors: Jared Stern, Sam J. Levine
Writers: Jared Stern, John Whittington
Starring: Dwayne Johnson, Kevin Hart, Kate McKinnon, John Kraskinski, Marc Maron, Keanu Reeves, Olivia Wilde
Reviewed By: Derek McNeil
Thanks to WB for the review copy.
Summary
DC League of Super-Pets: In DC League of Super-Pets, Krypto the Super-Dog and Superman are inseparable best friends, sharing the same superpowers and fighting crime in Metropolis side-by-side. When Superman and the rest of the Justice League are kidnapped, Krypto must convince a rag-tag shelter pack; Ace the hound, PB the potbellied pig, Merton the turtle, and Chip the squirrel – to master their own newfound powers and help him rescue the superheroes.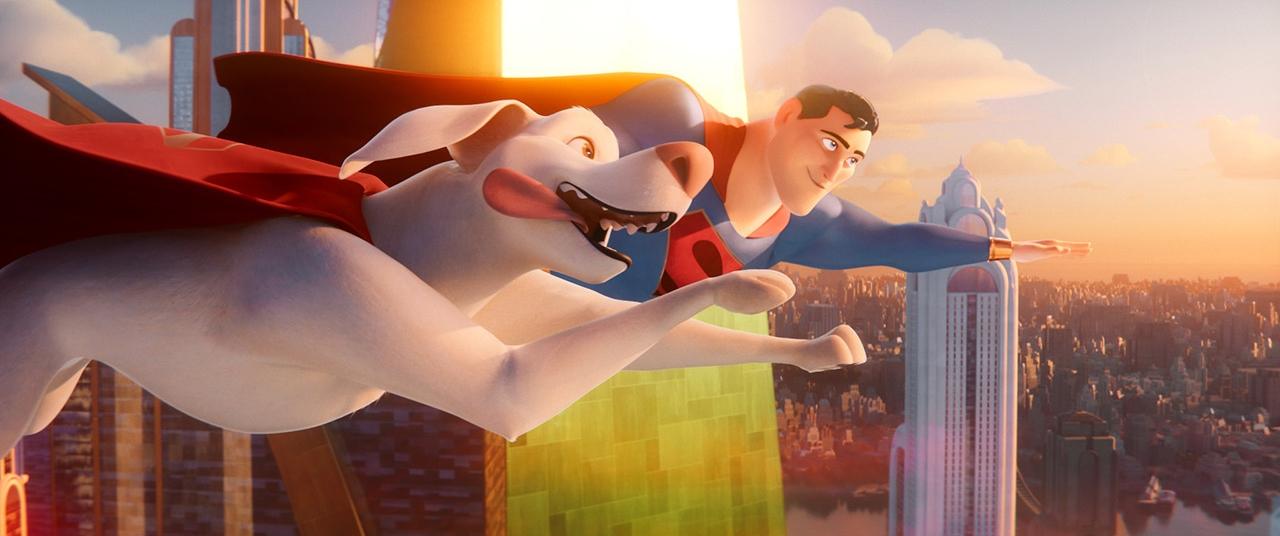 Positives
Make no mistake, DC's League of Super-Pets is a kid's movie, but it's a terribly fun kid's movie that parents and other adults can also appreciate. That's not to say that there's a second level of adult humor that goes over the heads of children. Rather, the fun is broad enough to be appreciated by all ages.
Krypto is a long-term and beloved part of the Superman mythos and is treated with the respect the character deserves. Of course, the story is simplified a bit and the animal characters are given anthropomorphic traits that aren't terribly realistic but are typical for children's cartoons.
For me, where the movie really shines is in the plentiful references to the wider DC Universe. The lineup of the Justice League seems based on the New 52 and Rebirth eras. Cyborg is present and Jessica Cruz serves as the team's Green Lantern. Plus, there are a fair number of jokes about Batman. When the heroes each pair up with a pet to fight the villain, the Dark Knight tells Ace:
Batman works alone…except for Robin…and Alfred…Commissioner Gordon…Justice League, Batgirl, Batwoman, my IT crew, whoever Morgan Freeman played…Ah, what the heck.
At this, he jumps into the battle along with his newest partner. Keanu Reeves actually does a pretty good job as this story's Batman. In fact, pretty much all of the voice acting is really good.
Positives Cont.
There are also tons of Easter eggs, referencing various bits of DC history, like the Big Belly Burger fast food chain and the Jitters coffee shop, as well as plenty of references to companies like Wayne Enterprises, Lexcorp, and Kord Inc.
I won't spoil the end-credit scene, but it ties into another DC movie that's about to debut. The voice of Krypto in League of Super-Pets is also starring in a DC movie releasing this month. In this short scene, that character makes an appearance along with his own pet dog. Unsurprisingly, the two pooches bicker over whose owner is superior. This leads to an amusing debate over the difference between an antihero and a villain.
Warner Home Video offers this movie in three different physical packages:
4K UHD combo pack, which also includes a Blu-Ray copy and digital download code
Blu-Ray combo pack, which also includes a DVD copy and digital download code
DVD single disk pack
Most of the special features are on the Blu-Ray, so the 4K and Blu-Ray packs include the full set of bonus features. However, the DVD only has a single feature, "Behind The Super Voices" which introduces viewers to the voice actors starring in the movie.
If you insist on the best picture quality possible, then the 4K version doesn't disappoint. The picture is absolutely stunning. The Blu-Ray copy is also quite good and will probably be satisfactory for most viewers. But if you're not picky about picture quality and don't care for bonus features, then the DVD is a pretty good bargain.
Negatives
As a cat person, I am disappointed that there is little feline representation in this movie. The original Legion of Super-Pets actually featured Supergirl's pet cat, Streaky. I suppose they didn't want to have another animal with the exact same powers as Krypto, but couldn't they have given Streaky or a stand-in cat a different set of powers?
I should be grateful they didn't use the obvious trope of making the main villain a cat. However, they did make the only cat in the movie into a subordinate villain. There is some clever humor in the idea of making the seemingly innocent little kitten into an ultra-powerful amoral killer, but it just helps to further into the long-running cartoon stereotype of cats being evil. I'd like to see a heroic cat in a cartoon for once. I implore DC and Warner to include Streaky if League of Super-Pets gets a sequel.
Verdict
While children are the primary audience for this movie, there is much here for adults to appreciate – especially if they are DC fans. In fact, this movie is another great way to get the younger generation interested in comics. If they like the movie, then there are Super-Pets comics, as well as a wealth of other kid-friendly titles to choose from. But even if you don't have any children to watch with, it's still an amusing movie that adult DC fans can appreciate too.