Merchandise Review: DC Collection Enso Silicone Rings
Produced by: Enso Rings
Finish: Iridescent
Width: 6.6mm
Thickness: 1.75mm
Reviewed by: Joshua Raynor
Out of the darkness, the DC collection calls forward the stark symbols that represent the Super Heroes™ you love and what they stand for. Perfect for the DC fan in all of us, these high quality silicone rings are precisely what you need and are great as a gift.

I recently received some samples of the new DC collection of silicone rings from Enso Rings, and I gotta say, I was pleasantly surprised.
The collection includes three rings based on superheroes from the DC Universe — Superman, Batman, and The Flash.
At first, I wasn't sure how I would like them, as I've never worn a silicone ring. I've worn different metal rings, including a wedding ring and a Green Lantern ring, but silicone was never one that crossed my mind as a legitimate option. But after trying these on and wearing them for awhile, I don't think I would want anything other than silicone for any future rings.
I've had issues with most metal rings I've worn, mainly because they're just uncomfortable. I need a ring that is rounded on all the edges, and you get that with these. Enso rings are super comfortable, and the silicone provides a bit of stretch, which is great for when your fingers inevitable swell for whatever reason. They are easy to put on and take off, and you barely even know they're there.
They also have a simple, yet great design, showcasing the symbol and key colors for each of the three featured members of the Justice League. Batman gets a black pearl band with yellow topaz inlay, Superman gets a sapphire blue band with ruby red inlay, and The Flash gets a ruby red band with gold inlay — and they are all gorgeous
SUPERMAN SILICONE RING
Fight for truth and justice. Wear the symbol of hope with our DC Collection Superman™ ring in commanding DualTone, encouraging strength and commitment to doing what's right. Keep The Man of Steel's™ mark close. And when you think you can protect your world by yourself, friends aren't far who'll join the cause.
BATMAN SILICONE RING
Darkness before the dawn. Our all new DC Collection Batman™ ring in striking DualTone made in the Rockies. Inspired by The Dark Knight™ to ignite your style.
THE FLASH SILICONE RING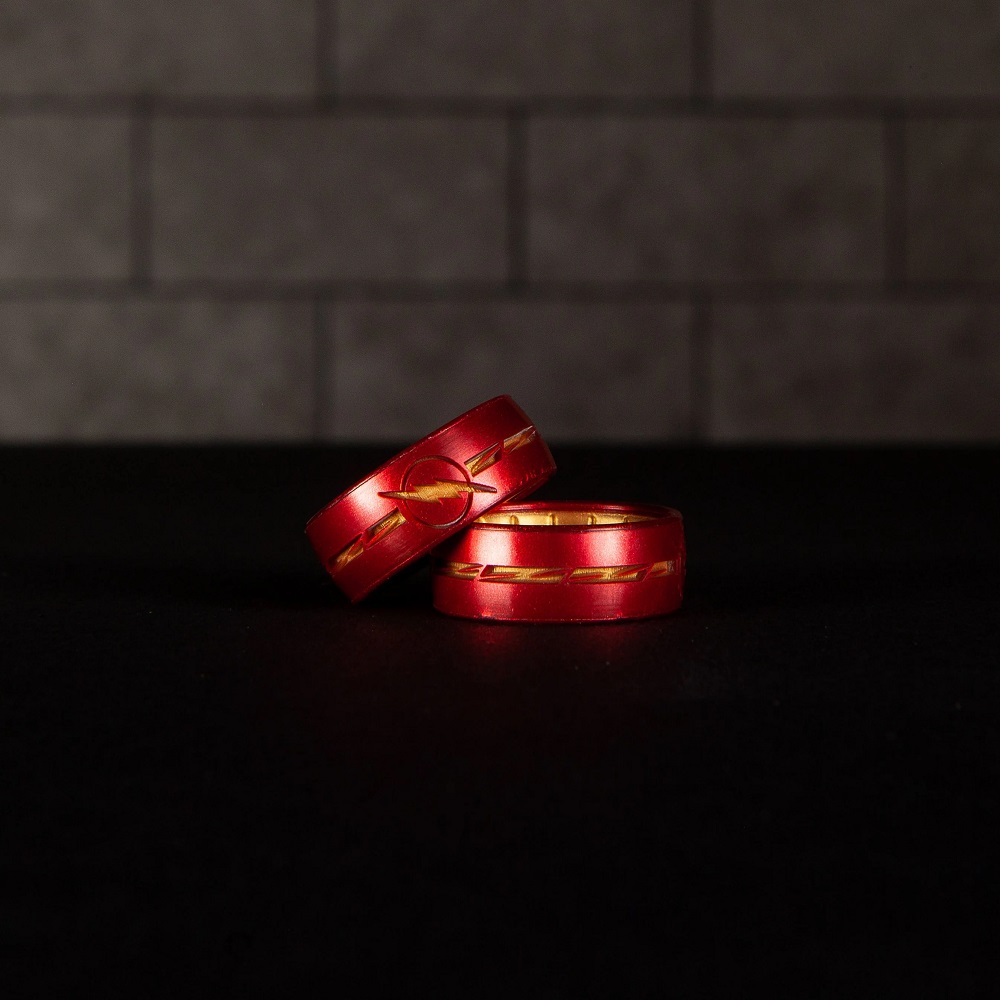 Quick! Get your favorite speedster's symbol on this ring. Our DC Collection Flash™ ring is featured in a vibrant DualTone, true to the iconic colors.
While they are great rings, there are a couple of small downsides for me. Being silicone, they can't be resized, so if your ring size changes, you may be out of luck. And the other issue I have is the lack of female hero representation. While I love The Flash, if they're only going to have three designs available, it should've been the DC Trinity — Superman, Batman, and Wonder Woman.
My hope is that they expand their collection in the future and bring in heroes like Wonder Woman and Green Lantern, and maybe even some villains like Harley Quinn, Reverse Flash, and the various other Lantern Corps.
You can order yours today right HERE, and with a modest price point of $114.99 for the 3-Set, you can't go wrong!