Review: Green Lantern #3

[Editor's Note: This review may contain spoilers]

Writers: Jeremy Adams and Phillip Kennedy Johnson
Art: Xermanico and Montos
Colors: Romulo Fajardo, Jr. and Adriano Lucas
Letters: Dave Sharpe

Reviewed by: Matthew B. Lloyd
Summary
Sinestro begins his revenge on Hal Jordan with an attack on Ferris aircraft.  It's all a surprise to Hal when Carol calls on him to get to the bottom of it.
Positives
The art by both Xermanico and Montos is fantastic.  They make both stories look great.  Montos captures some real depth of emotion for John Stewart and Guy Gardner.  Xermanico does the same though the complexity of Hal and Carol's relationship.  It's great to see it as part of the story, but even better that the art communicates it so effectively.  
The story with Guy and John has a couple of interesting aspects.  Firstly, there's an intriguing multiversal component with the Revenant Queen, but just as compelling are the decisions John is making about his dying mother.  It's a unique problem that's not covered in super-hero stories.  How much attention it gets in the continuation in the forthcoming Green Lantern: War Journal #1 remains to be seen.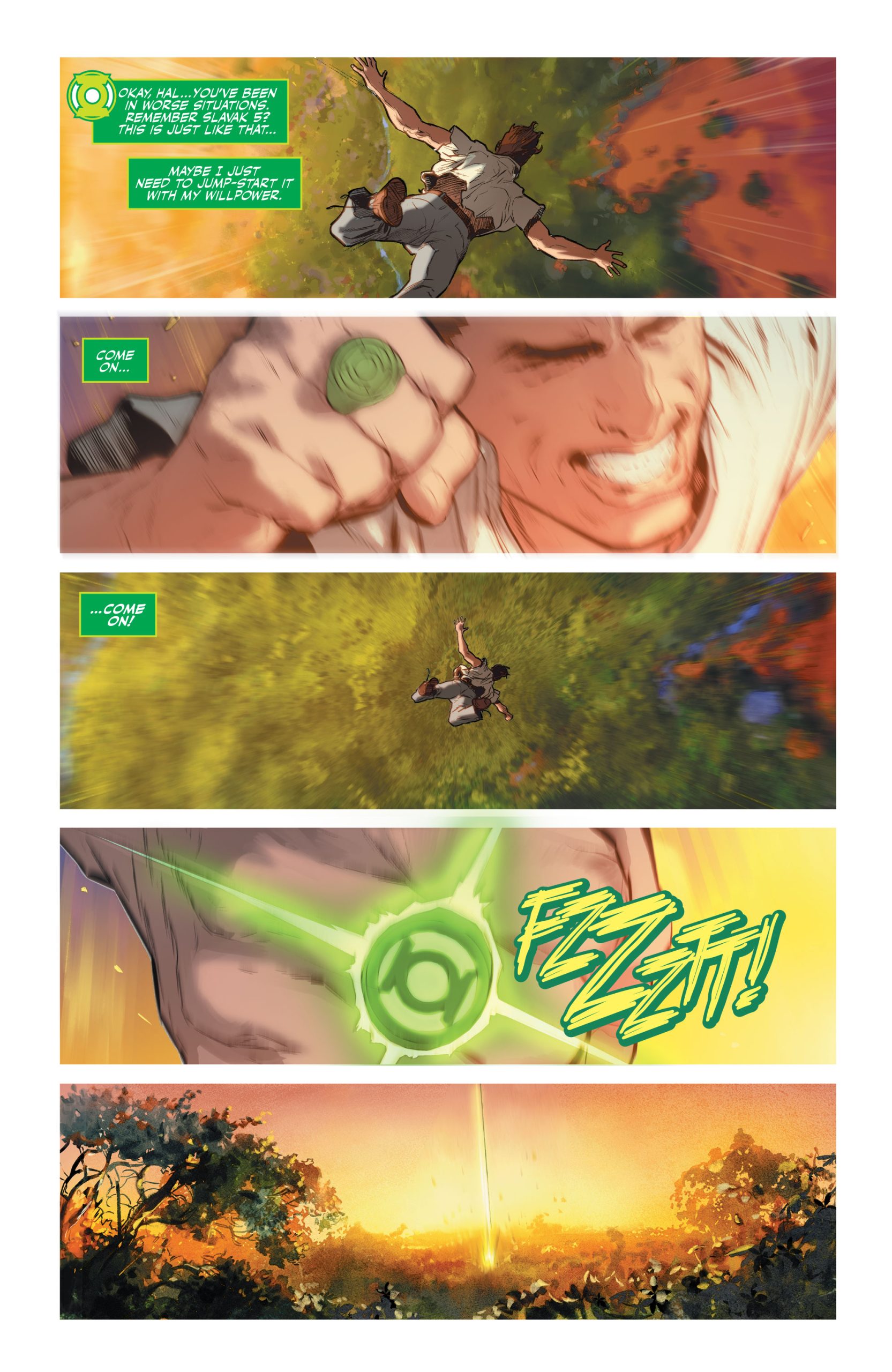 With Green Lantern #3, Jeremy Adams brings the three major players of Hal Jordan's turn as Green Lantern together.  Hal clearly has just as much history with Sinestro as he does with Carol.  Both of these relationships are complex.  It cleverly sets Carol and Sinestro as parallels in Hal's life.  There are a number of ways each relationship could go and they aer both legitimate reasons to come back and see where things go.  Focusing on these three characters invigorates the book with a nod to the history of the series.  Additionally, it makes the series about the people and not simply the heroics.
Negatives
There's a bit of a hangover from Knight Terrors as the opening of Green Lantern #3 doesn't follow exactly from the ending of Green Lantern #2 or Knight Terrors: Green Lantern #2.  It's still a shame this series had to be interrupted by the Knight Terrors event.  It may prove to be helpful to go back and reread the first two issues of the series as a refresher. 
Verdict
Green Lantern #3 is a good issue that suffers from having to overcome the Knight Terrors event.  It has to work a little harder to get the momentum going again after the great first two issues that this Green Lantern relaunch built.  While there remains an awkwardness, the issue does reset the focus and bring Hal into contact with his greatest nemesis, Sinestro.  The triangle of Hal, Carol and Sinestro isn't a love triangle, but an interesting intersection of lives that is unique in comics.