DC's two Geoff Johns-penned titles — Shazam! and Doomsday Clock — have been hit with new delays.
Last month, DC pushed Shazam! #7 from its original June solicitation date back to August 7. Now it's being moved again, to August 14, which in turn ripples out to affect the next three issues as well. If everything stays on schedule from here out, Shazam! #8 will be out August 28, #9 September 11, and #10 September 25.
No, that's not a typo — DC has the Geoff Johns/Dale Eaglesham series scheduled for a bi-weekly release as of #7.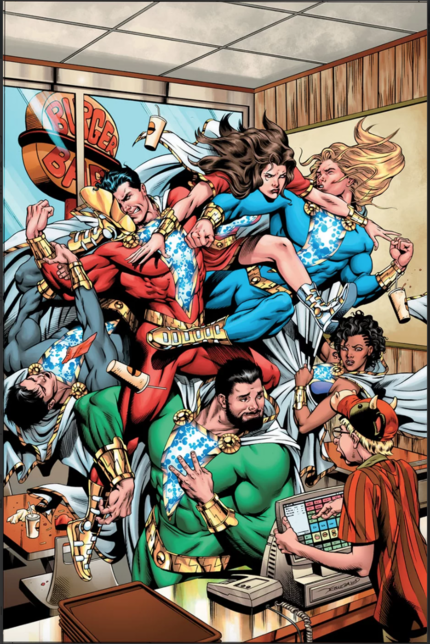 Here are the original solicitations for the next two issues:
SHAZAM! #7
written by GEOFF JOHNS
art and cover by DALE EAGLESHAM
variant cover by IVAN REIS
and OCLAIR ALBERT
"Shazam and the Seven Magiclands" continues as the shocking new member
of the Shazam family is revealed! This mystery person will send shock waves through the entire cast!
ON SALE 06.19.19
$3.99 US | 32 PAGES
FC | RATED T
SHAZAM! #8
written by GEOFF JOHNS
art by DALE EAGLESHAM
backup story art by MARCO SANTUCCI
cover by DALE EAGLESHAM
variant cover by MICHAEL CHO
As Billy Batson and the rest of the Shazam Family are about to learn as they cross over into the Darklands, the Magiclands aren't all fun and games! In a world filled with all kinds of frightful creatures and haunts, nothing will compare to the horrors of Billy's own internalized fears.
ON SALE 07.31.19
$3.99 US | 32 PAGES
FC | RATED T
In other news that shouldn't be surprising to anyone at this point, the next issue of Doomsday Clock is moving back from August 14 to August 28. Issue #11 was originally scheduled for May 22; #10 arrived May 29 after several delays.
The first collected edition remains on the schedule for October.
Here's the original #11 solicitation from May:
DOOMSDAY CLOCK #11
written by GEOFF JOHNS
art and cover by GARY FRANK
variant cover by GARY FRANK
The critically acclaimed series by the renowned team of writer Geoff Johns and artist Gary Frank marches toward its conclusion. In this penultimate issue, the truth behind "Rebirth" is revealed as Batman searches for the one person he believes can help him save the world…Rorschach!
ON SALE 05.22.19
$4.99 US | 11 of 12 |
32 PAGES | FC