Review: The Conjuring: The Lover #2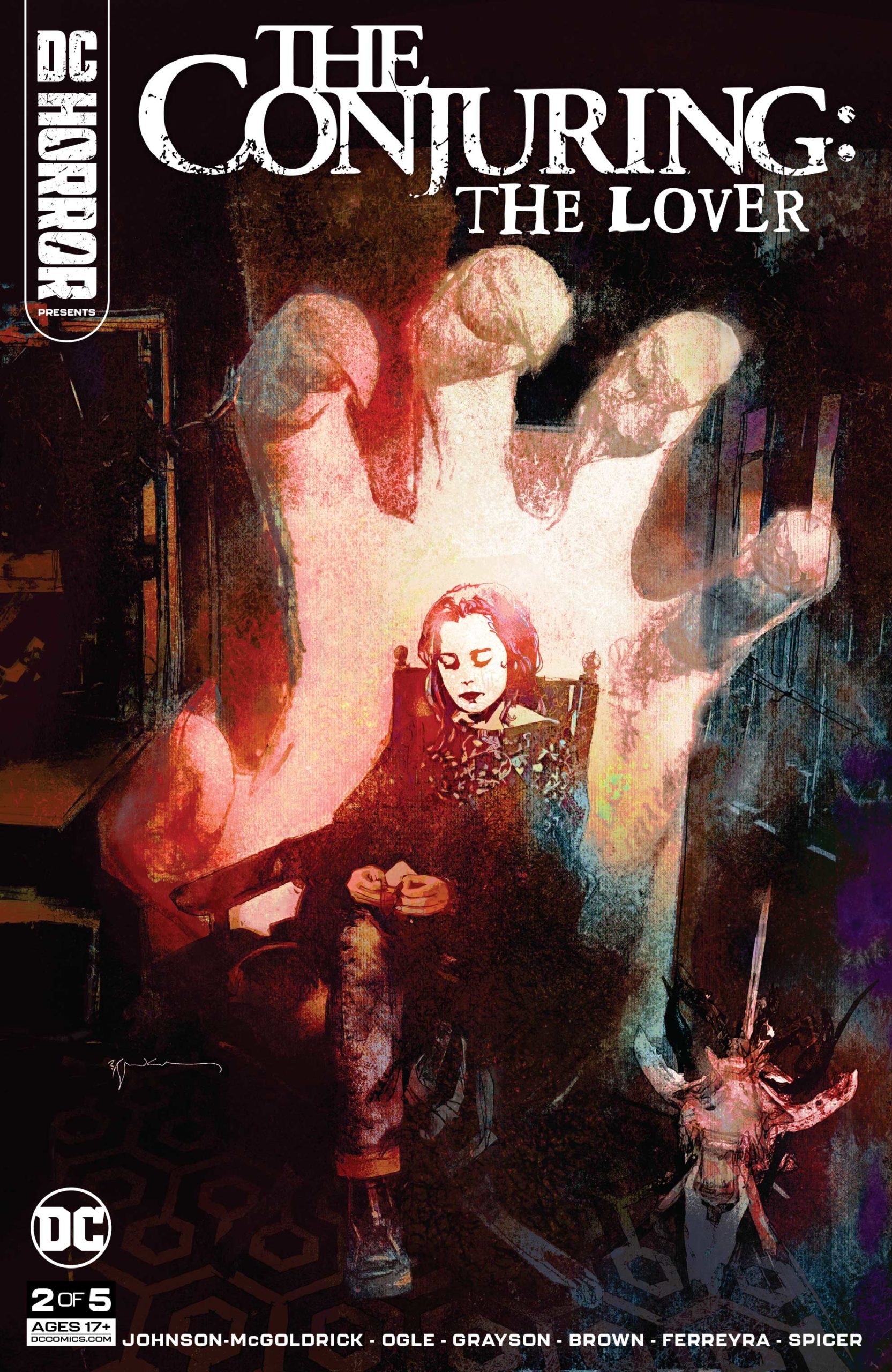 [Editor's Note: This review may contain spoilers]
Writers: David L. Johnson-McGoldrick, Rex Ogle, and Che Grayson
Artist: Garry Brown, Juan E. Ferreyra, Dave Johnson
Inker: Garry Brown, Juan E. Ferreyra, Dave Johnson
Colorist: Juan E. Ferreyra, Dave Johnson, Mike Spicer
Letters: Becca Carey, Dave Johnson
Review by: Kendra Hale
Summary
The Conjuring: The Lover #1 introduced us to Jess, a college student currently trying to make it through her first year. Hard enough on her own, feeling isolated from old friends and family while dealing with a new place. But something else, an evil presence, has its eyes on Jess. That is where we come in on The Conjuring: The Lover #2. 
That The Dreams In Which I'm Dying Are The Best I've Ever Had
A voice is slithering through the darkness with one intention, to tear Jess down in every way possible, to isolate her even farther from any connection or tether she may have. Jess starts seeing horrifying images that aren't just nightmares, but feel like reality. Those who see her are off-put and treat her as though she is a freak. 
A call from her best friend back home, Katie, prompts her to get out of her room and enjoy what college life is supposed to be. Spurred on, Jess agrees to go to a party with Kyle. But the presence is not diverted from its goal of feasting on her sorrows and insecurities, or her secrets.  Can Jess's strength hold out through the mind games before something truly terrible happens?
I Only Have Eyes For You   
The amazing mail order ads continue in this issue, but the star remains the suspense. There is also another small "Tales From The Artifact Room" in this issue titled "The Bloody Bride." It tells the story of a haunted wedding dress that has a grisly history.  
For The Conjuring: The Lover #2, the writing and artwork are the stuff you would expect from a version of the movie itself. You can almost hear the piano keys as the suspenseful moments build and hit. The shower scene in the beginning is so iconic and gave off a Nightmare on Elm Street vibe. Brilliance. 
Positives
The artwork and writing in this issue in absolutely terrifying and sets up chills to come. I love the way the team is pacing this series to build tension. Followers of any horror genre will appreciate the familiar circumstance and what is to come.  It is positively wicked in all the best ways. 
Negatives 
None. 
Verdict
The Conjuring: The Lover #2 gives the horror that is aligned with the series title. Given that the screenwriters are lending their hands in the writing, it is an almost seamless move from screen to book and honestly both are an absolute joy. 

Images Provided Courtesy Of DC Entertainment.