Review: Spawn #321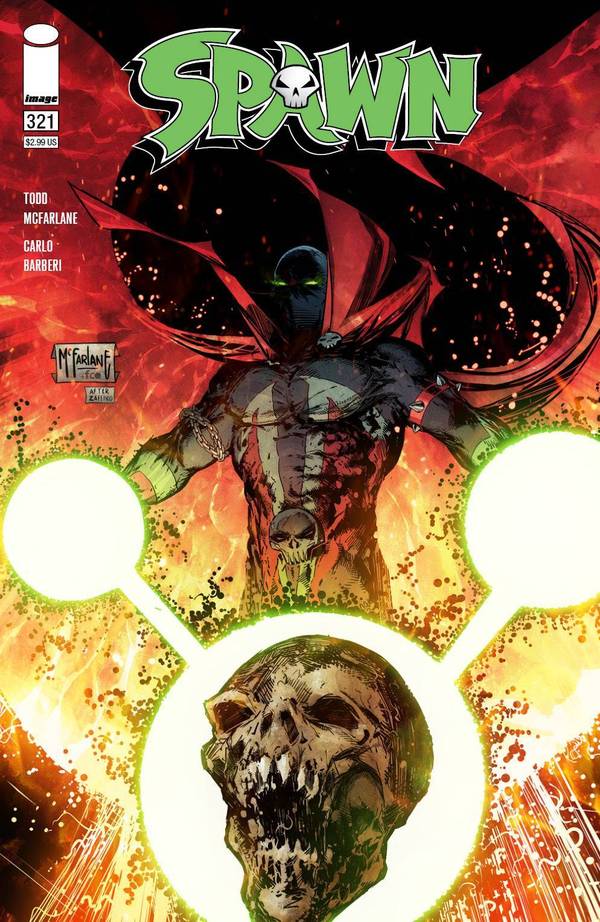 [Editor's Note: This review may contain spoilers]
Publisher: Image Comics
Writer: Todd McFarlane
Artists: Carlo Barberi, Thomas Nachlik
Letters: Tom Orzechowski
Colors: Jay David Ramos , Andrew Dalhouse
Reviewed by: Carl Bryan
Summary
"Marc…don't push him!  Let him be.  Otherwise things will just get uglier!" – Jessica/She-Spawn
Spawn #321 –   Al delivers an ultimatum to both Jessica and Marc to leave their headquarters…a decision that Al finds does not sit well with both of them.
As Spawn hunts down Paul Greene, a agent of Hell in his fight, he discovers more than what he thought he would encounter…with a fateful day of Al's past reaching back to haunt him.
In the second chapter, we find Marc on the cusp of finding out more than he anticipated in terms of Medieval Spawn.  Heavy is the head that wears the helmet!

Positives
Carlo Barberi 's pens are the highlight of the first chapter of this issue as both the colors and the pencils are as vivid as McFarlane's work on this character.  Capes abound and green eyes aglow as each page jumps out with more art than you can drink in terms of Spawn's costume!  it's just the right "busyness" for this comic.
She-Spawn/Jessica never makes a tranformation but we can clearly see she is inspired by Mary Jane Parker and Black Widow…the costuming…the features.  She is a formidable partner for Al.  
Thomas Nachlik enters the fray on the second portion of the story where…I hate spoiling any issue…but Marc transforms (ala Dr. Fate style) to Medieval Spawn.  Or at least we think he does…?
Positives 2.0
Spawn #321 – McFarlane 's dialogue at times can be "campy"…almost to the point of the 1980s with the half-Spidey, half-Peter Parker face with the tingling lines emitting from the face.  "My spider sense is tingling!"… no joke!
I love his overall ideas and where this is going, but at times give the reigns over to an editor that will look at the dialogue for a second rather than the art work.
Al had some issues we didn't even know about.  McFarlane is really laying some abuse issues out at the feet of the reader.  Having been a longtime Spawn reader, he is arguably bringing domestic abuse and trafficking to the fore front of readership.  But arguably could cost us some emotional ties with Al…after all, he sold his soul in the first issue.  This new revelation is tough.
Accolades for World Record Setting
Each issue of Spawn sets a new World Record for independent comics.  That's history every time you buy an issue! Speaking of Record Breaking….   October will bring Gunslinger Spawn #1. Finally, there will be a new #1 team book, which will band five characters together to fight against forces too big for any of them to take on alone. That book is titled The Scorched. Spawn, Redeemer, Gunslinger, Medieval Spawn and She-Spawn begin the group's adventures, but McFarlane promises a rotating cast of heroes over the coming months to keep the roster of heroes fresh.
Negatives
Again…the dialogue is a bit campy at times, but the art and the overall storyline is worth wading through a few frames of Neal Adams inspired cartoon bubbles.
Verdict
Spawn #321 – This is a bridge issue at best, but it is a jumping off point for a new Medieval Spawn storyline.  How can we deny any issue with She-Spawn…can she just lead the team?  Or is there even a team as Spawn wants everyone gone from out of his sight.  More questions than answers, but that is why we have a book every few weeks now!